Audio We Love Fest: Constellation Prize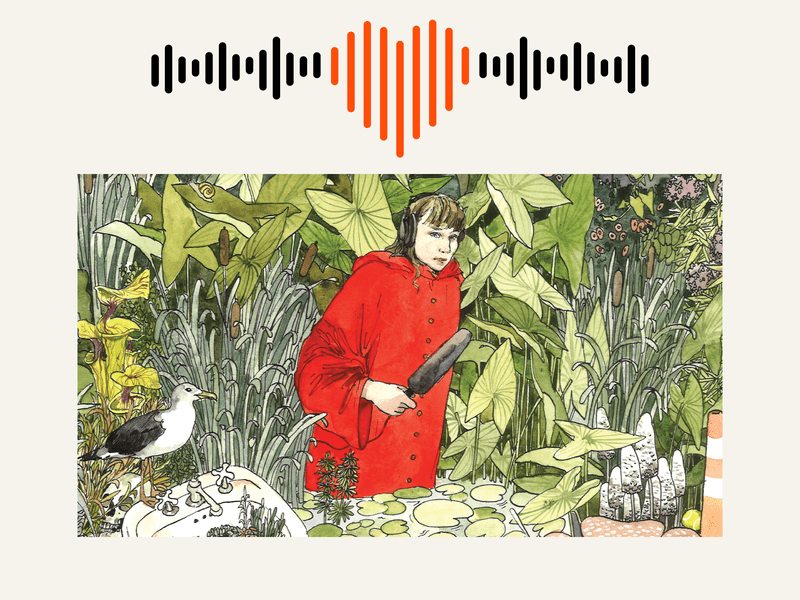 Transcript
Anna Sale: This is Death, Sex & Money. I'm Anna Sale and welcome to day two of the first-ever....
Andrew Dunn: Audio We Love Festival!
Anna: All this week we're bringing you some of our favorite recent podcast pieces from across the audio world. Yesterday we shared the first episode of a brand new series from the BBC World Service called Goodbye To All This. It's a beautiful show about family, love, and loss. If you haven't heard it yet make sure you go back and listen. Don't forget that this Friday, October 16th we are closing out our festival with a very special live event featuring the host of the Back Issue podcast Josh Gwynn and Tracy Clayton.
Join us on Zoom at 7:00 PM Eastern time. You can get all the details at thegreenspace.org and that's green with an E. Today we're bringing you an episode from the podcast called Constellation Prize from The Believer magazine. The host and creator of this show is Bianca Giaever, and this episode is called Crossing Guard. If you have been craving some intimate human connection, you're about to get some. Listen and afterward, I'll talk more with Bianca.
Bianca Giaever: From The Believer magazine, welcome to Constellation Prize. Last summer the main thing that felt good to me was sitting in cafes and reading novels. The book that struck the deepest was a work of existentialism called Nausea by John-Paul Sartre. It was written 80 years ago but to me, it perfectly described my experience of being a freelancer in Brooklyn in 2019. Like this line for example.

Female Speaker 1: Wednesday I must not be afraid.

Bianca: Or this one.

Female Speaker 1: Three o'clock an odd moment in the afternoon. Today it is intolerable.

Bianca: The main character is named Antoinean and this book is his diary. He's so lonely that things are starting to get weird.

Female Speaker 1: If you look at yourself too long in the mirror you'll see a monkey, what I see is well below the monkey on the fringe of the vegetable world. Am I myself not a wave of icy air?

Bianca: That's summer of reading Sartre I was confronting a new feeling in my life, a feeling of loneliness. It was like there was something between me and the people I was speaking to. Like I existed in another realm. There's no socially acceptable way to tell my friends I'm lonely, no bureau of loneliness I could report my feelings too. Instead, I got on the internet and I started reading articles.

I read that loneliness is a public health epidemic with real physical side effects. As a predictor of early death, it's on par with obesity or smoking. Almost a third of Americans live alone and half say that they feel lonely and those numbers are rising. The younger people are the lonelier they say they feel. Then someone told me about a quote Pope John Paul II had said, "You feel alone, try to find someone who is lonelier than you."

I had never paid attention to anything a Pope had said but I took this idea to heart. I thought maybe I could find a stranger in New York City who also feels lonely and then ask to document their life for many months. Through doing this we would get to know each other and we would both become less lonely. I started walking around recording myself thinking about this idea. It would be like an adventure I thought, an adventure in the ordinary world.

I don't know who it's going to be or when I'm going to find them. I'm just going to try to open myself up to New York City. Where was I going to find a stranger who is willing to be my subject? I knew there were lonely people all around me in New York City. I just wondered where could I find them. I realized that churches are places where strangers gather, where people often come alone.

I figured all I had to do is find someone sitting by themselves and try to sense. if they were also lonely. I started going to a bunch of religious gatherings in New York looking for my stranger. I went to Quaker meetings on Sundays, the spiritual reading group on Mondays, and daily mass during the week. I didn't tell my parents I was doing this because they hate religion. For this exact reason, I found it very alluring. At church, I sat down in a pew, knocked my water bottle over.

The church services were often boring, but it was the coffee hour afterward that I relished. A group of us would gather in the corner of a huge basement. It looked like someone had booked a venue too big for the size of a party. We huddled around coffee cake, Lipton tea, and stale bagels. I talked to an old man wearing a wig. I met a nine-year-old who had written a poem and dated it 2019 AD.

I interviewed a businessman on Wall Street,-

Businessman: [crosstalk] and how small the earth is compared to Jupiter and how small--

Bianca: -a former nun,-

Nun: We'd file shareholder resolutions. There's a [crosstalk]--

Bianca: - a Quaker,-

Quaker: Even the beans were in color coordination.

Bianca: -but none of them felt right. The process was like dating. I didn't know exactly what I was looking for, but I knew I hadn't found it. Weeks went by. Then one day, at a Catholic reading group, a middle-aged woman caught my eye. I couldn't tell her age. It could've been anywhere between 40 and 60. I saw her bending down to play with the kids, even getting on the floor with them.

I'd always admired people who could play with other people's kids. I went up to talk to her and she told me about making necklaces, how the beads came alive to her. Then she told me that she's a school-crossing guard. The people on the street who wait to see us, but we never really stop to see them. I told her I was a radio producer, that I wanted to interview her about her life.

She seemed unsurprised. She immediately said yes, maybe she too was ready for adventure. I rode my bike to her apartment in downtown Brooklyn on a Saturday afternoon. It was a crisp, bright fall day. I took the elevator up to the sixth floor of her apartment building and stood for a second in the hallway. Test, test. I felt nervous and awkward. I don't like rolling tape when I first arrive, but I did it anyway. Hello.

Sophia: Hello.

[laughter]

Bianca: You're waiting expectantly.

Sophia: Yes. Are you recording already?

Bianca: Yes. It's a technique.

Sophia: Really?

Bianca: Yes.

Sophia: I thought you were just dressed up and ready to go.

Bianca: Well that too, but I don't have to if--

Sophia: Oh, that's so cool. No, that's fine. That's totally fine, and also you [unintelligible 00:08:09].

Bianca: I took off my shoes, started looking around the living room.

Sophia: I'm just going to light a candle. I'm going to pray, and I would invite you to say anything you want to.

Bianca: Okay. You're going to pray out loud?

Sophia: Yes.

Bianca: Awesome.

Sophia: Dear God, sorry I forgot about you. Thank you for the tingles that I received in my body this morning. That was nice. I just want to say thank you for sending Bianca to me. Thank you for helping me tell the truth. Would you like to wish for anything or?

Bianca: Yes. I'm grateful that Sophia is trusting me with her story and willing to be vulnerable with me. I hope that in exchange, I can be a trustworthy keeper of her words, which are trapped somewhere in this electronic file but have the potential to help someone else who might be lonely. I hope that one day they reach that person in their time of need. This idea, that God had sent me to speak to her, I didn't really believe it.

On my way over, I had been feeling some doubt about interviewing random, lonely people. This confidence from God was nice to hear.

Sophia: I said, "Fine. I'm just going to listen to it."

Bianca: Sophia lived in a one-bedroom apartment, it looked pretty clean, but then she told me.

Sophia: I spent about three hours cleaning up before you came over.

Bianca: Wow.

Sophia: Total honesty, so refreshing.

Bianca: We were sitting on the couch in her living room and the interview had unofficially begun.

Sophia: One of the reasons I love podcasts and radio is because I can do it while I'm cleaning up because I realized that when you live alone, having a voice makes you feel like you're with other people. It helps me fall asleep and it helps me wake up in the morning. I don't like to listen first thing in the morning, but then when that first loneliness comes [sobbing] just being able to listen to-- I love audiobooks as well, but I like radio pieces better and like the Moth and Death, Sex and Money.

Bianca: We were 30 minutes into our conversation and when Sophia told me about listening to podcasts, she had almost been crying and I wasn't sure why. I gently tried to circle back around. I noticed it was like emotional to talk about. I wanted to talk about why it was emotional?

Sophia: Because I lived here with my husband and I was married for 10 years. Then he asked me for a divorce three days before my baptism. I miss him a lot and in some ways, I feel like maybe I got married to just have somebody with me all the time. [singing]. [foreign language]. [singing].

Bianca: It's 7:00 AM. Sophia has agreed to let me put a wireless microphone on her while she does her crossing guard duties. I'm crouched wearing headphones, 30 feet away. She's Five foot one, 48 years old standing on a street corner in Brooklyn, memo book in her pocket, excellent posture. For her, one of the joys of being a crossing guard is dressing for the weather. Today blue cargo pants, detachable hood, and whistle, a long yellow raincoat. She sings in Latin to pass the early hours and then the morning rush.

Sophia: Good morning. Good morning. Good morning. Can you wait? Please wait for the light. Honkidy honk honk, honk honk. Someone who's been to [foreign language]. What?

Female Speaker 2: I call her the purveyor of joy. She doesn't know that.

Sophia: His friend is [unintelligible 00:12:54] I like this little girl. Where's your brother? To wait for the light. There's a lot of Japanese parents. Good morning, [foreign language].

Bianca: Sophia loves languages. For all her regulars that pass by, she's learned to greet them in their family's language of origin.

Sophia: [foreign language]. Thank you. [foreign language]. [foreign language], morning,watch out. Don't do what your parents do. I saw you [sighs].

Female Speaker 3: Have a nice day.

Sophia: Have a very nice day. You're so polite.

Female Speaker 4: Morning.

Sophia: Good morning dance teacher. Oh, Harry Potter. Someone's going to Hogwarts. You got a splinter in your toe and then--

Female Speaker 5: Morning.

Sophia: Good morning. You made it. Yes. There must be a parents' meeting today. Hipster mama. Wow. I'm a narc. [chuckles] I'm a snitch.

Bianca: Sophia is a great crossing guard. People literally stop and tell her this.

Speaker: Hello.

Female Speaker 6: You are really great crossing guard.

Sophia: Thank you very much. You're a great mom.

Bianca: Honestly, on Sophia's corner, I rarely saw little kids walking alone to school. To me, her job seemed like a whimsical Relic, like a seltzer man or a switchboard operator. I started to brush up on my crossing guard history. In the US, crossing guards began in the 1920s. They exist all over the world, New Zealand, Germany, and the UK, where they're called lollipop men and ladies.

In New York City, crossing guards make 13.50 an hour and are almost all women. It's not a living wage. Many of them live in public housing and are supported by a family member. I found a competition called America's Favorite Crossing Guards, and I checked out the winners. Last year, Chief Lynn Woolford in Montana won, he wears a different hat to the corner every day. The year before Ms. Sarah in Maryland was recognized for her 50 years of service. Sophia has this town greeter mentality.

Sophia: They're my constituents. They're the people that I serve. I think of them as my constituents or as guests at a party that I'm hosting. I'm a little bit strict about my corner, that I feel that it belongs to me while I'm working there and so that I should make it the way I want it to be.

Bianca: Her constituents are gradually warming up to her.

Sophia: When I first started saying good morning people looked like a telephone booth had [chuckles] spoken to them. Some of them were literally looking for the source of the voice, like they were just like, "[gasping]."

Bianca: As I was getting to know Sophia I was continuing down my path of existential inquiry mainly reading Sartre's Nausea in cafes. In the book, Antoinean is working on a book about a man named Roy Oban and this relationship between the author and subject becomes a codependent one. "He needed me in order to exist and I needed him so as not to feel my existence."

I felt this was Sophia, focusing on her life provided a welcome distraction from my own. "I exist that's all and that trouble is so vague, so metaphysical that I'm ashamed of it." There's a bed in your kitchen.

Sophia: Yes [laughs]. Yes, there is. There is a bed in the kitchen.

Bianca: Back in Sophia's apartment.

Sophia: Now I'm thinking I was going to ask you to help me actually lift this support part of the bed.

Bianca: Today I was helping her build a new bed so she had a clean start after the divorce. I had started dropping by on weekends to interview her for a few hours. We'd sit on her couch and talk. She set her timer for 45 minutes so that we'd remember to stop and take snack breaks.

[beeping]

Sophia: There we go so it's time for a break.

Bianca: Sophia's story took a long time to unfold mostly because she loves tangents and I do too. The picture of her life began with these pieces. I learned that she's Canadian. Her mother immigrated from Japan, her father from China. She told me that her younger brother has down syndrome, that he would write long operas in his room, and that she grew up to the sound of opera coming through his bedroom walls. He's her spiritual guru. She says that even the way he eats a sandwich is devotional.

Sophia: Longing for the peanut butter sandwich in union with the peanut butter sandwich.

Bianca: She said that her mother was a violin teacher and she was a violin prodigy. She told me about her grandfather in Japan who painted his eyebrows with black ink. She said that on Tuesday nights she's in an adult intro to basketball class and this week they're learning to dribble. She keeps files on everyone in her apartment building so she can remember their names.

Sophia: People think I'm amazing because I remember everyone's name.

Bianca: She told me gossip.

Sophia: He is wearing a toupee.

Bianca: She read me her prayer journals.

Sophia: Please ask our Lord to bring his peace to the negotiations for divorce.

Bianca: Months went by and I kept coming over. We talked about her hopes and dreams.

Sophia: A lot of little streams, little rivulets of cash.

Bianca: She asked me questions.

Sophia: Are your parents hippies?

Bianca: I recorded her laugh to her own puns,-

Sophia: [laughs].

Bianca: -the blow of her nose after she cried. I fact-checked as much as I could and it was all true. She answered all of my questions with honesty. All winter long I kept visiting the corner. I sat on a bench in my big red coat. Sophia said I looked like a big glowing flower. The repetition on the corner was starting to feel like a meditation. I really loved being there. After a while I knew all the regulars, and the morning unfolded like a choreographed dance.

It began with the fully-loaded food carts waking up in their lot across the street and their drivers guiding them over the crosswalk with no control.

Sophia: This thing is like a big boulder coming down a mountain.

Bianca: Enter the old Italian man who shouts, "I love you. I love you."

Male Speaker 2: You take care of me.

Sophia: [foreign language].

Bianca: Then.

Sophia: Oh, this is Meals on Wheels. Turkey bean chili, oh it's lunch.

Male Speaker 3: It's lunch, but we're early.

Sophia: That's right. Turkey bean chili and rice. I could eat that.

Bianca: Then the police car.

Sophia: I wave to police cars, but [chuckles] they don't wave back to me but that's okay. We're at the bottom of the totem pole.

Bianca: Then the three dogs that she's named after the three tenors.

Sophia: You look like Carreras.

Bianca: The kids who don't like to be crossed.

Sophia: That's rebel number two. Yes. Victory.

Bianca: The mom who is always late.

Sophia: Lord have mercy on her heart. Perhaps she works the night shift.

Bianca: She has rituals with many of the kids. When she misses one-

Sophia: Looking back and hoping that I'll catch their eye. It's heartbreaking actually.

Bianca: -there's drama.

Sophia: The guys were supposed to come and pave the road and somebody had stolen their machine. How could you? Do you just hotwire that thing and drive away? How do people not notice you driving away [crosstalk]--

Bianca: Of course, there are trucks.

Sophia: Oh my goodness. I love trucks. It's like being in a world of giants. They have their own atmosphere traveling with them. Basically, some of them are so hot. It's like a weather system. Oh, well, if I see a woman driving a truck, oh, forget about it. That's the best. Then what is not to love about a car on top of a truck.

Bianca: On the corner, I would lean against the big blue mailbox in the sun with my headphones while Sophia talked to me through her microphone from the crosswalk. I saw some people staring at her wondering if she was talking to herself.

Sophia: I was standing here his morning and I realized, well, two things. The first thing is nature. Nature, do you know that thing about the eternal return? He says a great way to think about your life is that you for everything, every decision you're making, everything you do you say to yourself, "What if I had to live this life exactly the life that I've had eternally?" Just over and over, it's like reincarnation but the same life. Then act--

Bianca: Nature reminded her of Kimo and Kimo reminded her of the myth of Sisyphus pushing a boulder up the hill.

Sophia: I'm starting to identify more with manual workers who work with their bodies. You know what? If you push a boulder up the hill all day, you're going to have a good sleep. [chuckles] You're not going to have problems with insomnia. Morning.

Male Speaker 4: Morning.

Sophia: I think as a professor, I was looking for some external meaning.

Bianca: That's right. Before becoming a crossing guard, Sophia was an atheist philosophy professor.

Sophia: Working on my dissertation six days a week. Good morning.

Bianca: Columbia University, PhD, tenured philosophy professor at a university in Brooklyn. I knew many people who had ascended the ladder of ambition, but rarely met people who had voluntarily climbed down it. I slowly unraveled the story of how Sophia went from married to divorced, philosophy professor to crossing guard, and atheist to Catholic. Since she was a kid, she never knew what she wanted to be when she grew up. No job felt right. No vocation called to her.

Sophia: All I could get was a big black cloud of nothing.

Bianca: She did the philosophy PhD to please her parents. When she got the job, she developed depression and chronic fatigue.

Sophia: Just skip until I quit my job as a professor.

Bianca: Her husband had the income to support them both and health insurance. Her days were suddenly free and she started thinking about what she really wanted to do in the world. Then one day, in the middle of the week, she noticed her neighbor in the lobby looking very dressed up.

Sophia: Beautifully resplendent in this silk sari with brocade embroidery, and it was a Tuesday at 11:45 AM.

Bianca: The neighbor said she was going to a mass across the street and invited Sophia.

Sophia: She just had this look of happiness. She's like, "I'm going for my mass, I love my mass." I was like, "It belongs to you, what?"

Bianca: Sophia's like, "Okay. Daily mass will help me get out of bed when I'm unemployed."

Sophia: It's just a social practice just like anything else, like a book club [chuckles] or like a workout.

Bianca: When she got there it reminded her of a philosophy class.

Sophia: The Monday to Friday crowd is like the graduate seminar and the Sunday mass is like the undergraduate intro class, that's basically what it is.

Bianca: Then she became obsessed with a priest holding the Eucharist.

Sophia: The way he was looking at this little wafer like it was his baby.

Bianca: She was like, "You don't actually think Jesus is in the wafer, do you?"

Sophia: He said, "Not only do I and all Catholics in the world believe that, but it happens to be true." It was like watching The X Files like, "The truth is out there."

Bianca: Then she's like, "Well, what if I allowed myself the possibility to think it might be true."

Sophia: If he's outside of time and space, he can do anything. It would be easy for him to go into a piece of wafer. He can go into wine, he can go into a wafer, he can do anything he wants to, he's God." My mind just kind of cracked open the door to if this is true, then look how interesting the world becomes.

Bianca: Then she started getting Eucharist envy, she wanted to taste the wafer, and when she finally did.

Sophia: I've only been high on marijuana a couple of times, that's the closest thing I can think of. It was kind of like the world has all these sharp edges and pokey things and nothing really hurts as much as usual.

Bianca: She and her husband were supposed to have their 10th anniversary in Paris. Instead, he divorced her. I don't have his permission to go into the details of why they split up, but after 10 years together, Sofia wanted a deeper relationship, and she suggested they separate. Her idea was that some time apart would spark romance.

Sophia: I had this whole elaborate fantasy in my mind that this was the thing that would restart, reboot everything, but now I realize [sobbing] that I hadn't really discussed this with him, and it was a big shock to him, and so after a few weeks of living without me, he decided that he preferred it that way, and then he told me that he had actually been fantasizing about getting out of the marriage.

Bianca: Shortly after that is when I stepped in and started recording Sophia.

Sophia: Yes, I cried a lot yesterday. That's one of the reasons I started going to church, is that churches are really good places to cry, and nobody asks you what the problem is, and as long as you're on your knees and have your hands like this, they assume that you're just praying, and crying is normal. Men cry, everybody can be crying in the pew, and people are like, "Oh, yes, she's praying, she is crying, that is socially acceptable. In fact, it's approved."

It's like, "Oh, she's very devout. She's crying because she loves God so much." I can stay in there and cry as long as I need to, and there aren't a lot of places like that.

Bianca: After the divorce, Sophia had 60 days before she would be off her husband's health insurance. She started looking for a job that included benefits, that would still give her enough time to figure out what she really wanted to do. At church, she met a school crossing guard. "It's 25 hours a week," the woman told her, "And it comes with health insurance." Sophia went to the police academy to check out the training, and there she found a number of life's little pleasures.

Sophia: Yes, it was unexpectedly beautiful. I really started enjoying the sight of people in rows.

Bianca: Sofia's appreciation of these moments was so apparent, so contagious, that when she started opening up to me about her depression, I was startled. She told me that suicide is a regular thought for her. That her younger brother is the main reason she stops herself. At first, I thought, how could someone who finds so much joy in a uniform supply store feel that way, but I realized it was a desperate type of joy. She needed the joy she experienced on the corner for survival.

Sophia: Because I have considered suicide many times and think about it a lot, I realized that I need to squeeze the joy out of everything I can. I need reasons to live every day, and if a white glove makes me really happy, then I'm going to take that, and if a bite of brownie makes me really happy, then I'll take that.

Bianca: This attunement to life's little pleasures was my favorite thing about being on the corner with Sophia, and it comes up often in Nausea. For Aontoine, mundane pleasures are the antidote to the shame of existence. "My life put out feelers towards small pleasures in every direction." He walks the city and bathes in rectangles of yellow light. He watches a man innocently eat a slice of bread. He revisits the same park, but it starts to look different.

"It didn't have its usual look. It smiled at me. I felt violently that I was having an adventure." For Sophia, the Catholic church was masterful at creating these moments like communion for instance.

Sophia: We're not supposed to receive communion more than once a day, but some of us do [laughs].

Bianca: You? Is this a confession?

Sophia: Yes, I am unrepentant.

Bianca: Now Sophia has been a Catholic for two years and a crossing guard for one, but the pay is so low and there's so little recognition that she's had to keep convincing herself that she's on the right path.

Sophia: Maybe I've already had my time of leadership in the spotlight. Now the rest of my life is just living in the shadows being mostly invisible. That would be such a relief if I could just do that and people didn't expect more from me. I think I expected more of myself and through prayer, I have started to realize that it would be completely fine for me to stay where I am.

[music]

Part of being a crossing guard is I now see that I have an opportunity to pray for every person who passes my corner. Now I feel like, well, it's part of my job to be that person who is looking out for everyone on the block. Then also when people are clearly suffering to just silently not to make a big deal, not to do anything that would let anyone know that I was praying for them, but to just do it in my heart while I'm there while they're in front of me.

If it works, great. If it doesn't work, it still does something for me because it's getting me into the habit of having empathy for people and wishing them well sighs].

Bianca: Is this an emotional topic?

Sophia: A little bit. Yes. Well, to be honest, I feel sad that I did not grow up with a lot of people I knew praying for me. It's sad that there are some people who don't have anyone to pray for them. Whenever I think of that, that just makes me sad. That there are many, many people that I see on the street who don't seem to have anyone who prays for them or anyone who really cares if anything happens to them. I feel like everyone should at least have someone to say goodbye to them or to bury them, I guess.

Bianca: Do you fear that for yourself?

Sophia: Yes, I do not have children. My brother is 11 months younger than me, but people with down syndrome tend to die earlier. My parents are older than me. Someday, someone's going to get this apartment and I don't know who. I don't know who to leave it to. Basically, I have no heir, or I don't know who's going to bury me basically.

Bianca: I'll bury you.

[laughter]

Sophia: Do you know what you're getting into when you say that?

Bianca: Yes, I'm sure it's a lot.

Sophia: You're a very generous person because I don't know if you're planning to marry and have kids and stuff, but by the time I die who knows where you'll be. You could be in another country. You will have more obligations.

Bianca: I don't think I'll be another country, but yes. I keep in close touch with the people I interview. They stay in my life in intimate ways. I stumble over my words. I didn't know what else to do other than offer. Had I struck the deepest loneliness possible, the loneliness we're afraid we'll feel when we're dying?

[music]

Bianca: My time with Sophia had helped my loneliness, but it had not solved it. I had no priest, no shaman to go to with my problem. I went to the contemporary equivalent, my doctor. When I told her about my loneliness, she prescribed antidepressants. I wanted to tell her that I wasn't depressed, I was lonely. I was lonely because I lived thousands of miles away from my parents, because I grew up thousands of miles from my grandparents, because my mom was an immigrant we were always reaching across different cultures.

I wanted to tell her I was lonely because I was beholden to no one. Nothing was expected of me. I had no responsibilities other than my own material well-being, which meant that I fought with my roommates about money. I wanted to tell her that I lived a life separate from the rhythms of nature and I wasn't born into any belief system, that moving my car for street sweeping had become a cherished ritual in my life.

Most of all, I wanted to tell her that my loneliness was beyond the physical and into the spiritual realm. I longed for ceremony, for stories and mythology to guide me. Had I unconsciously gone looking in churches to fill this void? I didn't say that to the doctor. I took the prescription, and I filled it and the loneliness was dulled.

[music]

Bianca: It's been six months since I started following Sophia. I'm in an Antoine mood again. "Where shall I go? What shall I do?" Back to the long walks with my hands behind my back.

Sophia: Morning. Morning, sir. Here's Edwin.

Bianca: On my last visit to the corner I told Sophia to say the end of the story on her own. She had the microphone clip to her and I walked away to get a coffee.

Sophia: Oh, my assignment. Well, first thing that popped into my mind was the most dramatic ending, of course, is that one or both of us gets hit by a truck [chuckles] while crossing the street. Not you, Bianca, but possibly me, so that you could then finish the story and it would be my legacy. It's funny because I would love for the story to end with me still being a crossing guard, just showing up and being present for people. Being present is the essence of my job. Good morning.

Bianca: After following Sophia for months, I did feel less lonely with her and she felt less lonely with me but it was time to go our separate ways. I moved out of New York. Not sure where I'd go next. "I'm between two cities. Who remembers me?" I thought of Sophia often-

Sophia: Bye scooter boy [chuckles].

Bianca: -standing on a New York City corner talking to the Meals on Wheels people.

Sophia: Thank you so much for feeding our old people.

Male Speaker 5: Thank you. You're welcome.

Sophia: Without you, I'm sure they would die.

Bianca: I feel something brush against me lightly. "I dare not move. I'm afraid it will go away." Something I didn't know anymore. "A sort of joy." Sophia, if only I could capture her. "Then I could feel less lonely." I could think about her life. "As something precious, almost legendary." Tomorrow is a school day. "Tomorrow it will rain." Tomorrow it will rain in Brooklyn. Tomorrow the crossing guard will wear her Yellow Jacket. It flows in me gently, gently, I exist. It's so sweet, so slow.

[music]

Anna: That's Bianca Giaever in the episode Crossing Guard from her podcast called Constellation Prize. I'll talk with Bianca about making this after the break.
[music]
Anna: This is Death, Sex & Money from WNYC. I'm Anna Sale and I'm now here with Bianca Giaever, the producer of Constellation Prize from The Believer Magazine. We heard the first episode from that show Crossing Guard before the break. Hi, Bianca.
Bianca: Hello, thanks for having me.
Anna: Congratulations on your show, it's such a special thing to get to listen to.
Bianca: Thank you. Thank you so much.
Anna: When you think about how to describe this particular piece Crossing Guard to people, do you describe it as a profile? Do you describe it as an essay? What are the words you've found yourself using?
Bianca: Yes. I do describe it as a bit of both. I've always been really interested in character over plot primarily. The conceit of this story was that I would get to just really go in on character and it would be a complete dissection of one character who I chose at random. I don't know. I actually don't need to describe it to anyone usually, this is my first time.
[laughter]
Bianca: I'm just like, "Listen to this, please." I've been in a pandemic so it's just all over Twitter. It's an honor to even be able to describe it at all. When I'm describing the podcast to people I guess I do use the word performance art sometimes because it is a highly conceptual episode in the sense that I went into it with a concept almost the way a piece of performance art would begin with a concept.
Anna: You also talk about finding Sophia, meeting Sophia because you were lonely and looking for other lonely people. Are you feeling lonely right now?
Bianca: [chuckles] Yes. I think I always feel lonely. Loneliness and anxiety are two constant themes in my work, and it's a bit of an obsession. Even when I'm around other people, I feel lonely, not in a like pity me way, but in a spiritual way. I think part of that comes from having grown up in this time with atheist parents and not a strong sense of community or belonging, or no religion to belong to.
I think there is a kind of searching to fill the void, which loneliness is one word for it. It's hard to fully describe, and my work is constantly trying to describe it. Apparently, Sartre felt it too hundreds of years ago. Or not hundreds of years ago, decades ago [chuckles].
Anna: I am interested that you said it's growing up right now. It's both feels like a specific phenomenon right now that feeling you're describing and also a timeless feature of being human.
Bianca: Totally. Yes. Obviously, being single in a pandemic right now is not helping my loneliness [chuckles] a ton. Obviously, this piece was produced before the pandemic and we released it in the pandemic. I was like, "Is this going to work? Is this going to feel weird?" It ended up really resonating with people because if you are single right now, or even if you have family and you're stuck with just one or two people, it is a very isolating time.
Here in Vermont, someone just posted on Front Porch Forum with the subject alone, and they were like, "I need to know is anyone else alone right now?" It's hard to even remember that other people are alone. She's like, "It seems like everywhere I go, I see couples," and so I responded. I was like, "I'm also alone. Thank you for posting," because there's such a stigma to loneliness and it's hard to even tell other people that you're lonely. It's very awkward. Even saying it out loud just to you it felt like a transgression or something.
Anna: I like that that conversation happened on a place called Front Porch Forum. Also, there's something really sweet like thinking about you two shouting across to each other from your front porches [chuckles] where you're by yourselves.
Bianca: Oh my gosh, I need to do a piece about Front Porch Forum. It is insane the posts. This one person has been trying to give away a rooster for six months and no one wants it. They're like, "Still have the rooster. Anyone? Anyone?"
[laughter]
Anna: Well, I also want to talk to you about your creative inspiration because all this week as part of our Audio We Love Festival, we're asking the creators of the shows that we're featuring about the things that inspired them while they were making them. You already mentioned John-Paul Sartre who you talk about in the piece. What's something else that you were either going back to or thinking about as you were making this, something that provided you inspiration?
Bianca: I mentioned performance art. One of the pieces that I almost mentioned and put in the story as well but ended up cutting last minute is a piece by the performance artist, Sophie Calle, that she did in 1980. I don't know how to pronounce even the title of this piece [chuckles] because it's in French.
Anna: Well, spell it for us. How is it spelled?
Bianca: Okay. S-U-I-T-E V-É-N-I-T-I-E-N-N-E. Hang on, I'm putting it into a translator right now. French translate, Vénitienne Suite. That's how it translated.
Anna: Sophie Calle, spell it, C-A-L.
Bianca: C-A-L-L-E.
Anna: C-A-L-L-E, okay.
Bianca: I think it's pronounced Calle. Anyway, so she met a stranger at a party in Paris, I believe, and she decided to follow that stranger all the way to Venice. He got on a plane. She followed him to the airport just out of sight. She got a ticket and she went to Venice. She was photographing him from a distance and it's all these photos of the back of his head. Her whole practice is very voyeuristic.
It's about trying to get to know people based on the ephemera of their lives. She has another piece from the following year called The Hotel where she works as a cleaning person in a hotel and goes through stranger's things and tries to find out everything she can about them. These are highly conceptual character-based pieces about-- To me the longing to know strangers' stories based on the little pieces that you see of them out in the world.
I've always been interested in audio as a format for performance art as the deliverable for performance art. I was interested in doing something similar where I also chose a stranger and followed them. Vito Acconci is a famous performance artist. He also had a piece in 1969 that was literally called Following Peace. He has a quote about it, where he says, "I am almost not an I anymore because I put myself in the service of this scheme."
That was what I ended up achieving at certain moments of this peace where I wanted to forget myself because I was so immersed in another person's life. I wanted that feeling because being an I is so lonely. By committing to Sophia, the obsession with Sophia for six months, I did lose myself in it and I did need an obsession at that time. I do think of obsession as a cure for depression.
Anna: Is there anything else that you think of when you think about what gave you fuel when you were working through this piece?
Bianca: Totally. It almost is a lonely experience until the piece is released because you're so alone in this obsession with this person. The book Nausea came to me through an artist friend named Nirvan Mullick. It's a bit of a cliche. It is a little embarrassing to be reading Sartre because it's so like, I don't know, like college kid discovers existentialism, but the book just--
Anna: It's time. It's we need that. When you need it you need it.
Bianca: You need that. Yes. It's very earnest. My friend Nirvan Mullick his entire career has been based around an obsession of perfect moments. He's been working on a one-second film for 25 years. He actually is the one who told me about Nausea because it mentions perfect moments. In Nauseathere's a thread of him trying to find perfect moments in the city and that definitely is very present in the piece. Actually, Nirvan and I and another friend we text each other a perfect moment from every day as a practice-
Anna: Oh.
Bianca: -and [chuckles] so that was definitely inspiring me because I feel like some people orient their lives in a way to create and find perfect moments. The way Nirvana lives his life, he definitely does that. I try to as well because we have this practice. Sophia does that too. On the corner, she's looking for perfect moments and she's trying to create perfect moments. I try to capture those in the piece.
A perfect moment could be as simple as someone smiling back to her who hadn't smiled the five days previously, or a moment of standing in the sun when the sun hits you perfectly. There were a lot of those in Nausea. Sophia and I had some perfect moments in our conversation and so in a way, the piece felt stringing together the perfect moments to create the ultimate perfect moment.
Anna: What was your perfect moment yesterday that you texted?
Bianca: [chuckles] I can literally pull it up. I had so many. I had a few. Realizing that I don't like bananas finally, just admitting that to myself was one of yesterday's perfect moments.
Anna: [laughs].
Bianca: This guy I have a small crush on texted me saying he liked a radio piece I made. A moment can be perfectly terrible as well. Sometimes when things go so perfectly wrong all at once it's like, "Wow, this is perfectly horrible, but it's still perfect."
[laughter]
Anna: I have one more question for you and that is, are you and Sophia still in touch?
Bianca: We are still in touch, of course. I stay in deep touch, if that's a phrase, with people when I do really long pieces about them like this. She sent me photos of herself all decked out, like her latest outfits, and all her PPE for the pandemic, updates on when she moves corners, I always hear about it. Being a crossing guard in a pandemic is a whole new chapter.
She tells me about how she's still crossing kids to come get their lunches from school, but it's not quite the same. That sort of thing. I think she still feels lonely. Especially in the pandemic, it's really hard and she can't hang out with-- Normally, she sees kids and babysits and that sort of thing. Yes, we keep in touch, but it's not nearly to the degree that it used to be. Just like I check in every couple of weeks.
Anna: Bianca, thank you for making this and for sharing it with us.
Bianca: Oh, thanks for playing it, and thanks for talking to me about it. I really appreciate it.
[music]
Anna: You can find Constellation Prize from The Believer magazine, wherever you listen to podcasts. Crossing Guard was written and produced by Bianca Giaever. It was edited by Hayden Bennett, music by Zubin Hensler, and Stellwagon Symphonette. Mixing by Zubin Hensler. Special thanks to Lille Allen, Jacob Blumberg, Andrew Leland, Laura Irving, Caveh Zahedi, Jay Allison, and to Sophia.
If you'd like to subscribe to The Believer magazine, we have a discount code for you too. You can enter DSM for 20% off. Death, Sex & Money is a listener-supported production of WNYC Studios. Anabel Bacon is producing our Audio We Love Festival. The rest of our team includes Katie Bishop, Afi Yellow-Duke, Emily Botein, and Andrew Dunn. Special thanks to Michelle Xu for her work on the festival.
The Reverend John Delore and Steve Lewis wrote our theme music. I'm on Twitter @annasale. The show is @deathsexmoney on Twitter, Instagram, and Facebook. Don't forget to sign up for our weekly newsletter. To get Audio We Love recommendations every single week just text DSM news to 70101. There's even more Audio We Love coming your way tomorrow.
Walter: You've never told me this before. You also wanted to be a cheerleader?

Ellie: Yes, because they look so cute with the little skirt. They were so popular.
I'm Anna Sale, and this is Death, Sex & Money from WNYC.
Copyright © 2020 New York Public Radio. All rights reserved. Visit our website terms of use at www.wnyc.org for further information.
New York Public Radio transcripts are created on a rush deadline, often by contractors. This text may not be in its final form and may be updated or revised in the future. Accuracy and availability may vary. The authoritative record of New York Public Radio's programming is the audio record.
Music Credits:
"Arizona Moon" by Blue Dot Sessions