An Astronaut's Husband, Left Behind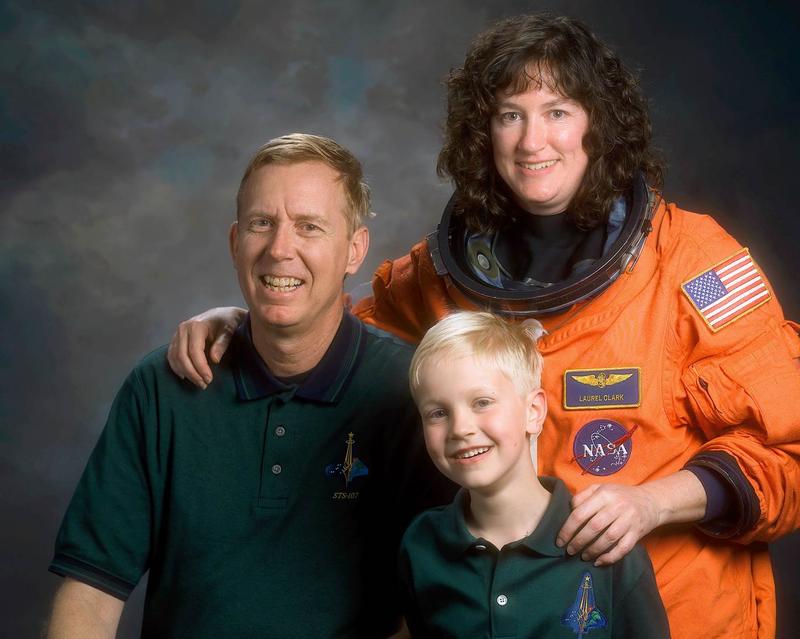 Transcript
Dr. Jonathan Clark: You have to take this situation and turn tragedy into triumph. Otherwise your life will be hell.
This is Death, Sex & Money.
The show from WNYC about the things we think about a lot…and need to talk about more.
I'm Anna Sale.
MISSION CONTROL: The time is 20 seconds and counting...
On January 16, 2003, the Space Shuttle Columbia launched from Kennedy Space Center in Cape Canaveral, Florida.
MISSION CONTROL: ...11, 10, 9, 8...
Dr. Jonathan Clark was there, watching the shuttle take off with his 8-year-old son, Iain. His wife, Dr. Laurel Clark, was one of the seven astronauts on board.
MISSION CONTROL: ...mission, and liftoff of Space Shuttle Columbia with a multitude of national and international space...
JC: I don't think it's good for a spouse to say, "You should go do this."
MISSION CONTROL: ...Houston now controlling the flight of Columbia, the international research mission...
JC: I think it's more important to say, "Whatever you decide—to follow your dream to the stars—I will do everything I can to be there for you."
Sixteen days later, the Columbia space shuttle broke apart upon re-entry into the Earth's atmosphere. All seven astronauts on board were killed.
That was twelve and a half years ago. Jonathan Clark is a scientist, a doctor, a Navy veteran. So he's been trained to analyze problems and to respond with cool distance.
JC: I take everything and I dissect it down into all of its component dangers and hazards and then say, "Okay, boom, this is how we deal with this, this, and this."
Laurel was also a doctor in the Navy. They met when they were training together for diving emergencies.
JC: We didn't really start dating 'til after dive school. Just because, you know, first of all we were busy and it was very physically demanding. And you really didn't have time to go, you know, out on dates and stuff. But we had planned on, you know, just as friends to go on some dive trips in the Caribbean. Cause we both had a—like a passion for scuba diving. She—she and I both had this interest in extreme environments.
They also both joined the military for the same reason…to pay for college. Jon's father had been in the Army. His family moved around a lot when he was a kid.
JC: I had six first grades. I moved every year of high school.

AS: Six first grades, wow.

JC: Yeah, basically you're there for whatever time—usually that was something my dad was in training. And it wasn't towards actually after I was in college that he quit doing that to our family. Maybe they saw how rebellious and wild rebel person I was cause of the fact that I just never seemed to have any continuity. Basically you had what you had, you know, in your little suitcase. And I, you know, you never learned to have anything but what you could carry. So you learned to live a very transient life.
Jon and Laurel's Navy careers landed them on different continents… he served in the Persian Gulf War...she was sent to a submarine squadron in Scotland. But they stayed together, they got married in their 30s, and settled in Florida.
Then, Jon volunteered for a training session for space shuttle emergencies. Laurel wanted to join him.
JC: She goes, "Well I can take off time, I want to go—come with you." And she was just basically hanging around watching everything that was happening. And as we're getting ready for that exercise that last day, they would put casualties in the shuttle. They had a shuttle mock-up they put out in the swamp. And they didn't have enough casualties, and so somebody said, "Hey, we need an extra person to get in the suit." And, you know, she goes, "Well shoot, I'll do that," you know. And so she got to put on the shuttle escape suit and they put her inside this mock-up along with the other casualties. And then she actually wrote this really really unbelievably good report on what it was like from a casualty's perspective.

AS: Wow.

JC: And afterwards we're flying back, it's kind of eerie but she was like, "This is what I want to do." So that was when she decided she wanted to be an astronaut.

AS: How much have you thought back on that story of her, you know, she joins you in an emergency shuttle rescue and she volunteers to be a casualty. How much have you thought back on that?

JC: A lot. I mean, I think that if she hadn't had that exposure she would have never even put that in her—her list of things she might want to consider. Because it just seemed like so foreign. Once that idea crossed her mind it was like, "Well this is what I want to do."
Laurel applied to NASA. And around the same time…she got pregnant.
AS: How did you decide to become parents?

JC: Well I think that was probably her driver. I mean, I'm like, you know, I like fun and adventure and I'm like, diapers and kids are probably not my top priority.

AS: Don't sound like fun and adventure to you. (Laughs)

JC: Well, you know, they are and I guess women have this kind of innate gene that says they want to have kids and I'm like, "Okay fine," you know. But it wasn't like something I was like kicking and screaming to do. It was definitely her—she was the driver on that. They're a lot of work!

AS: Yeah. And from what I understand she was eight months pregnant when she decided to apply to be in the astronaut program?

JC: Oh that was comical. She went for her NASA interview and she's like grotesquely pregnant.

AS: (Laughs) Not just very pregnant. Grotesquely so.

JC: Well, I mean, you know, you know, very obvious. And she said well it was great 'cause she didn't have to do any of the medical tests. 'Cause they do all these tests which, you know, probe you and stick things in you. And she could do some of them but she couldn't do anything that involved x-rays or anything. And then, Iain, our son, was born in October, several months later.

AS: The Columbia Shuttle Mission was her first into space. What did you talk about together when you knew she was going?

JC: Well, I was assigned to NASA because the Navy had an obligation to co-locate us. Because of my interest in things related to extreme environments, I did a, you know, fairly in-depth analysis of shuttle and space flight risk and it didn't really jive with the standard NASA "oh this is really pretty safe" or whatever.

AS: When did you do that analysis?

JC: Oh I did it probably—maybe a year or so before her—her flight.You know, and she saw it and said, "Well if it's this bad why didn't NASA talk to me about it?" And I said, "Well, I mean, I'm not—these aren't—these aren't negotiable things." I also talked to her family and they were just saying, "Oh my god." At the time they just thought I was being negative. And I'm saying, "I'm not—it's not like I'm being negative. These things really happen. These bad things really happen."

AS: So you were—you were in the position of wanting to be a supportive spouse while also having put together data that showed that a shuttle mission is more dangerous than what NASA tells its astronauts?

JC: Well, I mean, actually flying anything in space is dangerous. I mean, the fact is that you're going real fast. You've got a lot of, you know, energy in the form of chemical potential energy and speed and altitude and all those things. And those things don't just—you know, you can't just magically will them away. You have to deal with them. You need to know the risk. You know, it's essentially what has now come out as informed consent. If you're going to do this you need to understand what the risk is.

AS: Does it feel comforting that Laurel understood the level of risk and still said yes?

JC: Well I would have expected nothing less than her. I think that's just the way people are. It's like, you know, I have a 99% chance of surviving. You take that and you go, "Yeah, I can deal with that."
MISSION CONTROL: Columbia currently targeted toward a landing on Kennedy Space Center runway three-three, end of the shuttle landing facility runway...
AS: What do you remember about February 1st, 2003?

JC: Oh I remember everything. You know, it was an early morning landing, 9 AM in Florida time. We were at the—it's called the Shuttle Landing Facility—it's like a 15-thousand foot runway right near the launch site.
MISSION CONTROL: Aboard the shuttle on the flight deck are Commander Rick Husband and Pilot Willie McCool, Flight Engineer Kalpana Chawla and mission specialist Laurel Clark. On the lower deck of the shuttle are...
JC: So we're in the—there's a stand there right at the midfield, you know like a bleachers and there's a countdown clock. The countdown clock is counting down. And then there was some radio chatter that was broadcast over the public address system.
MISSION CONTROL: And Columbia Houston we see your tire pressure messages and we did not copy your last.
COLUMBIA: And Houston, Roger bu…
JC: And it was very clear to me that that was not something you would ever hear unless something was awry. I thought, wow that's weird, they're having trouble with the tire pressure.
MISSION CONTROL: Columbia, Houston, UHF comm check. Columbia, Houston, UHF comm check.
JC: And then we have family escorts, which are astronauts assigned to each family member. You know, so we have these folks that are assigned there. And all of a sudden you start seeing their cell phones going off. And you see that just kind of ashen white, you know, like stare, you know, that thousand yard stare they had.
MISSION CONTROL: This is Mission Control Houston. Flight controllers here at Mission Control have declared a contingency.
JC: And then all of a sudden it was just like one of those things you see after the—you know, like when Reagan was shot where everybody is rushing to their Suburbans and throwing you in and just zooming down the highway.

AS: So you got thrown into a car?

JC: Oh yeah. Yeah. And we were driving on the wrong side of the road. We were on the—we were on the left side of the road just hauling ass to the crew headquarters, which is part of the, you know, part of the Kennedy Space Center area. And that's where we were supposed to meet them when they came back after we got to watch the shuttle land. So, you know, we're in there, and because I work in there I had a key to the flight surgeon's office. And I went in there and I turned on the TV and I saw the breakup over Dallas.
CNN: These pictures apparently coming in to us from Texas. It would appear a catastrophic incident having happened there in the skies over Texas. Once again, NBC Bureau Chief…
AS: Wait, so you—you find out from television when you're with the other families.

JC: Yeah. Well the other families were in the room next door. And then, you know, the head of Kennedy Space Center who's a former astronaut, Bob Cabana, called us all in, you know, the families and the kids. And he—he um, he told everybody. And there was this unbelievable wail from everybody. The women, the kids, you know, I just cried. But I mean there was this god-awful blood-curdling screaming, yelling, crying. You know, but it's like - it's like an animal mortally wounded. It was horrible. I still remember that sound to this day.
Coming up…how John learned to be a single father…while still grieving for Laurel.
JC: It was really hard on Iain. He kept saying, "You know, you're really bumming me out." And it's like, "Yeah, I'm sorry." You know, and so I basically tried to put him on the road—you know, go see relatives or, you know—of course everybody that was involved grieved to their own extent. So I don't know that he ever had any normalcy after that.
A lot of you got in touch after our episode with the sex worker we called Emma, including other sex workers.
Samantha: Finally an episode that pertained to sex workers. Um, having just finished a client session myself, just a few thoughts of reflection.
This listener, who asked that we call her Samantha, said she understood Emma's fear about coming forward. Like Emma, she's a mom. And she's married. She says she does sex work because she needs the extra income.
Samantha: I'm in the unique position that I have a professional full-time day job. And I continue to do sex work because I enjoy it and, to be frank, I need a way to make extra income to put away for my kids' college funds.
Another listener named Susanna wrote in to say: "I have been on the other side of this equation. The wife of a man who is one of 'her' clients," she continued, "I understand the isolation she feels on the playground. When all the other mommies are talking about how they wish that their husbands would look elsewhere for sex, I think—I wish mine would choose to have sex with me."
Many of you sent notes for Emma—everything from expressions of support to tips about how to finance her graduate education. We've sent those on to her.
And some of you were frustrated that the episode didn't also mention that other sex workers enjoy the work they do.
"There are so many sex workers out there who would love to tell you how awesome their job is and how righteous they feel," a listener named Reuben wrote in from New Mexico. He continued, "Sex work is at a very delicate moment in our country and decriminalization of sex workers would create wonderful opportunities for thousands of women, men and trans people to extricate themselves from the shadows."
We listen to and read all of your responses. You can email us anytime at deathsexmoney@wnyc.org. We also share what we hear back from you in our weekly newsletter. You can subscribe to it by going to our website deathsexmoney.org/newsletter or we're trying a new thing. You can text the word NEWSLETTER to 69-866, and we'll text you back to get you signed up then and there. Again, text the word NEWSLETTER to 69-866.
On the next episode…
Yesi Ortiz: Yesi Ortiz, Power 106, New at 2...
Yesi Ortiz. She's the afternoon DJ at an LA hip hop station...and she's raising her sister's six kids.
She petitioned for custody after the kids were put in foster care. At the time, Yesi was 24 years old.
YO: And here I am doing my testimony about what am I going to do? 'It's six birthdays, it's six dentist appointments, it's, you know, what do you do for a living? How much money do you make?' I mean, you are just stripped down.
--
This is Death, Sex & Money from WNYC. I'm Anna Sale.
Within hours of the space shuttle Columbia's breakup, Jonathan Clark and his son Iain were put on a flight home back to Texas.
JC: We were on this plane and flying back to Houston. And so I'm sitting there thinking, I'm gonna beat feet out of there. I'm gonna get my SUV, I'm gonna take the dog. I'm gonna put Iain in there. Go to the bank and get as much cash as I can. And leave. I mean, like off the grid leave. Disappear. And if I could've done it, I would've done it. But as soon as we landed they split Iain and I apart. And—which tore my plan to shreds.

AS: It was NASA that did that?

JC: Yes, yes. My—you know, a good friend of Laurel's, who was a Canadian astronaut, she took Iain. And I ended up going over to one of the astronaut's house—you know, as a Navy guy my response to something catastrophic is to just drink a lot. So I got pretty drunk. And their plan from what I gathered in talking to folks afterwards was basically to just get me drunk as quickly as possible. I don't know how many hours later I'm probably in some stupor and they tuck me away and just get me through the night. You know I don't remember much 'til the next morning.

AS: What'd you drink?

JC: Um, mostly I think vodka. You know, heavy duty liquor.

JC: You know, the reality is the dying is the easy part. When something bad happens it's—it's—you know, you're going through it and it happens and then you either live or you die. And the irony of that, as well, is that we had been in a really bad plane crash a couple of weeks before her mission when we were flying to Albuquerque.

AS: Together?

JC: Our own plane, yeah. And—and so—I still have flashbacks about that. But what you remember is that you're working the problem, you're working the problem, and then it ends. You crash, and you either live or you die. In this case they died. And, you know—you know, it's over. And the hard part, quite honestly, is living. Whether it's living in the aftermath of having, you know, a lot of injuries to contend with or living in the aftermath of having to be a single parent taking care of a child who's grieving for the loss of their mother, or whatever. That's the hard part.

AS: When did you and your son have quiet time together as a family after the funeral services, after the burial?

JS: Well that was a long time. I mean, you know, the house was literally full of people and everybody is grieving. It was just like this massive cathartic—you just shed tears like heartbeats. Constantly just pouring, pouring, pouring out tears. And I remember like one day—maybe even the day afterwards or the next day—I just finally just go, I gotta go to work, you know. I just drove into work. I remember, it was like driving but you're like a zombie and I couldn't even remember it. I go to my office and I just sit there and then people are coming in and everybody's crying and everything. And I was just like, well this isn't gonna work. You know, I was basically just trying to establish some kind of semi-routine that I was familiar with, that I could do.

AS: Yeah, 'cause you're a doer. You do things.

JC: Yeah, I have to do something. And so it was probably a couple—at least several days, maybe a week before I ever even had time to be with Iain. And afterwards, our dog and Iain and I all just slept in the bed together. And it was just like just some kind of shared comfort kind of feeling.

AS: Iain is now an adult.

JC: Yes, he's 20 years old.

AS: I wonder looking back over the time when you were a single parent, what was—what was the hardest thing to learn how to do?

JC: Well, I mean, you know, I'm kind of like a—I wasn't super involved as a parent. I kind of like let Laurel be the lead there because she was really into that. So you basically have to learn how to do stuff, you know? Like just domestic stuff. Like everything.

AS: (Laughs) Domestic stuff, yeah.

JC: Yeah, I'm serious. Like stuff that would just get taken care of, like laundry and clothes. You know, I remember a joke 'cause Iain was 8 years old and he's growing and I took him to school and I remember somebody said, "Oh he's got capri pants on." And I said, "What does that mean?" And it was because he had grown so much that his clothes didn't even fit him anymore. They're like four inches above his ankles. And it wasn't until somebody kind of mentioned that—"Hey, you need to get your kid some clothes." I remember there was one really weird time where, you know, it just - I don't know why this sticks in my mind, but um, it was probably a month later and I was in the bedroom. And I just—Iain was, you know, nearby too—and I just kind of shouted. I said, "Hey Laurel, where are my socks?" And we both looked at each other and started laughing. It's like your brain goes into like some kind of autonomous self-preservation mode. And it was just something that triggered that. "Where the hell are my socks?" And I just shouted out, you know.

AS: Laurel will know. Yeah.

JC: It happens, you know.
Jon kept working for NASA. The year after Laurel's death, he joined the team that closely studied the causes of the Columbia disaster, including how each astronaut died.
AS: Did anyone try to talk you out of joining the investigation?

JC: There were people who thought it was not a good idea because I had a family connection. But my psychiatrist said, "Look, this is what he knows. I mean there's probably nobody in our group that knows this better than he does." So I was gonna do it.

AS: Was it hard for you to be part of the investigation, emotionally?

JC: No, not really. I think it was very cathartic for me. I mean, you know, you're looking at all these—everything. We went through the debris wreckage and reconstructed a lot of it. Even going through—you're going through everybody's autopsies. But you also have to have this higher calling that says, "This is a commitment to the future and to make sure that this works we have to do this." And who better to do it than somebody who's got a personal investment in it, which I certainly did?

AS: Yeah.

JC: You know, I've been exposed to a lot of death in my career both in medicine and in the military. A lot of death. A lot of death. So you just get used to this. I mean, to be angry is—is somewhat of a—a negative emotional experience. And so what you have to do is you go, it's about finding cause, not fault or blame. In other words, you know, what is it that led to this that is a cause that you can affect or change or remediate the next time so it doesn't happen? As opposed to, "It's these bastards who are to blame." Now were there people that were—that clearly had a role in their, you know, in the loss of the shuttle and that could have done something and actually knew that the mission had a severely compromised vehicle and didn't tell 'em? Sure. But the point is that the way I deal with this is to try to make it better the next time, in the hopes that something good can come from something bad.

AS: Do you think of yourself as a widower?

JC: Well, I'm not—I don't like that—I mean, it's a weird term anyway. So I would say no. I'm not going to carry that around. I got married recently and...

AS: You did? When did you get married?

JC: In January.

AS: How's that feel?

JC: It was great.

AS: Who did you marry?

JC: I married somebody that's braver and, you know, more courageous than I am.

AS: And what do you mean?

JC: Well, I mean, she—you know, if I've done it, she's done it, you know, better. And she actually knew Laurel. She didn't tell me that 'til after we were married, 'cause she didn't want that to be a factor. So she didn't tell me about this 'til just recently.

AS: How did you know you were ready to get married again?

JC: Actually I never thought I would ever get married again. And I think it was one of those things where you just kind of go—it's a weird story but her husband—her fiance was killed in a plane crash a few weeks before Laurel. So we had this kind of like, what's it like to lose somebody publicly and everything. And then, we've known each other for years and just when it feels right, it feels right.
Dr. Jonathan Clark. After the Columbia investigation, he joined a team that researched parachuting from high in the stratosphere. He says he hopes their work will help save the lives of future astronauts.
Death, Sex & Money is a listener-supported production of WNYC. The team includes Katie Bishop, Emily Botein, James Ramsay, Destry Sibley and Andrew Dunn. Thanks to Douglas Robertson for his help on this episode.
The Reverend John Delore and Steve Lewis wrote our theme music.
I'm on Twitter @annasale, the show is @deathsexmoney. And also remember text the word NEWSLETTER to 69-866 and you'll start getting our weekly email updates.
AS: Is there anything you want to make sure you say that I didn't ask about?

JC: I love being quiet so if you're done, I'm done.

AS: (Laughs)
I'm Anna Sale, and this is Death, Sex & Money from WNYC.
Copyright © 2019 New York Public Radio. All rights reserved. Visit our website terms of use at www.wnyc.org for further information.
Music Credits:
"Cylinder Five" by Chris Zabriskie
,
"Cylinder One" by Chris Zabriskie
,
"Mobile" by Blue Dot Sessions
,
"Cylinder Two" by Chris Zabriskie
,
"Coutances" by Late Bloomer
,
"Delicious" by Blue Dot Sessions
,
"One And" by Broke for Free
,
"Periodicals" by Blue Dot Sessions