Anne Lamott: Death Sucks, And It's Holy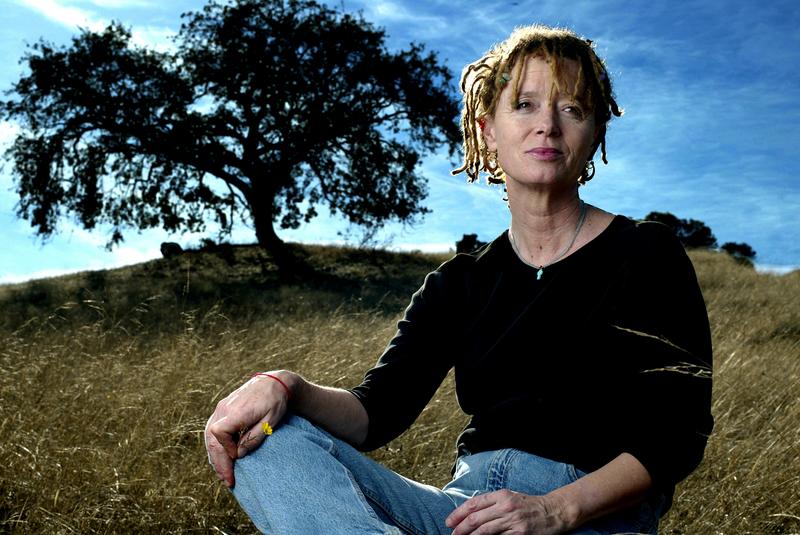 Transcript
ANNE LAMOTT: The more time you spend in the presence of death, the less you fear it. Your life will be greatly enhanced by spending time with dying people, even though you've been taught to avoid it. Death is not the enemy. Snakes are.
This is Death, Sex and Money.
The show from WNYC about the things we think about a lot...
...and need to talk about more.
I'm Anna Sale.
And this week we're sharing a conversation I recently had live on stage with writer Anne Lamott, as part of the Reimagine End of Life festival. I think you're going to like it. During her 40 year career, Anne has written many bestselling books about death and grief, addiction and recovery, parenthood and family, as well as her impulse to jump when she's in high places. We talk about that in the second half if you want to skip it.
Anne was born and raised in the Bay Area and lives there now, so we were on stage in front of a hometown crowd in downtown San Francisco.
ANNA SALE: So you have been writing about death for many years, going back to your first novel that you published when you were 25 called "Hard Laughter," which is such a great title. But I want to ask you about something that has changed, that is new in your life this year, when you got married for the first time at 65. How much were you thinking about death when you made that decision to get married at this point in your life?

AL: Well, I had decided that my husband-to-be, Neil, was actually after my Medicare payments. And, um, and very typically, if you're an older woman, a younger man--my Neil's a little bit younger--will prey on older women who are going to get Medicare. And, um, and of course, Kaiser Senior Advantage. And so I thought there was about a 50/50 chance that he would--and you see this in the paper all the time. They're always young men. They have big eyes. They're always called puppy-eyed. And so I thought, well, 50/50, I'll take it, you know? And it's so amazing to know that no matter what happens to me, Neil will walk me through that. And no matter what happens for Neil, if I'm alive, I will walk him through that. And it's an amazing feeling of safety and being able to let go a little, do the--I call it the sacrament of plop. You know where you go "Ah!" And it's amazing. But I didn't really think about death except for my possible...you know, him killing me or sedating me and keeping me hostage while he cashed my Medicare checks.

AS: There was a wonderful wedding announcement in the New York Times, and there was a line that stuck out to me, written by the reporter--this isn't a quote. She said, in the paper of record, "She is afraid of almost everything, whereas he's afraid of almost nothing." And it's not a way I think of you, as being afraid of almost everything. Does that feel accurate?

AL: Yeah. I just came this way, you know? God made me a certain way, and the fact that all these things have been my destiny. I was a very sensitive child. And in the '50s, that was something that was very shaming. You know, there was a book called "The Highly Sensitive Child," which was a handbook for your parents to bear having to have you as one of their children. And you know what it means to be sensitive? It means you're paying attention. It means you see the National Geographic, and you see what's happening in India. You see children with flies on their eyes, you see what's going on, and it grieves you. Your heart is open to it, you're more permeable. God, I grew up, I had this kinky, frizzy hair. I grew up having this be kind of what defined me. And the other thing, I mean, just being bullied constantly, having people throw stuff at me, boys, and then having people say, you've got to get a thicker skin. Like, if you had a thicker skin, we would be happier that you're here because you wouldn't cry about really sad things. But I raised my boy to cry about really sad things. The world is an incredibly hard and sad place, and so--but to be able to sit, that's why it's so incredible talk about death out loud, because the terror of it comes from not being able to say it, to say it actually happens. I've noticed it and it sucks.

AS: Well, there's a beautiful quote, also in the New York Times, from 25 years ago--where you were called "writer who has perfected the art of saying the unsayable." And as you just said, that's not a skill that was polished when you were a young girl. When you thought about sitting down, and what you wanted to achieve with the words you were going to put out in the world, was that your objective? To say what was not being said?

AL: No, not really. I mean, I didn't mean to...I didn't want to, you know, push the envelope intentionally for the sake of pushing the envelope. It's just, even as a child and a teenager, I was just starved for truth. And there's just so little truth in the world. And so if someone tells you truth, you know, just to use a cliched word, it resonates. It's like this little Dr. Seuss creature inside of you going, oh my God. And it's so, it's so enlivening. It's medicine. But it starts by saying these things that you weren't supposed to say. Like when I wrote the baby book. You know which one.

AS: Operating Instructions. Very important to me. Yes.

AL: No one had mentioned to me that--I was a single mother with no money, and it was a nightmare. I was 35. I was older when I had a baby, and I had never been able to be angry before. I had never raised my voice because in the '50s women were exiled. If a woman became angry, she was a little bit tense cause her husband was having affairs and she expressed this, they called her a witch. They used to kill us for that, right? For being emotional. And so I had never raised my voice and I had a baby and I just felt crazy, you know? And I remember writing in one of the entries in Operating Instructions. You know, the baby had fallen asleep and I brushed my teeth. And before that I thought, "Gee, that sounds like a lot of energy." But I had, he'd fallen asleep for a minute and I'd run in and brushed my teeth, which is a new lease on life, right? It's like God has reached down and touched you. And then he woke up again and I wrote, "Oh God, he's raised his loathsome reptilian head again." And, um, and there wasn't a mother on earth that said, "How can you say that?!" You know, every single mother said, Oh yeah, that's right. Yeah. You know. And this one night when he was just under a month, I mean, he's an eight pound person. It occurred to me that I could just put them outside for the night, you know. But I'd bundle him up really carefully and you know, I'd put him in a basket, he wouldn't be rolling around and stuff and he'd be warm. And any mother I said that to would understand it because you're going to die of being as tired as no one has mentioned. And so when I started mentioning this, people said,"Thank you. I know what you're talking about." And they said, it's such a really such really, someone said it out loud.

AS: Well, also in that first year of parenthood, you write in that book about losing your best friend to breast cancer. And you sat with her as she was dying. You sat with your father as he was dying when you were in your 20s. You've sat with friends since who are dying. You talk about hospice, and what it is to show up. You say, "show up." Listen, nod is what you do with the dying, which I love. Have you noticed anything about what it is to sit with someone who is dying when you have been at such different life phases? Has it felt different?

AL: Um, I got birth coached by a hospice. And what they say, let's see, it was, I was 23, so that's 42 years ago. And what they said was, we're going to teach you how to stay very real in this so that your father has company. He had melanoma that had metastasized his brain, and it's going to be very, very scary a lot of the time, but you'll never be alone. And whatever comes up, we've seen it before and we will help you walk through it. And I have an older brother and a younger brother. And when he died, they taught us to base the body. They taught us that these bodies are so precious to us that we bathe them. We honor them. You don't forget socks. Right? When you dress, a person who has just started their feet might get cold, and they taught me because they helped me feel safe in the--kind of the labor pains of losing my father. They taught me I was gonna never get over it, which no one had said. You know? And in America there's like a grid, a grieving grid. And if you lose a child, you can grieve for like four to five years. I think if you lose a spouse, 18 months. Brother, sister... you know, it's like, get on with it. Because this is about forward motion. America is about forward motion and if you stop moving forward, you're going to fall into the abyss. But if someone dies you can't live without, you are supposed to fall into the abyss. You know, and it's pretty abysmal, but where hospice says, what the community says, is: you need to fall into the abyss. It's appropriate, and we will climb down in it with you and we will get you tea. And hospice taught me that there was truth that wasn't bumper stickers. And that I was going to really probably never get over my father. And I wasn't particularly supposed to, but at some point I would be able to bear it. And at some point--what I didn't know--was that at some point I would feel him again and he'd be alive for me again. And that's always what I've said to people who are with others that are dying. I've always said, you sit there and that you listen and you don't run and you help them savor what's working. And you help them savor the feel of a hand on their skin and you helped them savor the view out the window. And if they don't feel like savoring, if they don't want any of it, you help them feel really angry about the hand they got dealt. You know, I think the bottom line is it sucks and I hate it, and it's holy.
Coming up...after a lifetime of losing other people and tells me how she's thinking about her own death.
AL: I mean, I'm a Christian, so I basically see death as a pretty significant change of address.
---
This is Death, Sex, and Money from WNYC. I'm Anna Sale.
AS: I want to ask you about your own mortality.

AL: Oooh.

AS: And it's something else you write about in almost everything. Your, your newest book, you write early on in the book about, um, a feeling you have had your entire life when you're in high spaces. Do you want to describe what that feeling is?

AL: Oh yeah. It's funny because I'm a really positive and optimistic person in a slightly cranky way, and I absolutely believe in Jesus and the kingdom and eternal life and so on and so forth. And yet my entire life when I've been in high places, I felt like jumping. Because I find it exhausting here. And I still do. And I have a brilliant, brilliant psychiatrist who told me--who made me have a commitment with him, that whenever I felt this, I would tell whoever I was with, "I'm having it again."

AS: Wait. So explain to me--describe to me how that can happen in the real world. When you're with someone, all of a sudden you're going up in a glass elevator...what do you say?

AL: Well in a glass elevator, I wouldn't wait to be able to get to the top so I could look down and kind of imagine jumping. Right? And because I believe that when the minute that we die, we're caught in the arms of God. I believe people...I just a hundred percent believe that. And so, um, it doesn't feel suicidal to me. It feels...this is why I have a psychiatrist because it doesn't, I mean, I remember our dentist was at the 450 Sutter building in San Francisco and it was on the 14th floor. And this is in the '50s and '60s when the windows opened. Do any of you remember that? When you could go and open windows? And I would feel this inexorable pull to go out the window and to jump. But all truth is a paradox. All truth. I love being alive. I love it. And I always had incredible friends that were always my great advantage here. And so I don't know how to explain it except that people that are....it's kind of like, well, the reason I'm supposed to tell someone was cause it kind of creates a trance for me. And I'm a drug addict and an alcoholic in recovery. I have an eating disorder. I have basically every single disorder you can have except for gambling, which I don't get. Because it just really hurts my feelings when I lose money in a casino or something. And I also get into kind of a trance when I'm at a money changing machine, and I get the four quarters out, I feel lifted. And so my work here, I feel, is to love this ordinary dumb day. And to keep breaking the trance.

Now I can make a case that the great trance, the great fear we have, is the fear of death. And so that if you begin to draw near to it, and befriend it, and get to become familiar with it, that it takes away--it doesn't take away, but it changes, it transforms. It does some sort of alchemy with all fear if you can just start to deal with this. But, so anyway, I just want to say when I was at a Coptic giving some sermons in Egypt five or six years ago. And I had made this deal with my psychiatrist that I would tell whoever I was with, that it was crossing my mind that I wanted to jump. And, um, and so I was with a minister and we were very, very, very, very high up. And I said, um, "I have to tell you something. Whenever I'm very, very high up, I just think about jumping". And he went, "Oh, who doesn't?" And it was so incredible. Because if you're a thinking, feeling sensitive person who allows themselves to have vulnerability and to be permeable of course you think that. Of course. You just don't want a lot more loss. It's like, I'm good on loss. Right? I feel like, thank you. I'm good.

AS: How have you found the necessary communication around end-of-life planning?

AL: Oh my God. You know, I just did that. I just did a will. Because that's what you do at 65. You get the Kaiser Senior Advantage and you do a will. And so for like a month, I've been discussing my impending death and incapacitation. And at what level of incapacitation do I give Neil a break and voluntarily go into the home? And so I been just actually having that in my face. And I can honestly say that, um, I know I will die. And it doesn't scare me. I don't want to die right away. I mean, I've only been married six months. I should get like...you should get a year out of this thing. I mean, I lost six pounds for the wedding. But I don't wanna die. I love, love, love life. I love my work. I feel like I have... I have a mission. I sit with a lot of people who are dying. I get summoned, and I help young alcoholics stay sober for that day. And so I have work I want to do in that capacity. It's not, you know, I'm totally replaceable, you know, probably not to Neil, but he's so crazy about me. But, um. But I'm replaceable. And I hope that I get to live to see my grandchild--for it not to devastate him. But I don't have any fear of death. I've just seen so many people die and they have all passed with heroism and some awful days, but with heroism and humor and laughter. And laughter is about as sacred as it gets. Laughter is carbonated holiness, and I've seen every single person pass with grace. And grace bats last.

AS: One more question for you. And that is, as someone who has processed loss and pain through so much through words...when you have had moments where you felt in that abyss and words weren't doing it for you, what has helped when words didn't work?

AL: Crying and rage, crying and rage. You pick up the 200 pound phone and you call someone and you say, "I hate everything and all of life." And no one ever says, "Oh, come on, you're a Sunday school teacher." They say, "I'm so glad you called. Come on over, do you want to shop? Do you want to go get a whole lot of candy and, and shop?" Or they'll say, do you want to come over? And it's funny because I'm very, very angry. And I didn't notice that because I'm so religious. I'm such a good person, I'm mostly really sweet in the world. And you're raised to be, if you're a woman, I mean, if you're not, you're going to be exiled. And to do the anger with a safe person. To say, "I'm actually so angry that I think I could be having some kind of breakdown." And I have been able to say, "I'm so angry. I'm so angry that my friend died. I'm so mad. I'm so mad my friend Janine's son may die. I'm so mad. I don't get it." And I have found people that can let me do the rage in a really healthy, healing, life-giving way.

AS: Please join me in thanking Anne Lamott.
That's Anne Lamott, speaking with me live on stage at the Reimagine End of Life festival in San Francisco. Her most recent book is called "Almost Everything: Notes On Hope."
If you're considering suicide, or if you have a loved one who you think might be, please ask for help. The suicide prevention hotline number is 1-800-273-8255. That's 1-800-273-TALK. Or, like Anne, tell someone you trust who's close by.
Death, Sex and Money is a listener-supported production of WNYC Studios in New York. I'm based at the studios of the investigative podcast Reveal in Emeryville, California. Our team includes Katie Bishop Anabel Bacon, Afi Yellow-Duke, Emily Botein, and Andrew Dunn.
The Reverend John Delore and Steve Lewis wrote our theme music.
I'm on Twitter @annasale, the show is @deathsexmoney on Facebook, Twitter and Instagram. Our email is deathsexmoney@wnyc.org.
Anne's son is now 30--and even though she's taught him not to fear death, he's learned there are parts of her aging that he can leverage.
AL: My son Sam, whenever he's mad, looks up on the internet this place called A Place For Mom. You know, he'll say, oh, I think you'd like this place. They'll let you have a little animal.
I'm Anna Sale, and this is Death, Sex and Money from WNYC.
Copyright © 2019 New York Public Radio. All rights reserved. Visit our website terms of use at www.wnyc.org for further information. New York Public Radio transcripts are created on a rush deadline, often by contractors. This text may not be in its final form and may be updated or revised in the future. Accuracy and availability may vary. The authoritative record of New York Public Radio's programming is the audio record.
Music Credits:
"Tranceless" by Blue Dot Sessions