Anna Chlumsky Catches the Worm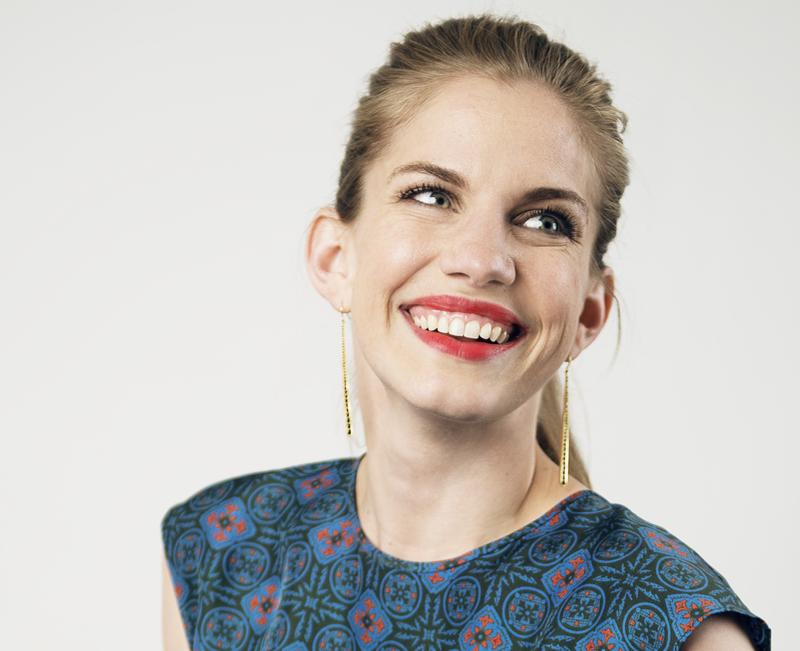 Transcript
Anna Chlumsky: I started to just get antsy, 'cause I knew I wasn't happy where I was. Friends would say, "I know your problem. You need to act again." I'd be like, "Shut up," you know.
This is Death, Sex & Money.
The show from WNYC about the things we think about a lot…
…and need to talk about more.
I'm Anna Sale.
Fans of the TV series Veep know Anna Chlumsky as Amy, the neurotic top aide to Julia Louis-Dreyfus's character, Selina Meyer.
SELINA MEYER: Amy!

AMY BROOKHEIMER: Yeah?

SM: So, what?

AB: Nothing! Well, I've been on the phone all night with these clueless constitutional law experts of ours. I don't know what's getting their dicks harder, an electoral college tie or talking to a girl.
But Anna's current success—at age 35—came after years of not working as an actor. She became instantly famous at 10 years old, when she co-starred in the movie My Girl, opposite Macaulay Culkin.
AC: You're not nervous as a kid. It was - it was - you know, "Can you do this?" "Yeah, I can." So it just - it just worked. And it was something that I was good at and that, you know, pleased the adults. Which is all you're trying to do as a kid.

ANNA SALE: As a girl, do you remember wanting to be in movies?

AC: Yeah. Yeah. I mean, I didn't choose it. My - you know, this was all kind of more of a financial situation that ballooned. Because it was first like modeling for the catalogues. And then - and my mom figured that that was a good way to put away money for college, 'cause she was a single mom and, you know, west side of Chicago, "How are we going to do - " You know. An opportunity is an opportunity.
After My Girl, Anna kept auditioning for parts and she got a few roles here and there. But when she was a teenager, her career started to fizzle out.
AC: It just makes you feel like shit as an adolescent. Most rejections as an adolescent for anybody in any walk of life, um, you know, those make you feel like shit over and over.

AS: When things got hard in your career in your later teen years, did it become difficult with your mom?

AC: Yeah. You know, but, you know I look back and I go, she did absolutely—you know, maybe aside from like a few things—everything right. You know, we never left Chicago. We stayed in school. Like, we always knew that everything I earned was for college. However, unfortunately what ends up happening even if you're trying to do everything right, you know, when the child is - is earning and it does start to pay for the mortgage, the dynamics just change. And, you know, so I think she - who could see that coming, really? Um, but - but yeah, it's - I think no one can kind of, like, go through a professional childhood unscathed.

AS: Did you feel different from your peers when you were in high school because you'd been in movies?

AC: I mean, I - I don't think I would have, had they not thought I was different. But, um, it was just a lot - people were like, "Why aren't you showing up to school in a limo?" You know, and you're like, "'Cause I live two blocks from you and you know how much those - those houses cost! Like we have - like, stop it!" You know, like, I'm not, you know, rich or I'm not this or I'm not that. There was - it's - it was a lot of, yeah, just like, you know, not just trying to get people to know you but first breaking down what people thought they - they knew about you. Being "the kid in a movie" then becomes, like, the label and people change and, you know, some people want to be your friends who never wanted to before. Family members are weird. So I - I became very private and not - not terribly trusting of people. And, you know, that's something I kind of struggle with to this day.

AS: Do you remember the moment when you decided you wanted to stop acting?

AC: Yeah. Um, I went into my agent's to do yet another taped audition for something that I knew I wouldn't get. Because it was in a slew - it was in a huge pattern of - of jobs I wasn't getting. Like years. And um, so I did it and I got in my little - I had a Neon, a Dodge Neon. And I threw the script on the passenger side, on the seat, and I - I don't know. It's one of those detached moments, where it's like I just looked at the script and I went, "I don't have to do this anymore."
That was during Anna's freshman year of college. She decided to buckle down and focus on her studies at the University of Chicago...
AC: ...famous for its slogan, "Where fun comes to die."
She paid for college with money she'd earned as a kid. And at the end of her sophomore year, she started dating a freshman named Shaun So.
AS: Did he know who you were?

AC: Yeah. Everybody - everybody, you know, knew that I was the girl from My Girl and stuff. But the nice thing is he just - he didn't care. He didn't really grow up, um, watching movies very voraciously. And, uh, by then I could tell who cared and who didn't. You know what I mean? So, like, you kind of feel safe with the people who don't care.
Anna and Shaun were together throughout college, and when she graduated a year before he did, she decided to move to New York.
AS: What was - what was the plan? What was your vision?

AC: (Laughs) Oh, my plan was to - uh - to write food and travel articles so that my job could pay for the thing I liked the most, which was travel and eat. (Laughs)

AS: Smart.

AC: Yeah, um, but I had no clips, you know, leaving college. Like I never wrote for the paper. Um, you know, I never - like that's not something I did during college, so it's like, "Oh, okay, this is what you're going to do." But - I actually sold a couple like - this was when like internet articles were just beginning to pay. And, you know, so I think I sold like two different articles for like $35 bucks. One on Ovaltine.

AS: You wrote an article about Ovaltine?

AC: Yes!

AS: Was it in praise or in critique?

AC: Oh praise only. I, ugh, I love Ovaltine.
Anna eventually got a job as an editorial assistant for HarperCollins. But the prospect of acting again haunted her.
AC: You know, when I first got to New York I saw Mercedes Ruehl in The Goat. And I had this, like, completely impulsive act when I stood up for the ovation at the end, where I went, "I have to do that." I said it out loud. My mother heard me. My mother, my mother of all people, like the person who wants me to be in show business more than anything. You know, like I would never say this rationally, you know? I'm like, "Oh no, she heard me!"
Coming up...how Anna decided to try acting again just after her boyfriend Shaun enlisted in the military.
AC: And then I - I said to him, I was like, "What would you say if I started auditioning again and tried to act again?" And he's like, "I cannot be in training for the army right now and tell you not to take a risk with your life."
—
Chester Jesus Soria: Hi guys...this is Chester Jesus Soria. I'm a producer with Death, Sex & Money.
Anna's still out on maternity leave with baby June. You can read more about their adventures out west by subscribing to our newsletter at deathsexmoney.org/newsletter.
One of our most recent newsletters...also had updates from folks we interviewed last year in our episode called Siblinghood. If you haven't heard that episode, you can still listen to it at deathsexmoney.org.
Shortly after that episode came out, we actually got a voice memo from a listener named Edel in Texas, who wanted to share her own story.
Edel: It's not about my siblings...it's actually about my relationship with my friends that I grew up with. This relationship with these girls was literally a life-altering friendship.
Edel says she fell out of touch with those friends...enough so that she didn't invite them to her wedding. And they weren't really talking when she moved to a new country.
E: When your sibling conversation talked about the breakup of family relationships, it reminded me about the breakup of my friendship relationships. It took me a long, long time to make my peace with that break up. It really, really did.
Her voice memo prompted us to look through our inbox for other stories about breakups. And last year, we got an email from a listener named Rachel. She wrote to us about two weeks after her boyfriend moved out of their apartment.
She described their time together as the best three years of her life, and she said, "It's scary to imagine not having that…and having to meet someone new. Plus…where do you put all the love you gave that person?"
Since she wrote us, Rachel's met somebody new, and she told us that she's very happy right now. Still, she says, hearing other people's stories about their breakups could have helped her.
So that's what we we're asking for today—we want to hear your stories about your breakups. Romantic, friendship, family or otherwise.
If you want to share your story, just email us or record a voice memo on your smartphone, and send that in to us at deathsexmoney@wnyc.org. We'll be in touch before we use anything that you send us.
On the next episode…our night with radio show Selected Shorts. Hear two of your favorite short stories about death, sex and money read by special guests, like actress Kathleen Chalfant.
Kathleen Chalfant: Until the girl died, that was enough for me. To be married to a fantastic man who loved me, and was prone, once in a long while, to a little lapse and a lot of Catholic guilt about it.
—
This is Death, Sex & Money from WNYC. I'm Anna Sale.
As Anna Chlumsky was navigating through her first few years in New York, her boyfriend Shaun moved to Washington. It was 2003. The U.S. had just invaded Iraq, and he got a job at the Pentagon.
AC: Basically what he was doing at the Pentagon was analyzing. He was an analyst. And so he's drawing all these conclusions about what's a threat, what's not a threat. And he's going, "I'm making decisions about boots on the ground, and I've never been on the ground." So he just kinda felt, uh, like he needed cred. So yeah, he - he enlisted in the Army Reserve.

AS: What was that conversation like between you?

AC: Um, very - very akin to a lot of our major conversations to date, which is basically like, "I will support you. You know, I can't not support this decision. And, you know, yet I'm scared. And tell me how this is going to work. What will this be like?" I mean, I wasn't crazy about the notion, of course, at first. But I - but again, it's like, how can you, you know - how can you tell a person that they shouldn't volunteer and be of service and, you know, be proud of themselves?

AS: How soon after he enlisted did you find out he was gonna be deployed?

AC: I think like a year. There was, I guess it was around the summer then of 2004 or '05. I don't remember. The Olympics were on and I was visiting my father. And I had a phone conversation with Shaun where he kind of casually mentioned deployment. Just the possibility of it. And I like freaked out. 'Cause I had gotten into this habit of not thinking it would occur.

AS: Yeah.

AC: So - so yeah, then I got really sad 'cause he's like, "You know I joined the military." He's like, "You know there's a war. Like, there will be a deployment some day." So then I had to start beefing myself up for that and - and, yeah, right around I want to say the fall of that year, he - yeah, he got called. It was like 'The Call.' And then I cried. I had a friend staying with me. She was there. She saw me cry. But, you know, you go with it.
Around the same time, Anna was questioning the direction of her career, from the sci-fi division at HarperCollins.
AC: I don't know what it was about that week but like there was a week where I was just crying a lot on my lunch break.
She told Shaun how stuck she was feeling.
AC: He was in Arizona doing Advanced Individual Training. And -

AS: So he's just beginning his military training.

AC: Yeah. And I told him about the day that this - that this psychic followed me to work -

AS: You have to tell me more about that.

AC: (Laughs) So there's this psychic that was outside of HarperCollins that, you know, she would just hand out her pamphlets. And I passed her. And then she's like, "Wait, I have a message for you." I'm like, "Yeah, psh. You have a message for everybody." And - uh - she followed me. She left her little post and, you know, taps me on the shoulder. And I'm like, "Yes?" And she says, "You're the girl from My Girl." I'm like, "No, you know, brainer. Like, thanks, psychic."

AS: "That's your big news!"

AC: Yeah. Good for you. And so then she's like - but then she says, "You're not done. You still want to do this." So that touched a nerve. So then the phone call that night is to - you know, to - to my boyfriend then, Shaun. And I'm like, "I don't know, maybe I need to go to therapy 'cause I obviously am so desperate for answers." And he's like, "Well, what would a therapist ask you that you don't already have the answer to?"

AS: Ooo. Go Shaun!

AC: I know! Right? Every once in awhile he's got a little nugget. And so then I, like, asked the question in my head, you know. Um, you know, that led to a little deep dive of, "Okay, I'll call the agent tomorrow." 'Cause I still had an agent holding onto my headshots. And my agent then, you know, she was like, "Well, great! Go train. Go get some classes."

AS: How long after the psychic did you quit your job?

AC: I think this was in the course of like a week.

AS: Really?

AC: Yeah.

AS: And this is like a job with benefits.

AC: Uh huh, yeah. Yeah, it was benefits and, I mean, it was a small salary. I mean, it was assistant's salary.

AS: How'd you support yourself at that point?

AC: That's when you dip into the savings.

AS: This is money you earned as a kid?

AC: Yep. Yep. That I still had even after college. It wasn't a lot. But - but it was enough to get me through that first year, you know, barely. There were a couple of really freaky months there, but.

AS: I bet that's such a strange experience. You're like - you're looking at the balance of the money that you earned when you were a child and you're watching it go down.

AC: Yeah. Yeah.

AS: How much money was it after college?

AC: Um, ugh, I don't want to say, I guess, 'cause then people are going to judge me.

AS: I understand. Okay.

AC: It was less than $50K, okay?

AS: Okay. Tens of thousands of dollars.

AC: Tens of thousands of dollars in savings.

AS: Yeah.
It was enough to get her through a year in New York and allow her to audition and focus on acting classes...and not on the danger her boyfriend Shaun was facing while he was deployed. He was in southern Afghanistan from 2004 to 2006.
AS: Was there anyone in your life who you could say, "My boyfriend's in a war zone, this is what it feels like"?

AC: To an extent. I'm really bad at asking for help from my friends. I'm really bad at it. Um, to this day. Like, I can't think - I can probably count on my fingers how many times I've cried in front of a friend. I would tell people like, "You know, this is hard," or, "This happened and I think it's because I'm missing Shaun." Or, you know. But I definitely always tried to put a macho face on it for people. And for myself probably, too.

AS: How did communicating with your boyfriend—first when he was in Washington, and then he's in training, and then he's at war—how did having that distance change the way you communicated in your relationship?

AC: You know, we really loved each other for young people, you know? And we didn't want to pretend that we didn't have emotions or fears or bad days or whatever. However, at the same token, I never wanted him to worry about me. Because I felt like that would take his eye off the prize. And - the prize being living. So I think we spoke with more care with one - we treated each other with - with care. While still being very pragmatic people. I think that's also how we can handle it. You know?

AS: So you were like trying to protect each other from what you were going through?

AC: Yeah, I think so. I think so. I mean, we reached a point where it was like a crossroads, too. Cause we were young and we were like, "Well, is this going to be forever or is this not?" Like we had to have that conversation. And - and at that point, then it was like, "No," you know, it was like, "I really do want you to be in my life." "And I really do want you to be -" And then it was like, "Okay, we made our bed." No more wondering. No more, you know, "Is this the right thing to be doing at our age?" Like, no. This is happening and we're together.

AS: And you're both in your mid-twenties at this point.

AC: Yeah. I know. We're both a little - we're both a little, uh - I don't want to say mature for our age. But we are. I mean, both of us are kind of like that. I think that's something we both have in common. You know, having grown up like with - in divorced households and, you know, kind of - kind of being somewhat self-reliant and stuff like that. We both kind of were, like, ready to settle before many of our friends were.

AS: When Shaun got back, how long did it take you to be used to each other?

AC: Hmm...I mean, not too long. I mean, given the circumstances. We always - we - kind of knew that there were like - there's this transition period where you're like, "Get out of my space. I'm glad to see you, but come on - but this is my stuff," you know? So we - we knew not to pressure ourselves too much to - to have some kind of, you know - to be completely, like, used to each other right away. And so I think removing that pressure helps.

AS: Deciding to get married, you said it was something that you both felt pretty clear on. But having both come from parents that had been divorced, was that something that you had to work through together or separately?

AC: Yeah, I mean we - you know, when he proposed, you know, I said yes. But then about a month later I was like kind of freaking out about it. And I was like, you know - because - 'cause his proposal was very basic. It was - it was, "Will you marry me?" I mean, there was no like - I tell friends now who, like, are getting ready to propose to their girlfriends, I'm like, "Imagine she asked you, 'Why do you want to marry me?' in your head before you do the speech." Because it is a proposal. Like, this is a - there is a - you know, it's not a gift necessarily. This is a, "Hey, this is what I've got to offer. This is why I'm doing this."

AS: Make your case.

AC: Make me a business plan. So about a month later I was like, "Why do you want to marry me?!" And - and he explained and he explained—you know, from then on I was like, "Oh, I'm game. I'm in this and, you know - " But then, of course, yeah, I freak out. I still freak out. Like you know, not having a template necessarily for success. Or for what you think success is. You know, there's a lot - there's a lot to be said for this whole, well we're making our own template. Like, well, we're doing it our way. Whatever our way is and we'll figure that out.
Anna and Shaun have been married since 2008. They had a daughter, Penelope, in 2013, and they're expecting a second child this summer. They live in Brooklyn. Shaun now runs a consulting firm. And when Veep is in production, Anna has to be in LA.
AS: What was it like commuting from California back home when you've got a young child?

AC: Tiring. It was tiring. I missed her, but I - I mean, I missed her like crazy. I mean, I miss her today. It's crazy - I mean, it's wonderful but your heart aches, you love them so much. Like it - you ache. Ugh! Anyway. I kept calling it "The Momma Bird Commute." 'Cause I was like, "Alright, I gotta go catch the worm, and then I will come back. But I gotta catch the worm! Who's gonna - like come on." And Shaun feels the same way when he goes to the office. It's like, "Okay, like, I gotta go and catch the worm. And we'll come back. And you will eat. And you will be happy." You know? So, yeah, it helps to - to put it in that term.

AS: I love that. Yeah. Um, why have a second kid right now?

AC: Um, cause - cause the powers that be want it, you know. I - I learned, um, you know, you can't really plan. You can have an idea. But um - and I'll say that I had a miscarriage too. So like, you know, people don't talk about that enough, but -

AS: I'm sorry.

AC: It's okay. It's - it's - it's a weird thing to go through. But - because it's like - it's - you know, um, we had - we had something where it just didn't grow. So it was just the idea that we had the loss of, which is really strange. But - but you still go through it. And like I said, I found out that it's - a lot more people go through it than we talk about. And it's not even that we're hiding it. It's just that it's so effing uncomfortable to talk about, cause you just aren't happy about it, you know? But I did, you do learn that this is like kind of not up to you. Like it kind of is, but it's kind of not. There's other stuff at work.
—
That's Anna Chlumsky. You can see her in season five of Veep on HBO.
Death, Sex & Money is a listener-supported production of WNYC Studios. The team includes Katie Bishop, Chester Jesus Soria, Emily Botein, Andrew Dunn and Rick Kwan.
Our interns are Carson Frame and Brandy Gonzalez.
The Reverend John Delore and Steve Lewis wrote our theme music, and we have a link to Anna Chlumsky's 2003 article about Ovaltine on our website at deathsexmoney.org. She may have left food writing behind, but Ovaltine is still part of her life.
AC: I gave it to my daughter for the first time the other day. And it actually made me so - like it made me - I don't know, it was one of those - it's almost like having your first Christmas with your toddler. I was like - and she liked it, so I'm like, "Oh oh! My daughter loves Ovaltine!"
I'm Anna Sale, and this is Death, Sex & Money from WNYC.
Copyright © 2019 New York Public Radio. All rights reserved. Visit our website terms of use at www.wnyc.org for further information.
Music Credits:
"Contarian" by Blue Dot Sessions
,
"The Shoes They Wear" by Blue Dot Sessions
,
"The Stasis" by Blue Dot Sessions
,
"Chrome and Wax" by Blue Dot Sessions
,
"Lesser Gods of Metal" by Blue Dot Sessions
,
"Tripoli" by Blue Dot Sessions
,
"Turning" by Blue Dot Sessions