If You're Not ____, Then Never Mind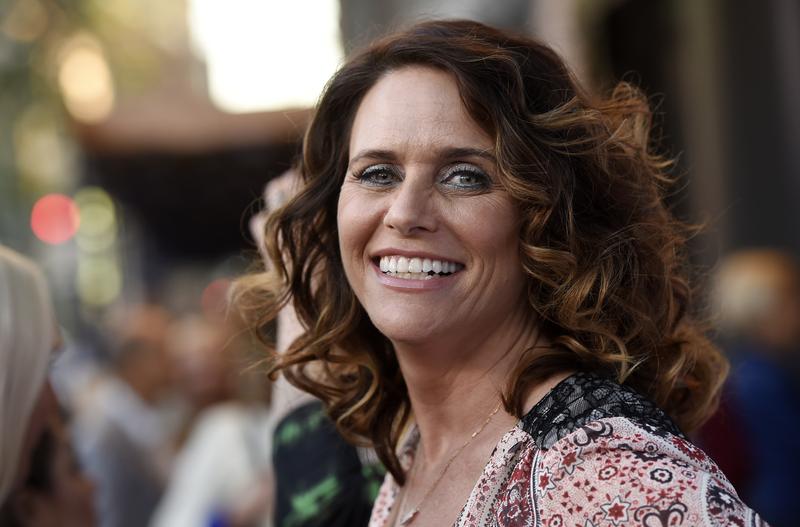 Transcript
Amy Landecker: At school I was like straight As, very good student, but then I was a huge, huge partier. I was like a mess, and together.
This is Death, Sex & Money.
The show from WNYC about the things we think about a lot…
…and need to talk about more.
I'm Anna Sale.
Growing up, actor Amy Landecker's father was a star.
AL: I just sucked it up like a little fame-seeking whore.
He was a rock and roll DJ in Chicago. John Records Landecker.
John Records Landecker: WLS Music Radio, from Chicago. I am John Landecker, and Records truly is my middle name.
It was FM radio in the 1970s. After sundown, he could be heard across 38 states. Amy got to meet people like John Travolta and Shaun Cassidy. And when her father was at concerts or live broadcasts, Amy was there.
AL: Oh my God, I just strutted up past security, past thousands of screaming fans like, "That's my daddy."
Amy's now in her mid-40s, and is just having breakout success. She's best known for her role on the Amazon series Transparent. She plays Sarah, the oldest sister.
And talking to Amy, you get the sense that she's still catching up to the momentum of her career. Part of that is how she talks, open and loose with regular bursts of laughter.
AL: We talk about like difficult things.

Anna Sale: We talk about like difficult things...
Like she's trying to charm me at a dinner party, even as we sit down to start an interview at her publicist's office in Beverly Hills.
AS: You like that? Okay.

AL: I'm into difficult topics.


AS: That's not the way I usually describe it right before - this is going to be terrible. (Laughs)

So, Amy's game. She's fun. Like the '70s rock scene she grew up around. Turns out that scene was not great for marriage. Amy's parents split up when she was in elementary school.
AL: I don't have a lot of - (laughs) I've probably blocked out a lot of my memories of that time. I don't know what happened. (Laughs) They were really young. My parents were only 20 years older than me and my sister, they had - I think they were nineteen years older than my sister and 21 years older than me, so they were really young. I think they were like 29 when they separated.

AS: Did you feel pulled to one parent or another?

AL: No. I mean I think my dad was always the good time and my mom was more the parent so in that respect I probably always wanted to hang out with my dad just because we could eat junk food and stay up late and my mom was oddly strict and I wanted to please her very much and I was very, you know I don't think she knew much of what I was up to. My father had a history of drug abuse and alcoholism and I kind of inherited that quality and was put in really dangerous...you know, unfortunate situations. And that went on until I was about 24. This very Jekyll and Hyde.

AS: Are you talking about feeling victimized sexually? Or…

AL: Yeah. Yeah. And not, not victimized, doing things to myself, allowing things to happen that I would - would not have happened. Once you get to blackout, you know, there's really not much you can do to protect yourself. (Laughs) And I mean there was one incident where I almost was taken by a bunch of guys down an alley but I got saved from that.

AS: Who saved you?

AL: A friend in a car swinging by me running away. It was like a night club. I was wasted. I just went with these guys and they were taking me down this alley and luckily a friend started screaming and I don't know what would have happened but she assured me that I was in serious trouble. I've woken up, I've - you know, a couple of times not knowing where I was or who I was with and so I don't really know what happened. But no one that I know has done anything to me that I didn't consent to at the time, whatever consent means when you're completely shitfaced.

Amy kept the extent of her drinking secret from some of her family...but it still corroded important relationships. Like with her grandmother.
AL: My daughter's middle name is Marjory, named after my dad's mom, Marjory Landecker, who...are you like Barbara Walters where like everyone cries at some point? I'm serious. Does someone always - do people always cry at some point? 'Cause I feel like I'm about to do it right now. But, tell me.

AS: Not all the time. Some times.

AL: But a lot of the time.

AS: Yeah. But it's ok.

AL: Yeah. I...she was like, she was just my favorite person and I was in my very narcissistic drinking phase when she got sick and I remember going to Ann Arbor the last time I saw her and I was just like obsessed about something, I don't know what. And I, she was getting ill and I wasn't even really paying attention. And then when I found out she died, I got drunk that night and was screaming like a crazy person and then laughing because, you know, you're drunk and knowing that like I wasn't emotionally dealing with what was happening. And it's like, to miss out on mourning this person who is like pure goodness to me, she's just, she's everything that you want a human being to be. So I've always regretted that I wasn't present with her in her last, you know, years of life.

AS: What changed in your life when you turned 24?

AL: I got sober and I've never actually talked about this publicly. I just stopped drinking and everything got better. The final drink of my life was before a audition - it was at nine o'clock in the morning and I had a cast on my arm from falling earlier in the week, drunk at my house at a party. And I drank the night before and I drank the morning of to stop shaking and I was vomiting in the bathroom and went and did this audition and I was absolutely terrible and I knew - I was like, I'm not going to be able to do what I want to do for a living if I continue down this path. And I had dinner with my best friend from college that night and I said you know, "I think I'm an alcoholic." And she was like, "Ha ha ha ha, of course you are...duh."
AS: Did that surprise you?

AL: Um, her - it was funny. I had heard from some people. Usually if you have a drinking problem there's people through the years that mention it to you and I had heard that from a couple people. I had never quite heard it like her, like there's something in the laugh where I thought, oh maybe I'm wrong, maybe she's like, "No you're not!" You know, where I'm like listening like, she's like, "Ha ha ha ha. Of course you are." And it was like this weird - oh wow. Like wow, okay. And she kind of saved my life in that moment.
After that, Amy called her dad, and asked for help.
AL: My dad got sober before me, about four years before me, and so then we've been sort of on this other path together of not drinking and using and…

AS: What a like, powerful thing to go through together.

AL: It was amazing, yeah. And it's probably a part of why we're very close. I mean, you know, and it's not like all of a sudden you're saints. I mean we're still complete fuckups and doing like insane behaviors but it got better and it was definitely something that I know if it hadn't for him that never would have happened at that time in my life. Never in a million years. And I've never tried it again since because I just don't want to - because to me it's like Russian Roulette. I've - maybe I can drink, I don't know I was so young, maybe, but I've never wanted to go back to that. Ever. So far.

Coming up…Amy Landecker gets pregnant, then married, then divorced -- right as her career takes off.
AL: I don't think I took marriage as seriously as I should, hence the divorce. But I knew I wanted to be a parent. That's probably the best thing that I've ever, I mean it's - I'm so in love with my kid it's a little weird.
--
So we are still working on our episode about porn, and your relationship to it. We've gotten lots of voice memos and emails from you. And for many of you, learning about sex really started with learning how to get your hands on porn.
Some of you started with a VHS tape, some with your dad's magazines, or dial-up internet on the family computer. Then, of course, came the smartphone.
AS: How do you watch porn? Do you watch on your phone or your laptop?

Jennifer: Phone is the easiest, yeah.

AS: Do you hold your phone or do you tilt it up somewhere?

J: (Laughs) Both. This is very technical—technical questions.
They are technical questions! Because porn is everywhere...and also very private. So I want to know how you watch, if porn is a part of your life. Do you wake up before your partner to start searching on your tablet? Do you delete your browser history?
Or if you're trying to stop consuming porn, how do you avoid it...when it's so readily available?
Use your smartphone to record voice memo and email it to us at deathsexmoney@wnyc.org, or you can just send us an email in writing. We'll give you a heads up if we use anything you send us.
On the next episode…
Darrell Cannon: You don't think that for one moment, people that swore to serve and protect would act like this.
We're teaming up with the show Planet Money...to bring you a story about when the people who are supposed to be enforcing the rules…break them instead.
DC: He said, "You gonna tell us what we want to know?" I looked at him. Said, "I ain't got nothing to tell you." He said, "Okay. You gonna talk before the day is over with. And he put the cattle prod back in the bag, and walked back out."
--
This is Death, Sex & Money from WNYC. I'm Anna Sale.
Amy Landecker studied theater in college. And through her 20s and early 30s, she did a lot of stage work, and some television guest spots. But Chicago was still mostly her home base.
AL: I'd always wanted to come out to LA. I'd had like a little bit of taste of it through the years but it never - I didn't want to come out here without work. It was too - I was too afraid. And I was a big voiceover in Chicago. I had a wonderful living and I got to do great theater and so there was really no, there was really no impetus to go anywhere.
Plus, Amy's priorities were starting to change.
AL: I'd just broken up with someone because - or we'd broken up because he didn't want to have kids and I did. I was really clear about it. Within a year I was married and had a child. It was pretty fast.

AS: Were you supporting yourself mostly doing voiceover work?

AL: Yeah. I was the voice—it was funny because I would go do theater at night, like hardcore, getting like orally sodomized by a chicken bone—and then I would go do like the voice of Hallmark during the day. "Send a card, they'll never forget you remembered." Like that was my job for 10 years. And I did like Toys 'R Us, I did Sears. I did like really, I did like - I still do - you know, really clean, wholesome products.

AS: Are you still doing voiceover?

AL: Oh yeah. I hope to do it 'til the day I die. It's my favorite thing of all the stuff I've ever done. Honestly it is.

AS: Why?

AL: It's, it doesn't - first of all, I think it has always felt very comfortable because of the microphone and growing up in radio and just loving being around studios. I'm essentially lazy and it is the best bang for your buck of any job in the artistic field. I mean you literally go to some place for like an hour and can live off of it for the next six months. It's lazy man's art. There's no...because it's not a physical representation, everyone behaves differently. It's, it - because there's an, like an anonymity to it everyone behaves differently. There's no sort of infighting in voiceover, there's really no jealousy if you don't get the job. You know, you don't feel as vulnerable because it's not like you're putting your physical self out there. It's like not the same when you're voice is rejected, it's like okay, I just didn't sound like the person that they wanted it to sound like. It's not because I'm too old or too young or too fat or too thin or too whatever! You know it feels less…

AS: Existential.

AL: Yeah.

AS: Yeah.
Amy's first major role in Hollywood felt like just the opposite. Her friend sent her the casting call. It was for the Coen Brothers movie A Serious Man. It was set in the 1960s.
AL: And it described this woman, Mrs. Samsky, who was like this seductress. Full frontal nudity required. And I was like - I like emailed him back, I was like, you're out of your fricking mind.

AS: Did they see you naked before they cast you?

AL: No! (Laughs) That's what I mean, like I'm like, "Dudes, I had a baby. Like, you don't know what I look like." I feel like if you go in for casting for nudity you should be pretty comfortable being nude and I was not at the time at all. But, you know, they assured me - I told the costume designer, I said, "I don't have a great naked body." And she's like, "It's the Coen Brothers, it's fine," like, "They don't care. You know, they like real people. It's the '60s." And actually the only -

AS: It's the '60s! [Laughs]

AL: The only challenge we had is that I didn't have enough pubic hair and I had to wear a merkin because I'd been like shaving for years and years and years and couldn't grow it back. That was the only issue that we had.
The other thing is I have a rule that I'm either naked or I'm in a love scene but I don't actually do both at the same time.

AS: Why that rule?

AL: I had done this episode of House of Lies where I did on camera nudity with sex and I found it really challenging. And I - and I've chalked that up to maybe my own personal history like sex is a loaded thing for me, it's been an issue of like feeling safe, feeling good, feeling myself so I don't think there's anything wrong with it; I just knew that I had to be true to who I am and that I was very uncomfortable with it and it was traumatizing me so I had actually turned down the audition for, for Transparent because I knew that on camera sexual nudity is required. And so I said no, I don't, I don't do that. And so, you know, luckily like, the gods aligned, and Jill Soloway knew who I was and was - had some kind of instinct that she wanted me to be Sarah. And so she asked if she could have lunch with me and find out why I wouldn't audition for her show.

AS: Wow.

AL: Which has never happened in the history of Los Angeles to any actress that I've ever known that isn't a name, you know, and I didn't know how she even knew who I was. And then I'll tell you what's funny is the first thing she said when I walked into the restaurant is, "I can't believe I'm meeting John Records Landecker's daughter," and I went, a-ha, a-ha-ha-ha! I'm in.

She had listened to my dad growing up, she was from Chicago, and you know, she just said, "What's up?" And I said "I'm just, I'm just not good at it, I don't like doing it. I know you're gonna want someone who's comfortable." And she's like well we don't have to do that. We'll do whatever you wanna do. Of course I've done way more than I thought I would ever do but as long as - it's just weird, as long as I have clothes on in some way I'm pretty free to do whatever I want. And then as long as - when they come off I don't want anyone to come near me.
By the time Jill Soloway cast Amy in Transparent, Amy had moved to Los Angeles with her husband and daughter. And her marriage had ended. Her divorce had uncomfortable echoes with her Transparent character, Sarah.
Len: Do you feel okay?

Sarah: Oh my god. I don't want you to be mad at me.
In Transparent's first season, Amy's character is leaving her husband—whom she has a family with—to reunite with a college girlfriend.
Sarah: This doesn't, this has nothing to do with - this isn't us, this is me.

AL: I could barely get through this scene without weeping because it just reminded me so much of - not, I mean I'm not gay so it wasn't about - and I'm not bi so it wasn't, it wasn't about that aspect of it - but the idea that like I need to try something, I'm needing to try something else.

AS: This marriage isn't fitting you.

AL: Yeah it's not fitting me. And yeah, it was like bizarre. You know, I would say to anyone getting divorced, my experience - it was the worst time of my whole life. Like, it is...I don't know if I'll ever experience pain like that. My dad's been divorced like, he's on his fourth wife and he's actually the person who said to me like, "Get married. Marriage isn't forever. Whatever, if it doesn't work out you get divorced." And I really had this idea like, "Oh yeah, I'll get divorced." And it's like, well what does that actually mean when you have kids, you know? It means you're not gonna see your little child all the time if you're in an amicable divorce with a good parent. I certainly wasn't going to take her away from her father who's this great dad. So that meant that my six-year-old was gonna go away from me a couple of nights a week. And I had caused that? Or I had at least initiated that process? And I couldn't forgive myself for that. I couldn't, you know, we were in the state of California and because I had made all this voiceover money I actually had to be the one to pay out which was not something that I had foreseen with how that would feel. Really painful. You know like - and there's this real societal sexism that supports you in that, like, "How dare he!" You know it's like, well he traveled around and helped me build my career and - but that's not how it felt.

AS: Didn't feel good still.

AL: No. I was a raging freak. And I would watch Louie, there was this one episode in particular where, when his kids would leave he would eat doughnuts, get high and want to kill himself and I was just so comforted. Because I was like that's how I feel. That's how I feel. And people told me it was going to get better and I didn't believe them and it absolutely did. And it's just time, you know. I would say it honestly took six years though for me to like really feel good again. But two years to be functioning pretty well and to stop crying every time she left, you know.
Amy and her ex-husband share custody of their daughter. They're both in new relationships. Amy is dating the actor Bradley Whitford. They met through Transparent. And it's a relationship Amy wasn't expecting.
AL: I was single for the first time and really happy. I was like I'm finally happy! I'm never gonna go out with anyone ever again! And my daughter though was worried that I was gonna be alone and she wrote - she wanted me to go on online dating and I was like no I can't do that. I just can't. I'm too afraid to meet strangers and anyway be....And so she's like, well let's just make a list then of the qualities that we're looking for - and she's like 11. So she takes out this piece of paper and she titles it, "If you're not this then never mind." And it goes from 1 to 20 and it was all these qualities that I wanted. I wanted him to be at least 10 years older than me, I want him to have been through a divorce, I want him to already have had kids, I want him to like cats and dogs, which Bradley has both which is very rare. He has a cat and two dogs. They have to have a great sense of humor, they have to, I want - I think I wrote down, (laughs) this is really funny. I wrote down "I want them to be like more successful than me," or - and then I switched it to like "as successful" - like something happened and that year later Bradley got an Emmy nomination and I didn't and my daughter blamed it on this change that I made on the list. She was like, well that's because you changed the list.

AS: You short-changed yourself.

AL: Yeah. You short-changed yourself. That was really funny. I was like, I don't think that has anything to do with it.

AS: Are you making a lot more money than you did in your days in Chicago?

AL: You know what's funny? I made a lot of money in voiceover and they only took 10% off the top. I definitely make more money now but I lose—between lawyers, publicists, on-camera maintenance like getting my hair colored regularly or you know, getting lasers for my skin—there's like 40% before you even get to taxes so it's been interesting. Like yes, do I - am I more comfortable now? Yes. But is there significantly a big difference? No. Because on-camera work is way more expensive. You know, so there's been a minor change but nothing, but I don't feel...I don't feel rich.

AS: Anything you've bought that you feel like you wouldn't have bought -

AL: Now I'm like, and I did buy a little - I bought a little house in Santa Monica, like a 1000-square foot house. And I don't think I would've ever had the nerve. I never had any sense that stuff was gonna come in and I was always very careful. So I always say to everybody like this is the Transparent house, this is what Transparent bought.

AS: So it gave you more financial courage?

AL: Yeah. Oh yeah. Yeah. I mean this is the first year where I'm like, oh my god, I actually think I'm okay. (Laughs)

AS: That's awesome.

AL: Yeah, it's nice.
That's actor Amy Landecker. She stars in all three seasons of the Amazon series Transparent and her latest movie Dreamland opens November 11 in New York, LA, and on video on demand.
Besides voice work for commercials, Amy has also earned money over the years doing stand-in voice work for other actors. Including Julia Roberts.
AS: "I'm just a girl. Standing in front of a boy. Asking him to love her." That's my Julia Roberts.
New York Magazine did a video about that—you can see it on our website at deathsexmoney.org.
Death Sex & Money is a listener-supported production of WNYC Studios in New York. I'm based at the Center for Investigative Reporting in Emeryville, California. The team includes Katie Bishop, Chester Jesus Soria, Emily Botein, and Andrew Dunn. Our interns are Ali L'Esperance and Rich Renelique.
The Reverend John Delore and Steve Lewis wrote our theme music. I'm on twitter @annasale, and the show is @deathsexmoney. Sign up for our weekly Death, Sex & Money newsletter by going to deathsexmoney.org/newsletter or text the word "newsletter" to 69866.
AL: God, I have really told you a lot. (Laughs)

AS: Thank you. In a very like, generous way.

AL: Oh my god.

AS: You know, like it's interesting -

AL: I know your energy is just like - I'm like, this is a safe place, and then it's like, oh yeah and then it's gonna be put out into the universe. It's just like what happens to me on Transparent. It's like, oh yeah, no, I'll bend over you can, you can flog me. And then I'm like, oh wait, no, we're actually gonna show that to people!
I'm Anna Sale, and this is Death, Sex & Money from WNYC.
Copyright © 2019 New York Public Radio. All rights reserved. Visit our website terms of use at www.wnyc.org for further information.
Music Credits:
"GlowTown_alt" by Dan Kramer
,
"In Passage" by Blue Dot Sessions
,
"Ode to the World" by Kai Engel
,
"The Face of the Thrush" by Blue Dot Sessions
,
"Brass Buttons" by Blue Dot Sessions
,
"A Catalog of Seasons" by Blue Dot Sessions