Sharing DNA, and Nothing Else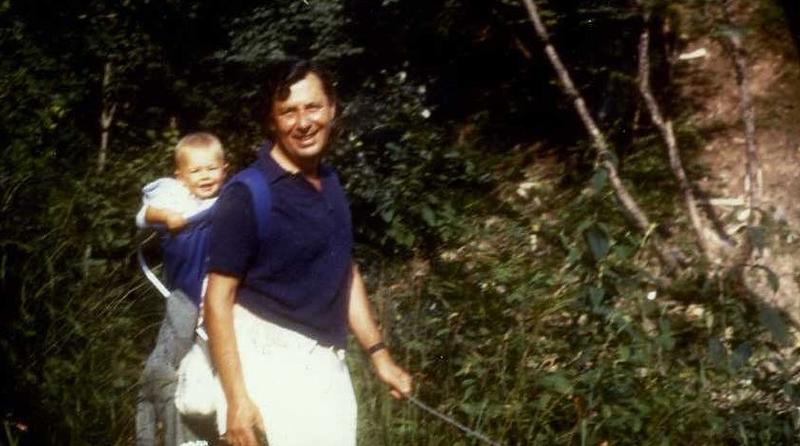 Transcript
Amy: I don't think anything was an accident. Looking back, I think all the things over the years, I think they were all leading up to some subconscious truth that I didn't even know. Something on a cellular level that was sort of leading me to discover something that needed to get discovered.
This is Death, Sex and Money
The show from WNYC about the things we think about a lot…
And need to talk about more
I'm Anna Sale.
A: The first thing that was strange to me was that it said I had no Jewish ancestry and so I thought, oh, that's weird.
About a year and half ago, a woman named Amy became one of the nearly twelve million people who have taken a mail-in DNA test to learn more about their geneology. Amy used ancestry.com.
A: I think I got influenced by the marketing efforts ... and I just decided to take the test.

Anna Sale: Did that involve like, spitting or what did, what did that involve, the DNA test?

A: Yes, it involved spitting a lot of saliva into a little container and sending it and it was about a month of wait, and I had sort of forgotten. I wasn't really anxiously waiting for a result because I just took it on a whim.
Amy's in her 40s now…but she's been interested in her family history since she was a kid. She grew up in California with her mom, dad and younger sister.
Her dad was an immigrant from Egypt, and he would talk about his Sephardic Jewish ancestors. So Amy was surprised when the DNA results came back that showed no Jewish ancestry.
A: And my sister who's a doctor thought "well those tests must be inaccurate. I mean, how could they test for that" and I sort of joked with my mom, I thought this is so weird, it says that I'm not half Jewish. And then almost immediately, within a day or two of getting the results, a man contacted me and he said "Oh, this is so odd, somehow we're very closely related, genetically."

AS: Within a day or two…

A: Within a day or two, so he was sort of looking on a regular basis to see if new relatives popped up and we—he didn't know, how we were connected the system will tell you whether you are a close relative meaning um, sibling, or half sibling or parent child, and then it'll say first cousin, second cousins, these different degrees…And it showed that we were close relatives, and he said look through my family tree, and I said look through my family tree and we looked and we couldn't find any common names and um… we were all sort of confused, but I didn't really give it much thought.
This was in November of 2016, right after the presidential election. And there was a lot going on in other parts of Amy's life.
She'd been working in retail marketing for 25 years...but after her company reorganized, she decided to change careers, and volunteer for Democratic campaigns around the country. Her first stop was in Virginia. It was there, last summer, that she finally logged back into her Ancestry account.
A: Now, suddenly, the screen said, RH is your father. And I thought, what?! That can't be right.
Amy's using initials here to protect his privacy…
She quickly wrote a note to the man she'd exchanged messages with months before…
A: And I said "who is this person RH with your same last name? I don't understand, it says this person is my father and that can't be right obviously." And so he took a few days to get back to me and he said, um, RH is my brother, and we found out that he was donating sperm to pay for college.

It was this moment where sort of time stood still and things got quiet and I just read it, and then just sort of shut it off in a way that I've never really experienced and I just sort of...my brain was having such a hard time processing it. There was a part of me that was really fighting saying no, no no, this can't be true. This is not possible, because another part of me was sort of starting to dive into the, like, "oh my gosh, does this means that my father, the person who I've always thought of as my father, the person who loved me and who you know was there everyday until he died um, was not my biological father.

AS: Are you sitting at a laptop, in a town where you haven't lived long, by yourself?

A: Yes. So it's a Sunday morning I'm in Alexandria Virginia, I arrived there a week before I had just started this new career and I was supposed to go canvassing that day… and I had to call my field organizer and I say, "I don't think I can, I my whole life is ..."

AS: I'm not up for door knocking right now [laughing]
A: I had moments that day where I would just you know, I think I would cry because of, you know, the idea that I wasn't related to my father, I would cry because I thought um, I would think about these these ancestors, these, you know, Syrian, Sephardic Jews and I thought "oh my gosh I'm not connected to these people anymore." I just, different parts of my brain sort of fighting with each other trying to be calm and rational and and take this information in and the other side just fighting fighting fighting this can't be real, this can't be real. There must be some other kind of explanation. You know I look back, my father had childhood asthma, I had childhood asthma. My dad had eczema, I had eczema. And I called my sister and luckily she was on a work event where she was away from her family, she could devote time to talking to me and we just both were trying to figure out how this could be real and we thought well, maybe mom and dad used artificial insemination but we couldn't reconcile the idea that they wouldn't have told us.

So I started madly googling online and and so I found a donor registry site that said that there was a clinic in Los Angeles, which is where my parents lived, and there were various women who had posted saying that they felt that they had been tricked by this clinic, that they thought that their—only their husbands sperm would be used or that their husbands sperm would be mixed with another person's sperm and it would activate their husband's sperm and so, and so, I said to my sister that must be what happened.

AS: Mm.

A: They must have been tricked. They didn't know, and I kept saying "thank god dad isn't alive right now because he would be devastated to find out that I'm not his biological daughter.
Coming up… Amy wrestles with how to bring all this up with her mom.
A: All my friends said "you can't tell her, she's almost 85, this will devastate her" and then I thought I have to tell her, I can't live with this huge secret.
—
Last week, we got a tweet from a woman named Kristin...she wrote,
I'm finally digging into the @deathsexmoney podcast. I need your help! Which past episodes stand out to you as must-listens?
It's a good question. There are a lot of podcast episodes in the world and it can be hard to know where to start.
So we're building a Death, Sex and Money starter kit...and we want your help to do it. We've created a survey where you can tell us your favorite episodes of the show….the ones you tell your friends about when you recommend it to them.
There are also a few questions to help us learn more about YOU—and how you found out about the show in the first place. We're curious!
And we know that we ALL get asked to fill out a lot of surveys and forms these days... so here's some incentive to make this one feel special:
If you take this survey, we'll enter you into a raffle for the craziest prize we could think of...which is that, for one lucky winner, I will sing karaoke with you over Skype or Facetime. Yes, we are totally serious about this. And you can even pick the song.
Go to deathsexmoney.org/starterkit to fill out the survey. We might just get to sing together
On the next episode…an indie rock musician and his wife put their band and life on the road on hold... to become caregivers for his mom.
I moved out here 'cause mom asked for help, she said that she needed help and I knew that we would eventually have to move out here you know, maybe for a month, so I figured it would be better for us to just be here and make a life here, and then uh, and it gave us an opportunity to upend our life and look at everything differently.
—
This is Death, Sex and Money from WNYC. I'm Anna Sale.
Amy is single, and she doesn't have kids. So after she told her sister what she'd found out on Ancestry… the only family left to tell was her mom.
A: So, we'd sort of concocted this plan that we were going to, in various stages, ask my mom some sort of round about questions and see if she at least remembered that she had had artificial insemination and um. And my mom defenses were down and she's 84 um, and she you know she had kept a secret a very long time. She admitted that she and my dad knew, that they had made the decision to keep it a secret and then that she told my sister that she was as well, donor conceived, and um, that she just they felt it was the best thing for the family and she at the time, when I was conceived in 1969, nobody was talking about something like that. No one talked about those kinds of secrets, no one talked about fertility problems.

And um, they just you know, they were given plausible deniability by a lot of these clinics being told to um, you know, told to have sex with their husband the night before and so that maybe there would be some situation where …

AS: Really? That's what they were told?

A: They were. [laughs] And so they didn't know!

AS: Wow.

A: And there was no DNA testing so they just, the doctors never thought anybody would figure it out and you know, my mom wanted children so badly.

AS: Had your mom told anyone else?

A: Never. She said it was a pact between my dad and her, they would never tell anybody, she didn't tell her mother, she didn't tell her brothers. She said she didn't know anybody who had had it, she never read a story about anybody who'd had it. And so she was very very private about it and she didn't tell anybody. And that's, I can't imagine having a secret that like that.

AS: Do you feel, has it felt at all like a loss that you can't tell your dad that he's your dad even if he's not your biological dad?

A: Um, I think ultimately I am glad that I didn't know while he was alive because I do feel like even though we were so close I think it would have been a weird barrier and it is something that a lot of people have a hard time with in terms of feeling like there's just a little tiny bit of separation now with the the father that raised them. [mmhmm] But I do feel like I was able to live in blissful ignorance and same with my sister and feel in my heart that you know, to never doubt that my dad was was related to me, and I think that that was the best for me but it was very hard to find out that my dad had known. Because I was really close to my dad and I thought that he would have told me, um, as an adult.

AS: Yeah. And how how did you lose your dad. How did he die?

A: So my dad had gotten cancer and he got better, and then it came back, and then it came back very aggressively. And he was very weak and I was supposed to take him to radiation and I arrived, and his breath became super labored and I called the doctor and the doctor said "you have to call Emergency right away" and they came and I could see the looks on their faces like they knew he was going to die. and he died, 15 minutes later. I mean everybody just started coming to the room and I could hear people and someone said "this is it" [mmm] and I was like "wha wha, this is it?" so I saw him take his last breath, people said, I think that you're-- oh this is gonna make me cry, people you know, the people said I think that you're the person he felt comfortable dying in front of."

AS: Mmm...Amy...

A: I mean it's a powerful thing, and I think it was a bond. And so I think that it is sort of part of the, I feel really loyal to my dad.
It's partially because of this loyalty that Amy was hesitant to be in touch with her biological father. Early on, she did exchange a few emails with him but decided that she wasn't ready for more.
A: I mean most donor conceived people they do want to be connected to their genetic relatives, they do feel that they have been cut off from their ancestry, their relatives, I don't see it that way. And I mean especially because he was a college student, and he was doing it to pay for college, and he wasn't really thinking about the consequences so to me, that is incomparable to this man who, you know, raised me and educated me and disciplined me and loved me and supported me an every—every way I couldn't compare those two things.
Amy also found out on Ancestry that she has a biological half-sister, a woman named Christina. The two of them did start talking on the phone. But unlike Amy, Christina was really eager to meet their shared donor.
A: She had known that she was donor conceived her whole life and she had been looking for decades for him and she ended up meeting him, so I knew a little bit about him from her, um, and knew that he and I had very different political ... social views on ...

AS: Oh, interesting. Is that...

A: Yes...

AS: Did knowing that, is that what made it—was that part of why you were like not ready to not ready to do this, not ready to ...forge a relationship?

A: It was. And I feel bad saying that but I had literally that month, given up my entire life to join the resistance so to speak …to fight for what I believed in and I found out I was related to somebody who was like, on the opposite on the spectrum, and I really didn't want to welcome someone with those kinds of views in my life. And my dad was Republican that that its not that it's just what I decided to do with my life, it's I'm not looking to have um, like, to offend or be offended or have to get into difficult conversations, political conversations with people who, it's already emotionally charged enough situation. So you know, if the day comes that I do want to be in touch, I the ground rules will have to be pretty clear on both sides that we can't talk about things that are um, you know, religious or political or social or anything like that.

AS: Yeah. it's just like, what a quintessentially 2017 in America story—

A: I know! [laughs]

AS: You know? You're like, I don't know that I want to think of you as family. That so speaks to where so many Americans are in terms of what are their values, how do they live their values, who are people that they can make concessions for and who are people that that they can't.

A: It's like the universe's funny joke to—I mean I just kept thinking you know, woman gives up her life to join to the Democratic resistance and finds out she's related to a Trump Pence supporter. I mean it couldn't be more…

AS: [Laughs]

A: ...ironic. And yet, and so over the course of the summer I was canvassing thousands of Republican homes, I have purposely decided to get outside of my bubble and really start to get to know people and so I might get there, but to know that my biological is father is that person, I'm not ready. It's just gonna be too, too emotional but I think I can get there. One day.
It was the end of last year when I first talked with Amy. Over the holidays, she met her half sister Christina in person for the first time. They got lunch together in California.
This was after Amy had watched Christina meet their biological father on a reality TV show. It was for a TLC program called Long Lost Family.
I called Amy to hear about it.
A: It really was confirmed for me, especially when I saw the TV show, that the donor said, 'You know, I feel like God has kept me alive to meet my offspring.' I thought well, that's—I do not feel the same way. Like we didn't look like each other. There were no mannerisms, you know, sort of physical manifestations of something that looked even vaguely familiar, and all my friends had the same thought. They said, 'this is so weird. Are you really related to these people?'

AS: And, you said you didn't feel any, did you feel any sense of anything being familiar seeming?

A: No, no. Like, total stranger. Like it really has confirmed for me what I believe now which is shared DNA is like, it doesn't mean anything to me. It has no value to me. And it was just strange. My brain kept saying, like is this like, is there some way that this isn't happen—like that this isn't true. I don't recognize anything about these people.

AS: Did you feel um relieved by that? Guilty?

A: You know, I think I probably did feel a little relieved. It just sort of solidified it, confirmed what I was already feeling. So I feel very much like I have a sense of closure. These are probably not people that I will ever cross paths with and I don't feel any sense of loss.

But it is this open scenario for the rest of my life that there could be people who come into my life who I'm supposedly related to. So now I sort of check Ancestry kind of every day thinking, I wonder if like a new half-sibling is gonna pop up.

AS: And there's, there's closure but you're still checking the website everyday?

A: (Laughing) Yeah. Yeah. Um, my sister situation - my sister's situation has has, they're up to like I think 18 or 19 half siblings now and they all have this little group of them that that sort of talk regularly on big group texts um -

AS: Are you glad you know?

A: Uh, you know, it's interesting. When I was having lunch with Christina, at one point she had said something and I said, 'If I could take this all back, and not know, I would.' And I think she was really surprised, I could kinda kinda see the look on her face and I said, 'You know, I am just being honest. It doesn't mean that I'm not OK with where we are now.' She said, 'Really?' and I said, 'Yeah, I would like to go back to the way it was.'

Um, my sister situation - my sister's having a very different experience than I'm having. They're up to like I think 18 or 19 half siblings now and they all have this little group of them that that sort of talk regularly on big group texts um...but I think that it is, it is sort of weird now. It's not weird bad, but it's just different. When I say so what's the latest with your half-sibling group or what's the latest with your donor? Because she does talk to him pretty pretty regularly. There's a part of our lives that has kind of split in a different way. It doesn't make us any less close, but it is sort of this new weird thing that has that has occurred for us and that has sort of made us slightly different. Like I would say I now feel 5% different from her. For us this will never change our relationship, but it is there. We can't say it isn't there.
That's a woman named Amy...one of the many, many people finding out more about their families through mail-in DNA tests. Amy is continuing to work on political campaigns. She also told me that for now, she's chosen not to have any contact with her donor, or any other new biological relatives.
Death Sex and Money is a listener-supported production of WNYC Studios in New York. I'm based at the Center for Investigative Reporting in Emeryville, CA. The team includes Katie Bishop, Anabel Bacon, Emily Botein, and Andrew Dunn.
Our interns are Catherine Xu and Angely Mercado.
The Reverend John Delore and Steve Lewis wrote our theme music.
We're on Facebook, Twitter, and Instagram @deathsexmoney.
And take our survey to help out new Death, Sex & Money listeners! Go to deathsexmoney.org/starterkit.
Mail-in DNA tests like the one Amy took are becoming increasingly popular as holiday gifts.
A: They do this big push before Thanksgiving so that people will buy them for Christmas and then 4-6 weeks later everybody has to go through this whole thing again and so one of my sister's half-siblings who I'm now Facebook friends friends with had said, 'Oh yeah, we're expecting a fresh new batch of half siblings by the end of February.' And this is going to be happening every year now from here on in.
I'm Anna Sale and this is Death, Sex & Money from WNYC
Copyright © 2019 New York Public Radio. All rights reserved. Visit our website terms of use at www.wnyc.org for further information.
Music Credits:
"Saunter" by Podington Bear
,
"Thought Projection" by Ketsa
,
"In My Head" by Podington Bear
,
"The Confrontation" by Podington Bear
,
"Weightlessness" by Daniel Birch
,
"Back Stairs" by Podington Bear