We're Not Going To Have Karl Again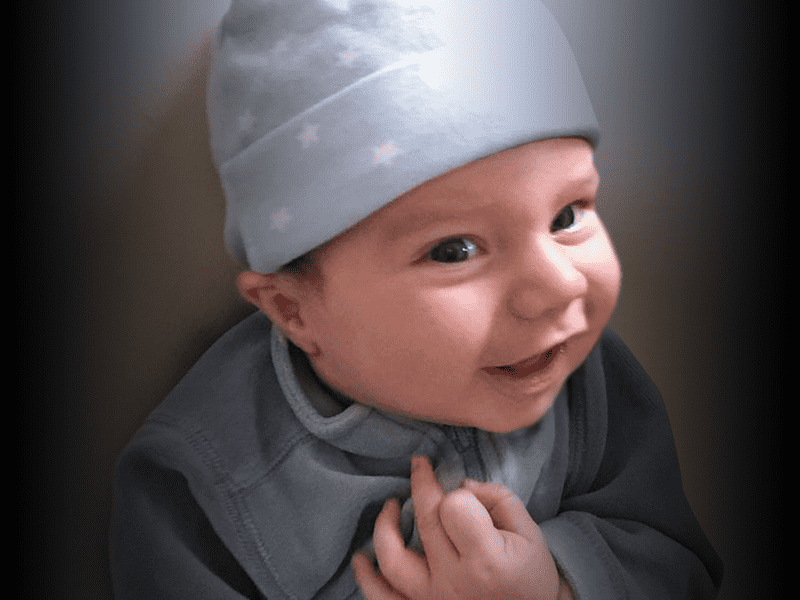 Transcript
AMBER SCORAH: You think, everyone does this. This is just sort of one of those first rites of passage of parenthood that you have go through. So it never of course crossed my mind that anything could go terribly wrong.
This is Death, Sex & Money.
The show from WNYC about the things we think about a lot…
…and need to talk about more.
I'm Anna Sale.
LEE TOWNDROW: I remember, when we were pregnant with Karl, we had a total sense of innocence about everything. And then I remember when Karl was born, I um, I was taking a whole bunch of pictures at that time. Because I thought, "How is it that everything looks so beautiful?" (Laughs) I was totally high! And it's been really hard to get as excited this time.
This is Lee Towndrow. He and his partner, Amber Scorah, live in Brooklyn.
LT: I think we feel a little bit like, um, I don't want to say cynical, but um...

AS: I feel like there's a loss of meaning.

LT: Yeah.

AS: Like Karl's - everything about the pregnancy and your first child, it just infuses your life with so much meaning and that, I think, is the hardest part. It just - life feels sort of meaningless, like if that - if your greatest treasure can be taken away for no reason that you can understand. 'Cause ultimately the only thing - when I boil it down, what I can come down to why Karl died, it was just - Lee always says it's just like we were the unlucky ones. There's no - it's just like really - sometimes some random thing goes wrong and you don't know why and you can't explain it.
I met Amber and Lee at their apartment last February. At the time, Amber and I were both about six months pregnant. Amber gave birth to her first child, Karl, in 2015.
Anna Sale: What's Karl's full name?

AS: Karl Ives Scorah Towndrow. It's a big long name for a little baby.

DSM: What do you think of when you think about when he arrived and those first days of learning how to be a mom?

AS: When Karl was born, when they put him on my chest, the very first thing he did was he craned his neck up—and I didn't even know newborns could lift their heads like that yet—and he looked right into my eyes twice. And I just - I remember feeling stunned.

LT: I remember having this feeling where I wanted to almost consume his body. Like I wanted to lean down and hug him and just be able to absorb him into my body.

AS: It was the most connected I'd ever felt to another human being. And as Karl got a little bit older, there was these moments where sometimes he would catch my eye and stare at me and he would lock eyes and then - it was almost to the point that he would look at me so long and with so much love in his eyes, that I'd almost start to blush or - it felt like better than the best lover's gaze that went on way too long in a movie. But this was like your child and he's just looking at you because you knew that, sort of, you were his everything and I could tell that he felt really safe with me and that also made me feel really happy.
After Karl was born, Amber took three months of paid maternity leave from her job. But as the time drew nearer to return to work, she didn't feel ready to go back. Lee was working freelance and they couldn't afford for him to stop working. And Amber couldn't quit her job, because their family depended on her health insurance. She asked the head of her HR at work about her options. There weren't many.
AS: The only suggestion he said he could give me was to take all my vacation days that I had accrued, and that that would be allowed before I had to go back. So I did that.
Karl was just shy of four months old when Amber and Lee dropped him off for the first time at a daycare center close to Amber's work in lower Manhattan.
AS: And of course it felt really surreal and strange to leave him, but once I took him out of the baby carrier, one of the day care assistants—one of the Spanish-speaking ladies—came over and went up to his face and smiled and said, "Hola!" And Karl just gave this big radiant smile, so I thought - I felt really reassured. I thought, "Oh, he's gonna have a little adventure here and I'll be back before he knows it."

Um, I went to work. I got there around just after 9:30, I think. And the whole morning consisted of just nothing. I mean, obviously it kills me now 'cause it just seems so fruitless and ridiculous. But, you know, it's your first day back at work after months off and the computer doesn't work, and you're calling the IT support, and then by the time it got close to noon, I had told the daycare operator I would come back between 12 and 12:30. And so I waited until like 12:10 and then I just couldn't - I couldn't wait anymore. I was too excited to go see him.

When I got to the daycare I thought it was strange but the door was - the downstairs door was open, cause it was on the second floor. I thought, "Why would the door be open when there's children inside?" And so then I went around the corner still having no idea that anything was wrong and I just saw Karl laying on the change table and the daycare owner was performing CPR on him.

I just - like I remember - it's such a PTSD kind of thing. Like I replay that moment over and over in my mind. But even to this day I try to like reconnect what I thought I would be seeing with what I saw and I can't ever really wrap my mind around how I could have seen that. I mean, there's just no words to kind of explain the turmoil - the mental turmoil of that.
Amber ran over and tried to help the daycare owner perform CPR. Karl's lips were blue. The EMTs arrived soon after. They took Karl and Amber to the hospital. Lee met them there.
LT: I think they - they tried to resuscitate him for about two hours.

AS: Even though they were trying to revive him, they let me hold onto his foot. Like...um, but they tried for so long and, like, I just knew that there's - they're just doing it for us basically at this point, so that we knew that they tried.

DSM: What time was it?

AS: I don't even know...I have no idea of concept of time.

LT: The whole...We were at the hospital a total of about eight or nine hours. Um, most of that time was spent...uh, we sat with Karl after he was pronounced dead. And so that was most of the time that...um. I can't even really remember.

DSM: When you were sitting with him after he'd been pronounced dead, what did you do?

AS: Um, I just...I held him, like, for all that time. Basically we took turns holding him. And it's like a weird thing because it felt like...I felt like, as long as I can hold him I can handle this or something. So we just kept holding him. But I have to say, I appreciate the hospital staff so much because they didn't rush us. They were really supportive. Whatever we needed, they gave. And um, the nurses, like at the end, when we - before we left, one of the nurses was going off shift so she came to say goodbye. And I just...I showed her a picture that I had taken of Karl that morning. Just in his diaper before we had left for the daycare. And I mean, he just looks like the happiest, jolliest picture of a healthy baby. And um, I just said, "Oh, I just wanted to show you a picture of Karl so that you know, like, how he really looks." And then she got tears and started to cry, too. Um, it was really, a really kind moment.

DSM: What do you understand now about what happened to Karl?

AS: I don't understand much. I have like the last, you know, months and months and months, my mind - I don't think there's probably a minute in the day where I'm not thinking about some aspect or some - trying to understand, or trying to figure out, or blaming myself, or feeling guilty, or mourning over what Karl lost. But, yeah, for all of the obsessing and using all of the powers of my mind, my brain, to think about this all day long, I can't understand to this day how he - why he died. It makes no sense to me.

You feel like there's this direct correlation between you leaving them and them dying. Like, how could you not feel that way when it was the first time that you had left them? Um, and as a mother I started to go through every scenario thinking...My mind would just race. 'Cause you're mind is racing and you need an answer. As a human being, you need an answer for death. At least you need to...Even if you can't understand death, you need to understand why a death occurred.
After several weeks of waiting, the medical examiner's report came back. It said that the cause of Karl's death was undetermined.
Amber says the daycare provider told her that Karl wasn't distressed before he died. He'd been put down for a nap. A daycare worker who later checked on him found that he wasn't breathing. Police did find that the daycare center wasn't licensed, and that the daycare provider was not certified in CPR, although she'd claimed to be. The daycare center was closed down permanently a day after Karl died.
Coming up, Lee and Amber talk about the days and weeks following Karl's death, and about making the decision to have another baby.
LT: I find myself continuing to think, like, "Oh okay, we'll just get through this period, and then we'll have Karl again." And then I realize, like, no, no. We're not going to have Karl again. And my mind keeps processing that information over and over again.
Hey everyone, this is Katie Bishop, producer of Death, Sex & Money. As you may or may not know, Anna is out on maternity leave at the moment -- but she'll be checking in again in the coming weeks, so tune in for that.
Last summer around this time, we put out our episode about siblings…and the very complicated feelings that we have about them. If you haven't heard that episode, you can find it in our podcast feed or at deathsexmoney.org.
We've been reaching out to some of the people who we featured in that episode to find out what's happened in their lives—and in their sibling relationships—in the past year. One of those people is Alix Sugarman. Anna talked with Alix and her twin sister Katie in the episode. And then, weeks after the episode came out...Katie died unexpectedly.
ALIX SUGARMAN: If you want to know what it's like to have the worst day of your life and the best day of your like separated by about 11 months, that's pretty much what this year has been like for me.
Alix got married in June. She sent in this update a few days ago.
AS: Planning a wedding while grieving is in retrospect probably a pretty bad idea because the planning process was kind of nightmarish and I think that planning a wedding while you're grieving kind of offers this really confusing outlet for all the pain that comes with grief. But when we got to the actual wedding, there was so much joy and so much beauty and so much love. And it felt really healing to have that much joy kind of heaped on us and heaped on our family.
You can hear more updates on the siblings that we featured in our episode by signing up for our newsletter—we'll include those in next Wednesday's edition. Sign up at deathsexmoney.org/newsletter.
On our next episode…
KATIE HEANEY: When I want it badly enough, I can—you know, like, really steel myself and just be like, "Don't freak out, just stay still, kiss them. Just do it!"
When we first interviewed writer Katie Heaney two years ago, Katie was really freaked out about dating. When we talked with her again more recently…a lot had changed.
KH: I remember being on the subway and looking around at all the guys. And being like, I don't want to date any of you.
--
This is Death, Sex & Money from WNYC. I'm Anna Sale.
On the night that Karl died, Amber and Lee didn't go back to their apartment. Their friends got them a hotel room. They stayed there, and then moved to another friend's apartment for several weeks.
AS: It was particularly difficult to just imagine re-entering the house. And it just felt like a weird sort of museum frozen in time, like the sheets that Karl slept on or like the, you know - his bib with puke on it. Like everything to me was just - I couldn't bear the thought of it.

LT: And I made a couple of trips back to the apartment to - to get things, to just try to, I think water plants and, I don't know, hold things down.

DSM: Did you make the baby things less conspicuous before you came back?

LT: No. Well, yes and no. There was some things that I - yeah. Some baby things I put away. I mean, Amber and I talked about what things we wanted to leave out.

AS: I kind of wanted - I didn't - I was scared to go back but then I also wanted everything to stay intact. I know - I've met other people since this happened that had a baby die and I know a lot of them kept the baby's room exactly how it was. And I think that before this had happened I probably would have found that maybe surprising or maybe thought that was strange. But now I can understand exactly why people do that. Because it's all you have of them. Like, you have no...Of course, you have all your memories but it's the one physical manifestation that you have of them.

DSM: When you think about your relationship in the weeks and then months after Karl died, were you mirroring each other's emotions or were you feeling different things at different points in your grief?

LT: We were feeling different things at different points.

AS: Yeah, I mean, I think everyone grieves differently, and then I think a mother will grieve differently than a father. I mean, at the very beginning, one of the really difficult things as a woman and being - having been living with - like, Karl was like an appendage and like even just breastfeeding. And like suddenly your baby's not there and your body's still producing milk. Like, I felt like my body had been torn apart. Like something had been torn off of me. Even physically. But for Lee, the grief, I think was just as intense but in different ways.

LT: For me it was like um - the first week or two was total shock and adrenaline. Like, I just thought, "I have to try to get things back in order." So I was just trying to kind of take care of all of the practical issues.
In those first few weeks after their son's death, Amber and Lee were also dealing with a lot of media attention. As the daycare center was being investigated, the story was everywhere, from Gawker to The Daily Mail.
LT: Like, it felt like the whole city knew that our baby had died in a matter of a day or so. And all of a sudden I felt like my personal life had just been blown wide open. And so I wanted to try - just try to kind of - I felt a lot of pressure to reassure everybody that it's going to be okay. So that's the mode that I snapped into. And I went back to work really fast because - 'cause I was terrified that I would have some kind of scarlet letter. And I remember kind of feeling like I had to just postpone grief. And it was really hard. And we had - luckily we had two - we each started seeing a grief counselor right after, and that was so helpful, because it allowed...At least I can say, in my case, it allowed me an outlet to talk about these things that I was going through. And so for me the grieving almost happened like in January. Like I just didn't really see any friends or do anything and I just felt so depressed and awful.

DSM: You just ran out of energy.

LT: Yeah. Yeah.

DSM: When did you have a conversation about trying to get pregnant again?

LT: I mean, it was days after Karl died.

AS: I was like, "I have to have another baby." I mean, at the beginning it was just, like, I would do anything to have Karl back at that point, and then you're like, "I can't control anything about this situation, but the only thing I can control is that maybe I can have another child."

DSM: I hadn't really thought about how when you lose a child so young, how it makes perfect rational sense that your impulse is to get pregnant again, to have another newborn.

AS: Yeah.

DSM: Is that something that you...Like, is that something that grief counselors know about? Like, have talked with you about? Is that a phenomenon that happens?

AS: From as far as the other women I know that have lost children, right now, two of the women that I knew that lost children at the same time as me are also pregnant now. And all of us have gone through the exact same emotions. Like wanting a baby really badly, getting pregnant, and then being like - putting on the brakes and being like, "Oh my goodness," like, "I don't even know if I should be doing this." And like crying all the time, because the pregnancy hormones intensify the feelings of grief. Which I guess I should have known but I didn't really think about. And then initially I think because you don't know this child yet, you can't help but feel...I keep just thinking I want Karl back. And then knowing it's not Karl. And then feeling guilty that I seem to only want this one child. Of course I know logically...when the baby - when the baby comes out and you meet them, it's not gonna - you're going to love them just as much. Everyone knows that. But, um. I don't know how you describe the emotions of grief. I mean, they're just like this blanket that just smothers you. But what I have heard from women who have been through this and then went on to have other children, they all said that it never ever fills the hole that you have from losing the one that you did lose. But a little bit of the sadness is taken away. Because at least you have a baby to hold at the beginning. Like, even if it's just that, that's something.

DSM: Do you know the sex of the baby?

AS: Yeah. It's a girl.

DSM: How did it feel to find that out?

AS: Um, that was hard because both Lee and I I think wanted a boy. There's just this longing to somehow have something of what was lost.

LT: Like Amber I think we thought, "Oh we'll have another baby and it'll be like we have Karl back! Or sort of like some aspect of his essence." And so then I thought, "Maybe it's good that she's a girl and then it's very clear that it's a completely distinct thing."

DSM: Do you think you'll handle parental leave differently with this birth?

LT: Um, yeah, I mean - well, one thing is that the work situation has changed a little bit for me. I'm the one with healthcare now, so I have it for the whole family. And, yeah, I definitely want to try to make sure that, at least for a year, Amber can be taking care of Karl.

AS: Karl...

LT: Sorry. With the baby. It's hard. Yeah, I mean it's one of the main things that we talk about all the time, is how are we going to handle this differently.

DSM: Have you thought about how you'll tell your daughter about your son?

AS: Yeah, I've thought about that, but I think that - I kind of feel like nothing will change from how we are now, because Lee and I just talk about Karl all the time. And even with my friends, I talk about Karl and memories. Or like, just whatever I'm thinking about about Karl. So I can't imagine it being any different with her. And she'll know what happened. Um, but I don't think that it'll be something we hide from her or shield her from. 'Cause I kind of think that that's unfair. I mean, it's a really sad thing but it's part of her family history and part of just what becomes a life - her own life story. Of course I want her to think of Karl as her big brother.
That's Amber Scorah and her partner Lee Towndrow. Karl's little sister was born in June. Her name is Sevi. She has a full head of dark hair, just like Karl.
Death Sex and Money is a listener-supported production of WNYC Studios. The team includes Katie Bishop, Chester Jesus Soria, Emily Botein, and Andrew Dunn.
Our interns are Carson Frame and Brandy Gonzalez.
The Reverend John Delore and Steve Lewis wrote our theme music.
I'm on twitter @annasale, the show is @deathsexmoney.
If you've experienced the loss of an infant or pregnancy and are looking for help, visit nationalshare.org. It's an organization that supports and connects those who are grieving the loss of pregnancies and young children.
Since Karl's death, Amber and Lee have become advocates for paid parental leave. According to the US Department of Labor…only 12 percent of people working in the private sector currently have access to it. Amber says that although she WAS part of that small percentage…she still feels very connected to the issue.
AS: Obviously ours is a worst case scenario. It's a nightmare for any parent. And it's not going to happen to most parents. But if a parent doesn't feel ready, the parent should not be forced to drop their kid off at a daycare and go to work at such a young age. At least I wouldn't be wondering what happened, or not knowing what Karl went through in the last minutes of his life.
I'm Anna Sale and this is Death, Sex & Money from WNYC.
Copyright © 2019 New York Public Radio. All rights reserved. Visit our website terms of use at www.wnyc.org for further information.
Music Credits:
"Spinning Meter" by Blue Dot Sessions
,
"Tach" by Blue Dot Sessions
,
"Gravestones" by Robin Allender
,
"Rain Stops Play" by Ketsa
,
"Ocean Cliff" by Alex Fitch