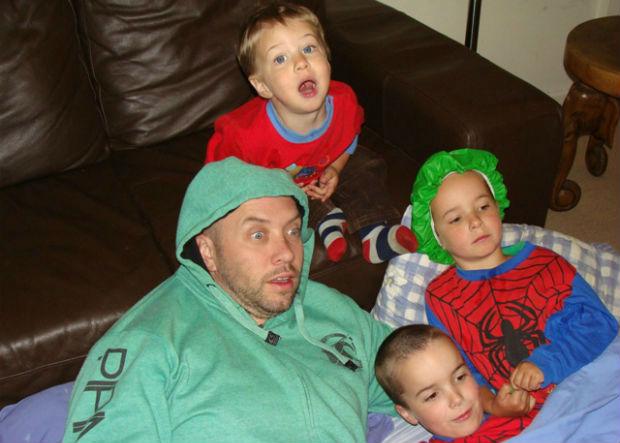 Transcript
NOTE: This transcript includes some mature language.
Okay, we are all set to go rolling. Good morning.

Good morning Anna, how you going?

Thanks for starting your day by talking about your vasectomy with me.

No worries.
This is Death, Sex & Money.
The show from WNYC about the things we think about a lot...and need to talk about more.
I'm Anna Sale.

"G'day Dr. Snip!"

"G'day."
This is Clint Greagen. And his doctor, Nick Demediuk, who really goes by the name Dr. Snip.
"I can still feel stuff down there… does that mean I haven't had the injection yet?"

"No anesthetic."
Clint Greagen is laying on his back, getting a vasectomy.
"Small little jab."

"Yeah, I feel it."
And he recorded it on his iPhone, only filming, though, from the waste up.
"So what's going on down there now?"

"So we've grabbed your nuts in a pair of pliers."
Clint lives in Melbourne, Australia. He's a 40-year-old stay-at-home dad and a writer with a blog called Reservoir Dad.
Blog post: "G'day, I'm Reservoir Dad, an Aussie Dad Blogger. In the past, I feared becoming one of the world's commonalities – a 40-ish dad, living in a suburban home, with wife and kids, waking up, eating Doritos, falling asleep. My blog is a doorway into my brain-case and even though I'll admit to it being a strange and sometimes confronting place, I make a point of allowing everyone in."
He really does allow everyone in — even into his outpatient medical procedures.
"How did you make the hole?"

"You want to know?"

"Yeah."
Clint is bald and broad-shouldered. He clearly lifts weights...and carries around a lot of kids.
I got 4 boys: Archie, Lewis, Tyson and Maki.
Now their oldest son is 9. The fourth, Maki, is 2 and a half.
So they're young boys.
It was during the last pregnancy that Clint and his wife agreed — that would be it.
Birth control always has seemed like a team decision to me, so it just seemed like it was my turn to have just a little bit of trauma inflicted upon me.
Still, it took a while for Clint to get comfortable with the idea. He recounted one conversation with his wife, Reservoir Mum, on his blog. He tried to get out of the vasectomy, by offering other options.
Blog post: "I'm not sure I can go through with that anymore. I was thinking we could try something else, like the experimental male contraceptive pill, or the withdrawal method, or having more kids."

"Hmmm. Nup," Reservoir Mum says, patting her tummy, "I think this will be our last."
This is typical — men get a little nervous before a vasectomy.
The pill is the most popular form of birth control in the US, according to CDC numbers released last year.
The number of women who rely on their male partners getting a vasectomy is much less, even though urologists say they're "simpler, faster, safer and less expensive" than sterilization surgeries on women.
This show is about the things we don't talk about enough. A lot of the time, that means stories about the emotions around vulnerable topics. But sometimes, it's the real nuts and bolts, like birth control. How do couples decide who does it? To answer that question, I turned to the guy who posted his vasectomy on YouTube.
We wanted to get a vasectomy so we could have frequent sex without worrying about having another baby. Or condoms. Have a good sex life, I guess.

Who first brought it up, do you remember?

I'm not sure, to tell you the truth. I think it sort of just came up in general conversation, and then it was probably Tania that kept bringing it up consistently after that. So eventually — I did put it off, like the two biggest things I worried about was all the inspections that had to go on with my genitals in front of other people, and the second thing was actually having my genitals pierced by sharp objects. But it was probably about two years after we first brought it up before I actually got into gear and got the job done.
So they decided….and then, two years passed…
It's crazy, isn't it? The biggest thing was definitely just that queasiness I had—it's really wusbaggish.

And your wife brings it up occasionally.

Yeah.

When would she bring it up?

Uh, I might be taking Tyson to an appointment at the doctor, she'd say why don't you make a double appointment and get the vasectomy thing rolling. Or, cause we were living with our in-laws, for a year while our house was being built, I often got a few sort of sly comments from my mother-in-law as well. It was kind of good comedy fodder.

Blog post: "There is no way to avoid the truth – despite the dozens of well-wishers who have emailed and Facebooked and Tweeted recently to ensure me that a vasectomy is a very simple procedure that goes really quick and is not really painful at all – I am shit scared."

At what point did the idea of no longer being able to father a child, when did that sort of occur to you?

That sort of would come in quite frequently. There are certain things about having kids that make you think, I never want to have another kid. The down and dirty, and the sleepless nights. And the tantrums. And you have moments where you just think, God, there's no way I can have another one. But then there are the other moments where you get that real affection, and that connection. With me, it was when Mackie started walking, and all of a sudden I realized, that was our last baby. I was never going to not have the vasectomy. But I did have those moments of sort of, I don't know, loss, I guess. Or regret. A little bit of regret that it was all over. The way I got myself over was to ring up Dr. Snip. So then it was booked in, you know. I had a date, and I just had to suck it up and get used to it.

Blog post: "I flick through his website and notice the slogan "No Scalpel Surgery" and my first thought is 'that's great!' quickly followed by 'well, he has to get into my scrotum somehow'. I make a mental note to ask him about this in the interview. I hold to a slight sense of achievement. I have made contact with a vasectomy guy. It's one small step in the process. It's something. Reservoir Mum will be pleased."

AUDIO FROM VIDEO: "[Snip!] there's your tube there."
With the no-scalpel technique, instead of an incision, there's a small puncture with a special instrument, that's just big enough to pull out the vas deferens tube to cut it.
"It's cut in half at the moment."

"So now you're tying up the the cut ends?"

"Tying the top ends."
No matter the style, the idea is to cut off the supply of sperm into semen in the testicle. With the help of his nurse Susan, Dr. Snip does two two tubes on two sides, with two snips.
"Oh shit, there's two sides?"

"Yeah, two tubes."
So after a vasectomy, men can still come, just without sperm.
"Having worked on so many testicles in your time, has this changed the way you look at the human body a little bit? I was just thinking, isn't it weird, we're just a bunch of tubes that carry hormones and chemicals all over the place, and you can just go in and cut a bit. You still see a human as a human? As real testicles that belong to a person."

"You're still a person."

"That's good."
While all this was happening to Clint, his two youngest boys were in the waiting room. Remember: Clint's a stay-at-home dad. He couldn't find a sitter, so a receptionist named Jayne looked after them.
"Poor Jayne."

"I don't think she's ever done that before."

"No, she has!"

"Has she?"

"She's a good babysitter."

What'd you tell your boys?

Well, Tyson was only 3, and Maki was 1, so I didn't really need to explain too much to them. They got looked after by one of the receptionists while I was up there. Except for halfway through, when Maki just wouldn't stop crying, so they brought him up while they were prepping me for surgery, and actually put Maki on my chest to keep him calm for a little bit before the surgery started. So yeah, that was as close as I got to knowing what a woman goes through on the birthing table. Cus I was there completely naked having my genitals manipulated by doctors. And I had a screaming baby on my chest. So I kind of get it. Not quite, but I kind of get it.

Not quite, yeah.

It's a vulnerable feeling.
From start to finish, Clint Greagen's vasectomy took about 20 minutes.
I walked out back to the car myself, put the kids in, drove all the way home with my legs open a little bit wider than I usually do when I drive. And when I got home I was doing the housework and vacuuming and everything, and hardly felt anything apart than a little bit of sensitivity where the puncture wound was for a couple of weeks. So it was amazing really.
Coming up…how a vasectomy was nothing compared to adjusting to life as a stay-at-home dad.
We're still collecting your stories about love and money. Are you with someone who handles money differently than you do? have you been with somebody that dealt with money in a way that eventually drove you apart?
Tell us these stories.
I'm also interested in how your family backgrounds have driven your decision-making about money. And how you've managed it...or not.
Like in Heidi Reinberg's case.
My mother comes from the school that you don't talk money. My big brother's the only one who's allowed to know how much money there is, like she will not talk about it. You do not talk about money. So if you don't talk about money in my family, you certainly don't talk about lack of money.
You can write us with your stories at deathsexmoney@wnyc.org. You can also record yourself, if you've got a smartphone, just use the voice memo app. Record a few minutes, then email it directly to deathsexmoney@wnyc.org.
In the next episode, sex advice columnist Dan Savage shares what he and his husband fight about most.
I own three pairs of shoes and Terry owns 50 pairs of shoes….This is what we fight about—we don't fight about sex, he can have an affair and that would not be a problem for me. But we will fight when I'm home for a week and every day that I'm home, a UPS truck comes by with a package with shoes or clothes or records in it. Which happens, and we have massive, huge arguments about that.
Dan Savage talks to me about death, sex, and a lot about money.
This is Death Sex & Money from WNYC. I'm Anna Sale.
Clint Greagen's vasectomy was a little over a year ago.
It was really remarkable how easy it was. Off the table, walking around, like nothing had happened, really.

How did it change your sex life with your wife?

Uh, just, she can just throw me onto a bench anytime she wants now and not have to worry about it. It's good fun. if you take concern out of it and you can just go and do whatever role play you want right to the very end...Freedom.

It's interesting, You describe it as both kind of a marker of the end of a passage of your life that comes with aging, and then also this like, opening up to a new carefreeness that you never had before.

Yeah that's true. I mean the only other time you sort of get that freedom in sex is when you're trying to have a baby. But it's a completely different experience, because there's also the excitement of making a baby, and it feels a little bit different because of that. So yeah, it is like a new chapter, and with that comes a freshness and funness about it. A bit of excitement, as well as at the same time you have to let something go.
Not all men report positive experiences. This is surgery, so there can be complications, like swelling or infection. And also regrets. After all, men have more time in their lives than women to become parents. And things change. Men who once thought they were finished may want to have another kid. Vasectomies can sometimes be reversed, but doctors urge men to consider them permanent when they decide to do it.
Cause I have talked to men who've done that, who've had the reversal once they've gone into another relationship because their next partner wanted to have a baby.

Where do you talk about this with other guys, when's it come up?

All over the place. Like I go, I'm part of a dads' group here in Melbourne and we catch up every Friday, so that was an ongoing discussion for a long time between the group. And lots of other people. As I was going towards the vasectomy and afterwards, talking about it, because a lot of men either have had a vasectomy themselves in my age group, or it's on the plate.
These trends are pretty intuitive. In the US, men most likely to get vasectomies are older and married. Men with wives with higher education levels are also more likely to do it.
Clint's become an evangelist of sorts, and in a lot of ways, vasectomies could not have asked for a better spokesman. He talks tenderly about his wife and boys with his Australian ALPHA SWAGGER totally intact.
He has run into some insecurities about his masculinity, but not from the vasectomy. What did that, was when he stopped working.
For about the last 6 or 7 years, I've been the primary carer of the boys.
Clint's wife Tania works more than full-time. She's a PhD in physical therapy and runs a clinic and does research and lectures at the local university. Clint used to work in housing, as a caseworker for local welfare agencies, but after they had their first two kids, he started staying home.
Being a man who was moving out of the workforce to become a full-time carer in what has traditionally been a female role, I did start to notice things around me that sort of suggested I was doing the wrong thing. Little tongue in cheek jokes that people say but that has that kernel of truth to it, or their kernel of truth to it.
It's why he started his Reservoir Dad blog — to push back on this a little bit. He writes about lifting weights with his buddies, bedroom conversations with his wife, and driving his kids to school.
Blog post: "Archie's sitting between Maki and Tyson in the middle row and in the backest of the back seats is Lewis staring outside the car, smiling to himself in a way that I recognize. He's inherited the 'dreamer' and 'drama' tags from his old man. Right now he's locked in a scene that has friends and fun in it and it's affirming his place in the world and I feel happy for him at the same time that I know that he's in for the regular dose of melancholy that comes to those who have a tendency to drift inward."
When you're in charge of the kids, though, it does make it hard to fit in that vasectomy follow-up check. You have to bring a sample back to a clinic to make sure the vasectomy worked and your semen is sperm-free. Clint found himself procrastinating again.
I had the two younger boys home with me and I thought, I've just got to do it. Just got to do it now. I put on a DVD for the kids, I ran into the toilet, and started trying to get my sample, and in comes, of course, the two boys when you're doing something where you'd rather be alone. At one stage, I had the vial in one hand, a foot on the door, trying to manipulate that sample from myself, and it was a real, real effort. But I managed to get it done, and we jumped in the car, ran in with the two boys, and the woman brings me into the office. She pulls it out of the bag, holds it up in front of herself, jiggles it around, looks at it, says, "Have you abstained for 4 days?" I said, oh God. I don't know. Cus I had no idea I was meant to. I said I might have. And she said, no worries, we'll send it off and if it doesn't work, you might just have to do it again.
But first, she needed his health insurance card.
And of course, I'd had the card out for an appointment for the kids a week earlier and had just left it at home. So she said, we just can't take it. So after all that, I leave. She says, Do you want this back? I said, no you can have it.

You keep it.

Yeah, you keep it.
After all that, against the advice of doctors, and his wife too, Clint Greagen decided to just put his trust in Dr. Snip. He never went back to the clinic, and so far, no more kids.
Clint Greagen blogs at reservoirdad.com. His first book, also called Reservoir Dad, was released in Australia this month.
And yes, the video of his vasectomy is on our website at deathsexmoney.org. So is a picture of him with his wife and four growing boys.
Death, Sex and Money is a production of WNYC. The team includes Emily Botein, James Ramsay, Jessica Miller, Henry Molofsky, Chris Bannon, Jason Isaac, Bill O'Neill and Jim Briggs.
The Reverend John Delore and Steve Lewis wrote our theme music.
If you like the show subscribe on iTunes, write us an iTunes review. It helps us get the word out.
And write us with what stories about death, sex, and money you want to hear. Email is deathsexmoney@wnyc.org. You can also find us on Facebook, and I'm on Twitter, @annasale. And remember, I'm collecting stories about money and love: what you've mixed, what you've kept separate, what's worked, and what hasn't.
One story Clint Greagen is waiting to share with his boys — just what he was up to in that youtube video. He's just started talking to his oldest son about sex...and so far, it hasn't come up.
I think he's got a lot of other things about sex to get through his head before that — how come your sex life is so much more carefree these days, Dad?
I'm Anna Sale. And this is Death, Sex & Money from WNYC.
Copyright © 2019 New York Public Radio. All rights reserved. Visit our website terms of use at www.wnyc.org for further information.