All in the Family of Norman Lear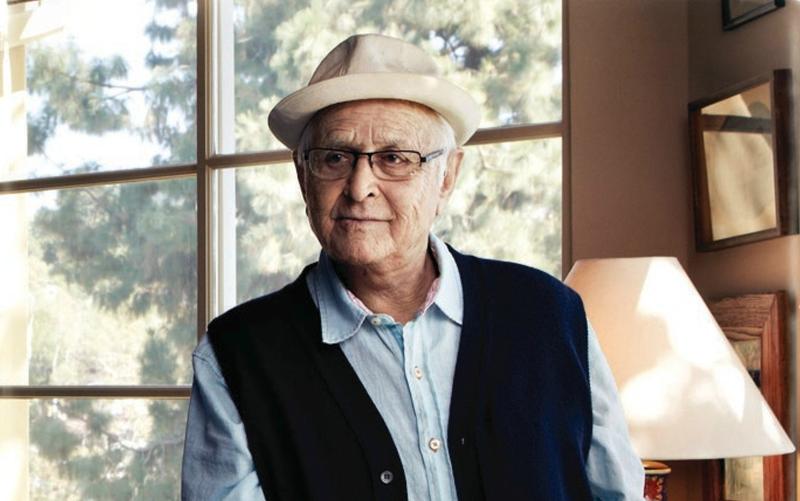 Transcript
Norman Lear: The fact of my life is wherever you are at that moment, it took every bit, every second, every split second of your life to get there. It's gone. You did it. It's over.
This is Death, Sex & Money.
The show from WNYC about the things we think about a lot…and need to talk about more.
NL: We don't often talk about death, sex and money.
I'm Anna Sale.
NL: My name is Norman Lear. I was born on the 27th of July, 1922, which makes me 93 if I'm counting correctly.
Norman Lear is the TV writer and producer behind iconic sitcoms like The Jeffersons, All in the Family, Good Times, and Maude.
MAUDE: Carol! You want to move? Then move!
CAROL: You mean that?
MAUDE: No.
His shows took real life and put it on the small screen…
ARCHIE: All right! We both own a house, we both own the furniture, we both own the window. Half and half. I want my half closed!
and they became some of the most-watched TV programs of the 70s and 80s.
GEORGE: Hold it, Diane. We are the Jeffersons.
DIANE: (Coughs)
Norman spends most of his time in Southern California...but I talked with him a few weeks ago in the luxury building in Manhattan where he has an apartment. It's been called New York's "most exclusive address."
NL: I wanted to be able to say to my kids, not "you will not want for anything" at all, far from that. But "you will not be desperate for a dollar." And that meant different things along the way. You know, probably when I was a kid it meant that if you had $200,000 you were not going to be desperate. And along with the times the number increased. It's now 60 billion.

That's a joke.

AS: (Laughs)
Norman's worth an estimated $700 million, according to Inside Philanthropy. But growing up, he didn't have much. His father was arrested when Norman was a kid for selling fake bonds.
NL: When my father was hauled off I was nine years old – to prison, he served three years – and my mother was selling all the furniture 'cause she thought we couldn't live any longer in that much shame and she needed the money and god knows what. So the evening he was taken away, she had people over and they were buying furniture. And she was selling my dad's red leather chair. And that hurt more than anything. And in the middle of all of that some horse's ass of a neighbor or a relative or something – an adult – put his hand on my shoulder and said, "You're the man of the house now." And I don't know whether in that instant or the next morning or – but reflecting on it, certainly, I thought, "My god. How funny, strange, that is." You know. And then – and then he said, "Ah, the man of the house doesn't cry."

AS: Did your dad ever tell you why he went to prison? Did he speak to you directly about it?

NL: Well I read the paper. I knew why he went to prison. And my mother had said to him, "I don't like those men, Herman, don't go with those men." She tried to warn him. But nobody ever told Herman anything. He – "I've been everywhere the grass grows green and I know everything," he used to say. I adored my father. I continue to love him despite all the difficulty, because he leaned into life. He ate it up. You know, and whatever was going wrong, he was, you know, gonna turn it around in the next twenty minutes. In two days to two weeks he was gonna have a million dollars, always.
AS: And when - when you think about how your father was trying to raise you as a young man, what did he teach you about what it was to be a man?

NL: Well now we're getting into the sex part. Because the one thing I can remember – couple of things—advice that he gave me: "Norman," he said, "never take a wet deck." He had been in the Navy. Now a wet deck in his terminology meant, you know, three guys are gonna have sex with the same woman, you be first.

AS: So, pretty vulgar advice.

NL: That's – yeah. Pretty - and then at one point I was driving a Good Humor truck, came home at 11:00, 11:30 at night. He leaned out of the bedroom window and threw me the keys to the car and said, "Why don't you and Sid," that was a friend of mine, "why don't you and Sid go up to Troy and get laid?" He thought it was time that I thought about that. So, you know, I don't – I don't like saying what I heard myself say because – out of affection for him. Poor bastard. I mean, this is what he knew.

AS: Did you go to Troy?

NL: We went to Troy, yeah. We would - (laughs) we spent an hour driving around Troy, got there about 4 o'clock or something in the morning. Looking for red lights. Because it was supposed to be notorious for a red light district. No - no such thing. At least not for us. And we came back.
Norman's father died in 1957, but he kept showing up in Norman's work for decades. When Archie yelled at Edith to "stifle!" during an argument on All in the Family…
ARCHIE: Now stifle yourself will ya!
EDITH: Oh, that's a terrible thing to say!
...that's what Herman Lear used to yell at Norman's mother.
NL: I used to sit at the kitchen table and I would score their arguments.
Norman's father also showed up in the psychiatrist's office, with Bea Arthur on Maude.
MAUDE: My father again! The man never gave me one decent moment, not one! Maybe one...
NL: That was a real experience in my life. I rewrote it. When it came to a grandstand play, he was good at it. I was dating my first wife, the woman who became my first wife. I was gonna pick her up in West Hartford in my car, which was a Model T or something. It was an ancient car we paid $35 for or something. And my father was driving a – a Hudson Terraplane, new car at the time. And he was gonna come home – he said, "You take my car." So he was due home at let's say 3:00, and then 4:00, and finally I left and drove through Meridan and Waterbury. And all that distance away from Hartford there's suddenly a honk-honk-honk behind me. And my father has caught up with me in the Terraplane. And we exchanged cars. And – and I take my girl to the – to the theater properly. And that was – a giant, uh ... that was, it overwhelmed me. So, I wanted to do that with Maude. She came into her psychiatrist's office.
MAUDE: Anyway the thing is I can't believe I'm here. I mean, me, Maude Findlay, actually talking to a psychiatrist!
NL: And then she remembered something about her father.
MAUDE: And then he broke every traffic law in the books so that he could get there in time to give me this coat with a Persian lamb collar so that I could wear it to the prom.
NL: It was the same kind of grandstand gesture. And Maude crying on the couch said, "What am I talking about? I loved my father."
MAUDE: Oh, how could I have forgotten a thing like that?
NL: She had previously said, "I guess Doctor, this will be the last time I see you." And anyway, after realizing that she loved him after all, she got up and walked to the door (laughs) and turned around. And the way she said...
MAUDE: "See you Friday?"
NL: Oh my god. How I treasure that.

AS: (Laughs)
Norman Lear's TV shows poked holes in the blindspots and bigotries of older generations...without losing affection for them. Coming up…what Norman learned from the generation after him, his children…
AS: Is there a blind spot that you've had that your children have revealed to you?

NL: I'm sure. I, you know, I will reflexively jump – leap to a liberal position before I have thought it through.
We noticed last week that it was exactly a year ago that our episode with actress Ellen Burstyn came out. It's one of my favorites. So this week, I called her for an update.
ELLEN BURSTYN: People have talked to me on the street. I actually had somebody say "I've been practicing shouldless days." And I said, oh, that's great! I'm so glad I was a good influence.

AS: That's awesome to hear, especially on the streets of New York City, you know?

EB: Yeah, yep.

AS: So how have you been in the last year?

EB: Oh god, it's just been the busiest year of my life. I did not expect age 82 to be the busiest year of my life. I just got home from, actually, Shreveport, and while I was in Shreveport I was shooting a wonderful independent film called The Tale with Laura Dern. The week before I was in Baltimore shooting another episode of House of Cards. I think I've done five for this new season. I can't remember if it's four or five. I think it's five. I also did an appearance on Allison Janney's new show called Mom, which I just love. She has a half hour comedy that's just wonderful, and that'll air November 5th, I understand, which I'm unfortunately not gonna see because I'll be on a plane to Oslo. I got asked if I would accept a lifetime achievement award at the Stockholm Film Festival, and seeing as how the first thing on my bucket list, number one was to see the fjords of Norway, that's close enough to Stockholm to say yes.

AS: So you're going to see the fjords and get a lifetime achievement award in one trip?

EB: Yeah.

AS: That's really living up the bucket list, I gotta say.

EB: Well, I think if you wanna go to the places that are on your bucket list, you have to call in some really strange shots.

AS: When was your last shouldless day?

EB: Actually it was Saturday because I got home because of storms and connections, I got to the airport in Shreveport at 6:15 in the morning on Friday, and I got home at 11:00 at night. So Saturday became my shouldless day. I don't think I even took my dog for a walk. I had a dog walker for that day.

AS: That's an incredible indulgence, to still have a dog walker come.

EB: Oh, and I did two other films! One called Wiener Dog, written and directed by Todd Solondz, who's a wonderful filmmaker. And another one called Custody. Those will all be out next year. So I hope I'll be able to just sit back and let them play without me, not have to do too much.

AS: Thank you Ms. Burstyn for your time again, it's such a privilege to get to talk to you.

EB: You're welcome, thanks for calling.
Oh, Ellen. You can find our episode with her at our website – deathsexmoney.org.
On the next episode…
CAROLINE: Hi Anna and the Death, Sex & Money team. This is Caroline in St. Paul, and I'm responding to your inquiry about the people who aren't having sex. And I am one of them.
Your stories about why you're not having sex.
CAROLINE: This dry spell started out as a choice, I had a messy breakup, but that was almost 5 years ago. And while I'm fine with it, I would also like for a change to happen.
--
This is Death, Sex & Money from WNYC. I'm Anna Sale.

A decade before Norman Lear started working in television, he began another career – as a soldier. When Norman was a sophomore at Emerson College, Japan attacked Pearl Harbor.
AS: You enlisted when you were a college student...

NL: I did.

AS: ...which is not something you hear of happening in 2015. To leave college.

NL: Certainly we don't see people like me and you enlisting –

AS: Yeah.

NL: – and probably 90% of your listeners aren't enlisting. Kids who are hungry for something that makes for a career – to learn something or to have the comfort of a dollar – are enlisting.

AS: And you served in Europe during World War II?

NL: Yeah.

AS: Do you think back on your time in Europe often or does that feel like a long time ago?

NL: My wife and I – Lyn and I were in Berlin three weeks ago. Flying into Berlin was an experience I don't have words for because I had bombed – I had been in a plane bombing it twice. I have no way of expressing what I – what I felt except remembering how I didn't care when I saw the bombs drop and then gather with the bombs from other planes and looking at a hundred if not thousands of bombs falling. And thinking they might – not might, probably are gonna fall on farms or coops or – innocent people are gonna get killed. And – and I didn't care. And then thinking about that hours later or days later – I don't know when. Often wondering if anybody gave me a piece of paper and said, "Sign this: That you're somebody who would never give a shit how many people were killed innocently down there," I have to believe I would never sign it. But I do remember feeling it, what I described. The feeling was, "Screw 'em!" You know? I mean, to make it a little clearer, if somebody harmed my – one of my children, I know I could drive four hours and kill the son of a bitch in front of his family. Now that's a feeling I just shared with you that's total, but I want to believe I could never do it. But I'm expressing something that's there.
Norman has six children, from all three of his marriages.
NL: There was one daughter at the end of my first marriage and three at the end of my second marriage. And three more children in my third marriage. I have five daughters and one son. The daughters range from – I love saying this – from 20 to 69.

AS: Wow. I mean, when you say that, that's incredible – that's incredible.

NL: I know it's quite a (laughs) – quite a spread.

AS: Do you think you were a different sort of father to your children since you had them at such different points in your life?

NL: Looking back, I wasn't an ever-present – I was much more an ever-present father to my television shows. And, you know, I've learned not to regret. But if I had to do it all over again I think I would lean the other way.
Norman met the mother of his three youngest children, Lyn, in 1984. At the time, Norman and his second wife, Frances, were separated.
NL: I was determined not to divorce. And so I caused Frances to divorce me.
They were spending the weekdays apart… and trying to make it work on the weekends.
NL: That's how I met Lyn. One of those weekends when we were trying to work it out, we had a dinner party, and – and one of the guests called and said he had a blind date, could he bring her. So I met Lyn at my front door.

AS: Why after getting divorced once, and feeling like it was a good decision, why – why did you not want to get divorced again?

NL: I don't know, something to do with my children. I don't – I don't know. I can't explain everything in my own behavior all the time. But what I've told myself is, foolishly, the grown children. I wouldn't do that to them.

AS: And Lyn – I want to know more about Lyn. She – she is a student of psychology. She's 25 years younger than you. You were – you were famous when she met you.

NL: I was well-known.

AS: Yeah.

NL: She is 25 years younger, which never seemed to matter at all.

AS: What struck you about her?

NL: She was deeply spiritual. Deeply spiritual. And I was not – my family was not religious as Jews. I was bar mitzvahed but that was kind of, you know, more tradition than religion. We hit it off on these weekends of – of spiritual conversation. You know, we never stopped talking about 'what's it all about, Alfie?'. And it's still the best conversation going, and nobody knows, in my opinion.

AS: Did you want to become a father again, when you married Lyn? Did you want to have more children?

NL: Well, we had talked about that and I knew that, you know, I had agreed I would become a father because she just had to have a child. What I didn't expect was that she would want more children. But by the time she wanted another child, I was thinking, that my son, which was a big surprise to me – by then, you know, when he was a couple years old, I thought his life would be happier if he grew up with another kid in the house. And then we had twins!

AS: You were having your first child with Lyn when your older children were of childbearing age…

NL: Yeah.

AS: ...and what was that like?

NL: Very difficult. My – my middle daughter was, you know, had for four or five years been hoping, wishing, trying to be pregnant. And her dad is suddenly married to a younger woman and in a year's time or less she's pregnant. And that happened before my daughter got pregnant. So that was not an easy time. But I can tell you today, we have Thanksgiving and Christmas coming, and we'll all be together as a result of everybody wishing to be together.

AS: How - what was that - what's that process been like, of trying to make sure that your kids who – some of whom have different moms – that they have a relationship together and that they're close? Like how have you - how has that unfolded over the years?

NL: I don't know. Love. They've spent time together. And fallen in love with each other. And that hasn't – that part hasn't been tough. It grew naturally.

AS: How are you talking to your family about death and your death?

NL: That's a conversation that hasn't started. I haven't talked to them about that. I can see that, you know, the way they express themselves and the - the way they reach to help me physically and so forth – I can see that it's on the kids' mind. But I haven't brought myself to talk about that. I think - I don't feel near that, you know. I'm not – I'm not someone who's afraid of it. I think it's interesting that - that we approach it – at least this is my point of view – not knowing, you know. My wife Lyn will tell you, "something greater, better, is next." She is thoroughly convinced that we go on from here. I'm thoroughly convinced that that's possible, but I don't know. I'm – I'm content that, you know, we're going to get a lot of answers to either the deepest questions at death, or not. (Laughs) Or not!
That's Norman Lear. His memoir, Even This I Get to Experience, is now available in paperback.
Death, Sex & Money is a listener-supported production of WNYC. The team includes Katie Bishop, Emily Botein, James Ramsay, Destry Sibley and Andrew Dunn.
The Reverend John Delore and Steve Lewis wrote our theme music.
I'm on twitter @annasale, the show is @deathsexmoney. And I want to ask you to please leave us a review on iTunes because it helps other people find the show!
Norman Lear thanks a lot of people at the end of his book… including his barber, Little Joe. He's been cutting Norman's hair for 50 years.
NL: "Little Joe" Torrenueva. Yeah, he used to come up at Thanksgiving when we were all together and spend Thanksgiving morning cutting hair. We'd all sit around watching him cut this individual and that individual. We had a ball. There isn't anybody in my family that doesn't know Little Joe.
I'm Anna Sale, and this is Death, Sex & Money from WNYC.
Copyright © 2019 New York Public Radio. All rights reserved. Visit our website terms of use at www.wnyc.org for further information.
Music Credits:
"Happy With Quick" by Kenneth J Brahmstedt from BWN Music
,
"Thematic" by Blue Dot Sessions
,
"Aurari" by Lee Barbour from BWN Music
,
"Thoughts" by Kenneth J Brahmstedt from BWN Music
,
"Love Among the Thorns" by The Reverend John Delore