Alia Shawkat & Esther Perel: Life In Our 30s, And 60s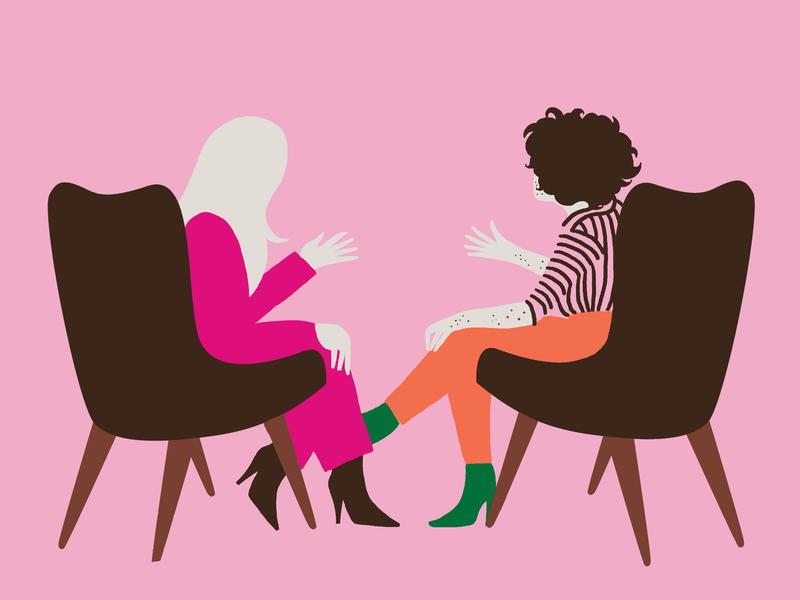 Transcript
Esther Perel: People come to me for a lot of advice and I'm generally quite honored. But on occasion I kind of just say okay, I don't need—can I have a day without somebody coming [AS: To talk about—] another breakup [Laughs].
This is Death, Sex & Money.
The show from WNYC about the things we think about a lot…

...and need to talk about more.

I'm Alia Shawkat, in for Anna Sale.
The first time I was on Death, Sex & Money, I was 28 years old. It was a live show with Anna in Los Angeles, and the conversation was about what it's like to be in your twenties.
But I recently turned 30, and now, I'm looking for some different kind of advice about the next chapter of my life. So when I was asked back to be a guest host on this episode, I knew exactly who I wanted to get it from.
AS: Esther, [Laughs] hello!

EP: Hello, Hello!
Esther Perel. Therapist, author and host of her own podcast, Where Should We Begin. She studies intimacy and monogamy and sexuality. Things I think about all the time.
AS: Thank you so much for putting the time aside to do this. It means so much to me.
EP: My pleasure.
I think I was like 26 or 27 when I discovered her work. So, really from that point on I kind of just got obsessed with her. Like my dream was just to have like have a session with her, just to like pull her aside and be like, "Okay, this is my stuff I want to talk about," but this interview is about as close as I could get to a counseling session. So I really wanted to ask her about her life. How she navigated the period of adulthood that I'm just entering, and where she learned to think about relationships in the ways she does. We've got some things in common. My dad's an immigrant, and so were both of her parents. They were Polish, the only people in their families to survive the Holocaust. And after World War II, they raised Esther and her brother in Belgium. But whereas I grew up talking about sex a lot at home, Esther didn't.
EP: I grew up—with regards to sexuality in two very different cultures. The culture of my family was a culture where the subject was basically inexistent, um never talked about I grew up in utter ignorance actually. The culture around me particularly the Francophone culture of the '70s was a culture that was in full effervescence and openness, and those two worlds literally lived side by side um, inside of me for that matter too. I very quickly understood that my influence was going to be the world of the outside as much as I could. Um, and so, I watched a lot of movies and I read a lot of literature and Madame Bovary and all of those stuff [AS: Uh-huh] was, um, it was all about these topics. Do you know where I learned the most about these things? My mother, she would stand behind the counter in the store and she, when there was no customers, she would be reading these photo-romance. Do you know what that is?

AS: No, is that kind of like gossip magazines? Or—

EP: No, no it's these magazines that were filmed like as if it's a film but cut by picture, picture, picture, picture. I don't know how you call them in English but they were very, very popular. In French it was called Nous Deux, "us two," you know and [AS: Us two!] it was massive harlequin literature for women but with pictures. I'm very pleased that its part of my repertoire. I don't mind it, I'm just I'm very happy I got some other ideas since. [Laughs]
When she was a teenager, Esther's parents bought an apartment in Tel Aviv, and the family started splitting their time between Belgium and Israel. After going to college in Jerusalem, she moved to Boston for graduate school. And then, when she was in her mid twenties, she moved to New York.
EP: My husband and I, we kind of arrived to New York with love and fresh water. We had no jobs, I had no papers we had no place to stay. I mean we just arrived here, at the time you could still do this. And, you know, we didn't think about I want to be successful or I want to make it, we just thought, "How much do I need to survive and then to buy my next ticket so that I can fly to some place I'd like to go to?" [Laughs] And as long as you can pay your rent and um, you know and do the basics, you'll figure it out. And um so, we did. You know when we had a dinner for $10 it was considered, we're going out tonight!
AS: Yeah. Um, so your parents at this time they were in - in Belgium or in Tel Aviv?
EP: They would go back and forth.
AS: They would go back and forth. Was there any like kind of dynamic where your parents were like, "Let me make sure you're okay, here's some money," or were they very strict about being like, "You just gonna have to make it on your own." [EP: No] Like -
EP: No, there was never any of that. My parents - my parents basically I knew that if ever I need help I can reach out. I wanted to make it myself. Um, but you know for a few months they would help me with rent. If I needed to put a deposit they would help me with deposit, whatever I needed there was never an issue. But um, but I also had the pleasure and the pride of uh, being able to develop these things on my own. And once [AS: And you were very busy obviously] - I was hustling as they say. And um there was no rope or string as like that of um, you have to do it—you know we will help you but in return for the help you get you have to do these things that we expect from you or we will not help you and you should really prove that you can do it—you know, there is a mentality in America by which you leave home at 18. That was not necessarily a mentality I grew up with. And it's not the main mentality in most of the world for that matter. So, today if you don't leave home you know there's - it's considered arrested development. It's in the nature of the sequencing of your growing up that this is what you're going to do at 18. But it's not a universal norm.
AS: Yeah. Other cultures too, it is more of like focus on, on families being really close, instead of this like urge to be like, "You're 18, get out!" Like, "Figure it out."
EP: [Laughs] But what norm did you grow up with?
AS: I mean I - I grew up with where it's like the family takes - we stay together and take care of each other as long as possible. [EP: Uh-huh] Um, I'm the child of an immigrant and um, I've been pretty much, um financially independent since I was young 'cause I started acting when I was young. But um, I find it more, my siblings this kind of - they both react differently to taking my parents' money. And I think I have more of a judgment on it, like, "We gotta be independent, we gotta be free!" Even though I'm very close with my parents, it's this feeling of like, I found strength almost, and I think it was because I got the kind of validation from my parents that I was like, the only way to be validated by them is to be financially independent. [EP: Independent. Uh-huh.]
EP: And we internalize it. So, a society judgment becomes a family judgment, becomes our individual judgment. Or at least questioning, you know what's wrong with me, why am I not doing what everybody—basically I'm not doing what everybody else is doing, therefore there must be something missing in my system. And you know, my parents, they knew that I was doing my best, they knew I'm really trying very hard and they wanted me to be comfortable so, if I needed something, you know if I went to Belgium that's where I bought my clothes. I didn't have health insurance, I had travel insurance and for 15 years or so when I would go home, I would go to do the round of the doctors because we have socialized medicine and then if I needed to buy things I would buy everything in Europe which of course was paid by my parents. [Laughs]
AS: Right. You were saying you were already married at that time.
EP: I married after two years of being in New York.
AS: And how old were you at that—when you got married?
EP: 27.
AS: 27. Do you remember, like its kind of a broad question but what your belief system of relationships were like at that age?
EP: Huh. Oh, I've had all kinds of philosophies about relationships certainly [AS: I bet! Laughs] all the time, I've always been thinking about it, you know. I think - I mean definitely if you ask around marriage, I definitely as a child of the '70s was raised with the idea that one does not necessarily need to marry anymore. The contract shouldn't have to be so important. I had a lot of that for a while um, and maybe if I was in Belgium I would have not married because that's what a lot of people were doing around me. Um, but it was time to get a Green Card, so [laughs] so that that really was the determining factor on the timing. Then I definitely, I definitely had the idea that I would work um, and so did my mother but I came from a traditional framework that probably um, you know uh, the primary provider is the man, I mean I had that system still very much ingrained in me that totally did not become our reality. Um, and at first that was not so obvious, it was um, I needed to adapt to this idea. I had all kind of ideas about children and education of children because I came out of a very rigid educational system which I disliked profoundly and found massively oppressive. So, I had all kinds of ideas of how I would want to raise children. I was filled with ideologies about [laughs] stuff like this. Some of them I think were sound and some of them I think were just very young.

AS: I just turned 30 [EP: Uh-huh] in my life [laughs] and um, in some ways you know I was, at least personally I was never someone who is like fearful of aging or how I'd look different or anything. But even just turning 30, I've started to just notice the difference between the way I'm getting attention. Um, I think it's a combination of how I present myself now more differently, but I have a question - [EP: And where you live] yes, definitely.
EP: And where you live. I mean you live in a city that is so, you know focused on youth and um—

AS: Obsessed with that, yeah. And then you start noticing people who are younger and I was like, oh gosh! That seems so much farther away. I thought that was yesterday [laughs]. Do you remember having this shift as you got older? Of um, the transition of kind of—like noticing different kinds of attention um, from men whether it was in a sexual way or even professionally just like noticing that kind of shift as you were processing your own perception of yourself?
EP: I think New York gives you a few more years than LA. [Laughs] But I will put it to you like this. I actually, I know it's not exactly the answer to—to what you're asking me, but you become invisible here, but the moment you go on a plane to Brussels, it changes completely because it - it, you not just seen because of a certain kind of a standard look. You become seen because you are able to draw someone in because there is a certain kind of seduction dance that takes place by which people elicit attention and interest from the other onto themselves and vice versa. On the other end, you develop a different - you know, experience of the attention itself. So, um, you know it's a little bit like when you - when you start to need glasses and you don't have them, you don't see everything [laughs] it doesn't really matter.

AS: It's a little bliss. Right.
EP: I think what comes out with 30, really, it's not so much the focus on the, on the external gaze, the male gaze or the female gaze whatever, the erotic gaze on you that affirms you and that you start to feel, oh at 23 everybody looked at me. 'Cause at 23 you are obsessed with, "Did they look at me? Did they not look at me? Did the person that I want look at me? Is the one that looked at me is the not the person I really want? Because if that's the only person that looks at me what does that say about me? It's the other one that I want to be looked from." I means it's just [AS: Yeah, totally.]—it's endless right? [AS: Yeah.] So, at 30 I really, to me what starts to happen is, you begin to enter into your skin with a greater degree of self acceptance and - and therefore confidence. And with that confidence you begin to select who's attention actually matters and not that everybody's attention is equally important to convey your sense of self worth. And all of that creates a much greater, I think, degree of joy and um, satisfaction, period. [AS: Yeah] And it gets even more so afterwards. That's the - the - but its very hard to say that to someone who starts at 30 because, because you - [laughs] you have to have gone through it sometimes to really know what people are talking about at—which is what life is about! The experience of life is something that you cannot predict in advance. You can describe it 10 times, the only time you know is when you actually are going through it.
Coming up, Esther on what aging has been like for her. Especially when it comes to friends.
EP: I think one of the great things about living in the U.S. and in New York especially is that you can continuously make new friends which is something that I would not have done in the same way in Europe. New York City in that sense is an absolute gift of extraordinary people.
--
ANABEL BACON: Hey, it's Anabel Bacon, one of the producers here at the show. And this past week, we got an email in our inbox asking, "When is Anna coming back???" And we are happy to report: really soon! She'll be back from maternity leave at the end of this month, and you'll hear new episodes that she's hosting in July. I called her up to ask how she's feeling about coming back.
ANNA SALE: Anabel, I will confess, about a week ago I was like, I don't think I'll ever feel like going back to work. [Laughs] I'm like, this is the diff - for my first maternity leave, I was like definitely ready around the four month mark. This time it's taken me a little longer. But just this week, I've started to get that itchiness of like, "Oh, I have some ideas, I want to get back to brainstorming with the team and doing interviews." So that's good.

AB: Well, we're really excited that you're coming back. And that first week when you're back you're going to be here in New York [AS: Yes.] with us. And is there anything you want to do together as a team?

AS: Well I was actually thinking about how I would really like to go line up in chairs next to each other and go get foot massages?

AB: Oh yeah. I'm on board. I'm on board. We are probably gonna need that after our exercise class, which is that same week.

AS: I gotta admit, I'm pretty stressed out about my outfit. I just got bangs, that's a new thing. So I'm like, what's my workout hairdo? Do I wear a sweatband? Under the bangs? Over the bangs?

AB: That's a really, that's an existential question. I never thought about what you do with a sweatband when you have bangs. I feel like people in the NBA never have to think about this, where do the bangs go?

AS: They don't.

AB: Well, we are really excited for you to be here, we're excited for the workout class, I am now excited for the foot massages. So we will see you in about three weeks.

AS: I'm excited. Thanks Anabel!
One MORE thing to be excited about—we have a few spots left in that exercise class. It's on Thursday, June 27, here in New York, from 7-8 pm. And it's totally free. There will be dancing, there will be a little bit of sweating, and it will be extremely fun. Grab a spot before they're gone at deathsexmoney.org/workout. Again, that's deathsexmoney.org/workout. Sweatbands are not required, but they are heavily encouraged. And if you're not in New York, we are going to be streaming the entire thing online. Subscribe to our newsletter to find out how you can join in, at deathsexmoney.org/newsletter.
On the next episode, actor Mahershala Ali sits down with writer, actor, rapper and poet Rafael Casal. He co-wrote and co-starred in one of Mahershala's favorite movies last year, Blindspotting. But he quickly found out that being a movie star doesn't guarantee a big paycheck.
RAFAEL CASAL: we put a movie out and everyone back home thinks I'm on.

MAHERSHALA ALI: Yeah, yeah.

RC: And I'm like, that was an indie movie.

MA: Right.

RC: I lost money.
—
This is Death, Sex & Money from WNYC. I'm Alia Shawkat in for Anna Sale.
AS: I wanted to ask you about friends. [EP: Yes] Um, and about kind of, like who you surround yourself with now and who is important to you?
EP: I'm glad you ask me the question because, to me first of all friends are an enormously important part of my life um, and also because I work with so many people that often feel way too lonely and way too isolated. So um, I had an incredible event last year, I turned sixty and I invited people from all the decades of my life. [AS: Oh, how amazing!] and it was an amazing experience of integration to have all the worlds of my decades come together in one place and meet. [AS: Yeah, wow.] um, I have many long standing friends its not just one or two, I have friends from every place where I've lived um, and every decade--

AS: So, you still find yourself making new friends?
EP: Oh, yes and younger people. Now I have a whole—for the last 5 years or so uh—uh, because of different events that I was part of I made new friendships with people who are your age, basically. Um, and it's not talked about like that, its not—but I know I'm the age of their mothers sometimes. And it's a thrill on both sides, I always remember when I came to New York I had people that we were close to who were my age and they serve the role like that in our lives, they were more established, they were further along, they you know they—they could cook for us et cetera, et cetera and now I'm that person and it's a blessing of my life. And I work and encourage people to make friends, I teach them how to make friends. What it means? What are different degrees of friendships? What kind of friendships? How do you talk to your friends? How do you fight with your friends? How do you make up with your friends? I think those lessons are um, maybe not present enough at this moment and I think they are the balms of people's lives.

AS: I've been making friends with people who are younger than me too and I learn so much, and as you said I have a lot to teach them and so, it's a very nurturing kind of friendship as well as my friends who are older than me and yeah, we don't process it that way, we're not like—

EP: But you have older friends as well?

AS: Lots, yeah. If anything, when I was younger, I was only friends with people who were older than me. And now its uh, yeah a little more mixed. That birthday party sounds like such a fun time. [Laughs] Did you find yourself transitioning, not in any like hard way, but transitioning through parts of yourself? Were you like oh, when I was with this person I was kind of like this or when I was with this person I was like that or is that something—

EP: No, but you know what friends do. When friends meet from different parts of the world, "Was she always like this?" [AS laughs] "How was she when she was 15?" I mean it's just really interesting to have that perspective like that and um, I think we move so much these days you know we sometimes move so fast and we don't necessarily have the - the long history, the continuity, the longform narrative of people who remember you decades before and kind of give you markers you know, signposts for your life. But - and I like that, I don't think it's a necessity, but I think it's a beautiful thing.
AS: Are you ever uh, lonely? And if you are when - when do you feel it?
EP: I am not feeling that anymore. I haven't felt that in quite a few years. But it is a feeling that that I remember vividly from before, at 30 [laughs], at 20 you know um, I did, I did feel very lonely. When I was mad at myself, when I felt like I didn't fit or like - like living was too complicated for me. Or like, nobody can understand that, you know that's what made me feel lonely. Like - and that is gone. It's really a pleasure to not be plagued by some of those feelings anymore. Sometimes I turn around and I say, wow I haven't had that feeling! I remem - like yeah, just with you now, it's like, I remember it, I remember especially when I would have a big fight with my mother or something like that. That was a big time as well when I would feel very, very lonely is when I would have arguments with, particularly with my mom. But um, its gone. I don't have those feelings. I have other issues but not that. [Laughs]
AS: I did see in an interview once that you described yourself as "counterphobic."

EP: Yes.
AS: Um [laughs], yes. And then I have I have a quote here, not to quote you but just, "I'm very fearful but I live as if um, I'm fearless." Um, can you talk about maybe when you first noticed that in yourself or was able to identify it?
EP: I think it's my husband who must have said that to me once. [AS: Yeah?] He said, "You're counterphobic." And I said, "What is that?" [Laughs] you know. And um, because I think that um, I did uh - I did absorb a kind of a sense of dread in my—about life, you know? At the same time as I can be uh, a completely engaged and excited about things, there is kind of a little hum in the background that I often live with, that everything can turn off on the spot. And that does come from a legacy of—to me anyway—uh, I've always associated it with my background as a child of Holocaust survivors. That idea that everything can just turn on itself on - overnight and your whole world could disappear. I did not grow up with a sense of, you know, the world is a perfect beautiful place and I'm innocent. But it didn't cripple me completely, but it's there. So, counterphobic is the idea that in fact, I have actually taken many, many risks, exactly when we began the conversation, like how I arrived here, you know the things that you would think a person who is actually anxious or fearful would never do these kind of things. I did them um, because the fear of not doing them was bigger than the fear of doing them.

AS: Right, and almost maybe a feeling of like, what - what else is there to lose?
EP: Exactly. So, that's the counterphobic for me is that, I - I sometimes act as if I have zero fears when in fact I'm doing the thing that is probably the most scary. And you wouldn't know it.
That's Esther Perel. Season three of her podcast Where Should We Begin? launches on Apple podcasts later this summer. Don't miss it, it's one of my favorite shows. Seasons one and two are also available to listen to now. You can learn more about Esther and her work at estherperel.com.
And I'm Alia Shawkat. I want to thank Death, Sex & Money for having me.
Death, Sex & Money is a listener-supported production of WNYC Studios in New York. The team includes Katie Bishop, Anabel Bacon, Emily Botein, and Andrew Dunn.
The Reverend John Delore and Steve Lewis wrote the theme music.
And if this is your first time listening to Death, Sex & Money, hit the subscribe button, so it won't be your last. It's a really great show with listeners all over the world—someone actually came up to me when I was in Iceland to tell me they heard the episode I was on. So if you want to hear that one, just text my name—"A-L-I-A"—to the number 70101, and you'll get a link. And you can find all their past episodes at deathsexmoney.org.
AS: This is kind of like a simple question but I was asked once and I kind of thought it was funny. Um, what gets you out of bed in the morning? [Laughs]

EP: Hmm. You know what? This probably is different from where I thought at 30. If I wake up and I realize there's no pain in the body, this body is going to carry me for another day, very faithfully, that makes me very happy, and when you take it for granted you don't appreciate it nearly enough.
I'm Alia Shawkat, and this is Death, Sex & Money from WNYC.
Copyright © 2019 New York Public Radio. All rights reserved. Visit our website terms of use at www.wnyc.org for further information.
Music Credits:
"Stingray -- Theme" by Blue Dot Session
,
"Ballast" by Blue Dot Sessions
,
"On The Court" by Blue Dot Sessions