Alec Baldwin Talks Money, Family, Fame and Cocaine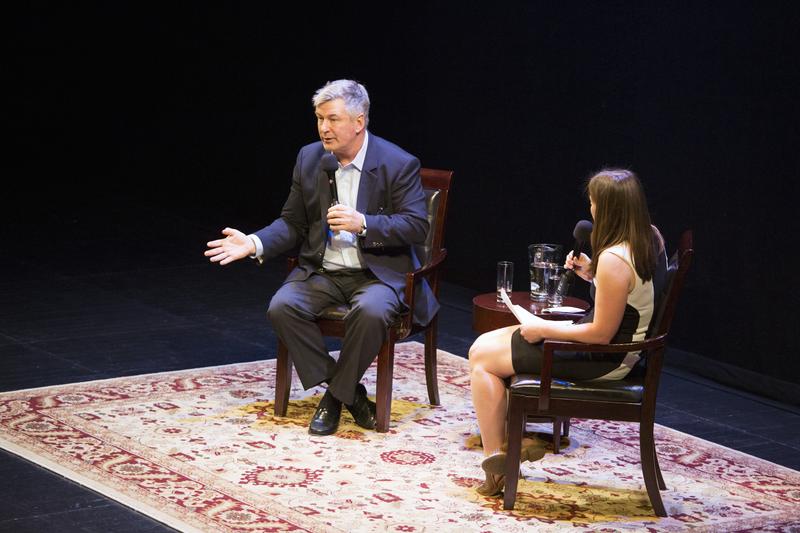 Transcript
This is Death, Sex & Money.
The show from WNYC about the things we think about a lot…
…and need to talk about more.
I'm Anna Sale.
Last Sunday, I interviewed Alec Baldwin on stage in Brooklyn, in front of a live sold-out audience. It was less than 18 hours after he'd been live on SNL, where this week, he played Bill O'Reilly and President Donald Trump.
I talked to Alec Baldwin about his life, growing up one of six kids on Long Island, finding quick success in television and movies, and living in the public spotlight for nearly 40 years now. He writes about all this in his new memoir Nevertheless, and he doesn't skip over his uglier moments. He has sparred with the tabloid press throughout his career, particularly during his long and nasty custody battle in the mid-'90s.
Alec joined me on stage at the Brooklyn Academy of Music to talk about his high highs and his low lows, and about why he decided to put even more of himself out there, this time, in a memoir.
[APPLAUSE]
Anna Sale: Okay.

Alec Baldwin: What I wanted to do was run out, me first, and introduce you.

AS: I'm in control here.

AB: Oh, okay. And I would run out and you'd introduce me.

AS: So I want to start with how you start your memoir: Money. You say early on that the reason you wrote this book, is 'cause you got paid for it. And you say, "The mercenary force is strong in this one." So I want to ask you about money. Is the making of money, for you, is the thrill in getting the big paycheck and spending it at this point or is it watching it accumulate to feel safe?

AB: You know I completely forgot that this is an episode of Death, Sex & Money. We're taping this for your show. Um. It's interesting you say that, I haven't really thought about it, because I don't – I literally have a – This is going to sound silly, and maybe some people are too young here to get this analogy, but like in Bugs Bunny cartoons, Bugs Bunny sometimes will be sleepwalking on a construction site. And he'd be walking along like these girders and he's about to walk off the edge and another girder would come into place and he'd walk on that. And always be rescued at the last moment. That's kind of my financial planning strategy. Things get really bad and then a big girder of money comes in and I walk on that for a while. These planks of keep coming in money to float me, to where I go before I die. But, I never really think about that. I have a – I believe a lot in providence, financially. Is that what you want to hear? I don't know. I'm not much of a financial planner.

AS: Yeah, well I – I think, I actually appreciate how honest you are about money being a part of what motivates you, because you grew up not with a lot of it. So, it makes sense, that creating a sense of security, not only for yourself but for your family, is something that you've thought about as you've made career choices.

AB: Well I think of people, who, like, go into business, and succeeding being measured, at least in one part, on money and income. People in investment banking, obviously things that are all very near and dear to us New Yorkers. You know, the business I'm in, you tend not to think about that and then all of the sudden one day you are thinking about that, 'cause there's tremendous opportunities there for people who succeed in film and television. But I think that when I got out of my house, when I was a kid and I went to school, I thought, "I just want to succeed at whatever I do." Like if I went into acting for like a year or two, and I was still waiting tables, I probably wouldn't have done it. I wasn't gonna walk around for like a decade, you know, with a copy of Balm in Gilead wedged in my pocket and like, you know, hanging out dressed in all black clothes at McSorley's all night long.

AS: You weren't gonna suffer for the art.

AB: I wasn't doing that.

AS: Yeah. Well you actually, you recall a conversation that you had with a professor at George Washington when you're at that stage of life. You've gone one year to college at George Washington, thinking that law and policy is part of your future. You transfer – you're thinking about transferring to NYU and he says to you, you write, "It's interesting that you're not talking about any dreams you have. You're just talking about how you're going to make it." That that was what was driving you.

AB: Yeah, well he was a very intense guy, a very clever guy. He was a smart guy. I think very caring of his students, older. I was in my early 20s, he was probably close to 60, about my age now. And he, for my own benefit, kinda threw a cold glass of water on me, you know, to think about how I was going into this. I was giving up going to law school, the kind of traditional track I was on, to go into this more non-traditional track, and rather late in the game. And he was like "Where's the artistic spirit?" you know, "Where's the passion for it from an artistic standpoint?" And, I don't think I had that, really.

AS: You don't.

AB: No, no, I think, I went to – I went to NYU – again these are references people here might be too young to get – but I'll never forget, the guy who was auditioning me then was a guy named Fred Gorlick. And I came in and of course I later find out, I've done – unfortunately for poor Fred – I'd probably done the 900th rendition of Long Day's Journey Into Night, I'd done Edmond from Long Day's Journey. I get in, and I'll never forget, Fred – he was this very colorful guy – he looks at me and he goes, "You remind me of a young Aldo Ray" he said. 'Cuz my voice is kinda raspy. "You remind me of a very young Aldo Ray," he said, and I thought, "My god, it that a compliment?"

AS: [Laughs] "What does that mean?"

AB: Is that supposed to close the deal here? So I go to the school and I had tremendous doubts about that. I didn't really think that was what I wanted to do. I was gonna try. I was never going to be young enough again to try that, so I did it. And then as soon as I got out of that first year – I had to go another year, or one semester, 'cause all of my credits didn't transfer. But I got work right away and then I just kept working. And the more I would work in the business, the more I would, um – for simplicity's sake, I'll say, get into that Uta Hagen thing about respect for acting, 'cause in the beginning it wasn't that I had a cynicism about it or a lack of respect for it. I just didn't take it seriously enough. And then after I did this soap opera for like two years, and absorbed all the things from those people, about their experiences outside of the television show, because all of them were like, running off to go to the McCarter and do King John and everything and I'm doing a soap opera where every day we go to work and the script, unavoidably so, would just treacle every day. Every day you're like, "Greta, I love you Greta. I love you so much Greta. I wish there was enough time in the day to tell you Greta, how much I love you." And the next day, the same thing, "One more time, let me put a finer point on this, how much I love you." And, it was like, you'd just want to go and blow your brains out. And all the cast, many of them veteran theater actors, they'd take their break and I'd say "Oh, what're you gonna go do?" and they'd say "Oh, I'm going to do King John at the McCarter." Or, "I'm going to go do Light Up the Sky at the Paper Mill Playhouse." Or the Westport Playhouse. And they're all really intense theater actors, by the time I came out of that process with them, I'd completely changed, I think, really.

AS: You write with a lot of fondness about David O'Brien, who was your co-star on The Doctors, and I love these scenes you recall, of running around the mid-50s of Manhattan, as a young man –

AB: I can't believe you brought that up.

AS: Having moved from Long Island to then Washington, and then you're running around town with this band of gay men, a very handsome young man yourself -

AB: Back then, yeah. Back then, so good back then. It's amazing.

AS: And it made me kind of wonder, you had a lot of different role models for what masculinity looked like.

AB: Yeah.

AS: On Long Island, in Washington, then David O'Brien becomes this very important role model for you as what a man who's a performer is like. What did you learn about masculinity from those guys, when you're drinking in bars in Manhattan at that stage in your career?

AB: That's so great. David played my father on the show. And I knew what his nature was the first day, 'cause the first day I come on, they were very merciless there, they wanted you to know your lines and they wanted you to do what they call live tape, which is don't stop, 'cause we don't want to do the editing, 'cause the editing costs money. We want you to play the scene, straight through. Don't cut. Try to get through it, try to remember your lines.

AS: Like SNL, good training.

AB: Exactly, we were doing it live even though we weren't live, we could cut, they tried to avoid that, for cost. And I come in, my very first day, and I don't remember my lines, I can't remember any of my lines. I'm terrified. I'm mortified. And there was a guy named Don Stewart and I believe I've been told that if you listen to the broadcast of the first time I was on the show, 'cause we had cue cards back then, actual cue cards, next to the camera with this guy Don Stewart. You can hear in the background, Don Stewart tapping my cue card where the line is I'm supposed to say. So David O'Brien plays my father. He's like, "So Bill, We haven't seen you in such a long time, where you've been?" And I go, "Oh ya know uh…" [Tapping mic] And I look over to the card and David would save me, he'd save my line. "I'd bet you were spending a lot of time at your grandmother's house in Newport, weren't ya Bill? Been in Newport for a while, I see." I was like, "Yes! Yes, yes, yes, yes… I was in Newport, I was, I was…" [Tapping mic] "… working at the bank, for Grandma, Grandma's bank. I was working at Grandma's bank." And then I realized how caring and how kind he was and then I became really good friends with him. And he was from an old, ya know, David was in the original company of Boys in the Band, he was from a pre-AIDS, pre-80s, gay culture in New York. His friends were all, as I say in the book, they were executive gay. They were CEO gay. And we'd go to these restaurants, I'd go as, I was David's date. He taught me many things, but he taught me, that, I think what, I don't think he meant to teach me, but what I say in the book is that, under any given circumstances, I could've been gay. I say that in the book. I was as in love with him as anybody I've ever met in my life. I never slept with him. I never slept with a guy in my life. But I look at him and I go, "Was it my hang-up? What's the membrane that you pass through, that one minute you have a certain set of values in terms of sexuality, and you meet someone that you care about as much as any woman I've been with?" Well – what do I do? Now, ya know, I say in the book, I took a woman I was dating to his house on Fire Island -

AS: On Fire Island!

AB: - and she was just Velcroed to the corner, and didn't say a word. And he and I were like, "Ah, ha ha ha, oh you, you, you, you…" And she's sitting there eating macadamia nuts doing her nails and I'm like "You okay over there? You okay?" And I mean, I loved him. I loved him. He was a great guy. But he taught me to – it was the beginning of me learning the one for them, one for you school of acting, which is to embrace the commercial, embrace those opportunities, but then when you can, you run off and do these other things for your soul.

AS: So you began acting, one year at NYU, one and a half years as you say, you join The Doctors, you go to Hollywood, quickly find success, and during this time of becoming an actor with a job on Knot's Landing, you also have a cocaine habit, that you write with some detail about.

AB: Did I?

AS: Yes.

AB: It slipped my mind.

AS: When did you first do cocaine?

AB: My god! Is your show called Drugs, Death, Sex and Money? I guess here in New York, with people from the soap. People who, ya know one day you're down in the bathroom at the bar in New York, it's the '80s and you're doing cocaine and you're like, "Oh that's cool." And then of course the money thing, I look at everything in terms of the value. You know, what I could afford and I didn't want to waste money. I thought "God, money is so elusive in my family, my bloodline," that I would – I would sit there and someone would – you know, I mean literally, I'm like a Woody Allen character in my own life. I'm in the bathroom, "How much does this stuff cost?" [AS: Laughs] "Doing the cocaine, how much, like the portions you buy? What size, like a little baggie, how much is that?" And the woman's like saying to me, you know, they tell you how much it costs. And you're like, "Oh God, no I'm not doing that." It was cost prohibitive. And then when you make more money –

AS: It's not cost prohibitive.

AB: It's not cost prohibitive. Thank you.

AS: You write about an overdose, a cocaine overdose.

AB: Yep.

AS: While you were working, you're alone in a hotel room, you think you're going to die. Did you stop using cocaine because you were ashamed or because you thought you might die?

AB: Well I didn't… I stopped then in the fall of 2000 - uh, 19 - Oops. [AS: Laughs] Typo. In 1984, I stop. And then I go and do it again and people had said in these different 12 step programs when you give up one thing, then you'll pick up other things. And sure enough, my drinking increased. Not that it was too crazy. I'll never forget, one time I was at my friend's house, my dear friends, and they were all snorting cocaine. And they knew what'd happened to me and how sick I was. And they're all talking and it was like one of those E.F. Hutton commercials. All of the sudden everybody stops talking when the cocaine mirror is in front of me. 'Cause they want to see if this person that's overdosed is actually going to – So everyone's going "Blah be dee blah blah ba dee blah – [silence]." So I didn't go back and do that until one more time in February of '85. And it made me sick, I was very sick, 'cause I think, as is often the case for many people, success was far more scary for me than failure, failure was what I was accustomed to. Or not succeeding, I mean, growing up under very, very ordinary means. And so going to LA and trying to figure that out. My dad had died. There was no O'Brien there for me, I write in the book, one of the strongest themes in the book, is my need to find someone to replace my dad and to mentor me. And I did this thing, I mean, as loquacious as I can be times, I played this game once with two famous men, they were two huge executives at a studio, and I'm not that smart but on one occasion I thought, I'm going to sit and have lunch with them and I'm not going to say a word. I'm going to read all about them, this was before the Internet; I'm going to find out about their careers. And I sat and had lunch with one particular guy and we talked for an hour and a half at a restaurant in Beverly Hills. And he spoke in an unbroken monologue for an hour and a half. And you just couldn't believe how much I really acted – It was the best acting I had ever done in my entire life. [AS: Laughs] "And then what? And then what do you do after that? Oooo, really? My god, then you did that? Oh my god." And then I kinda meant it, because he was a very fascinating guy. And the lunch is over and he calls up my agent and he goes "I love him!" [AS: Laughs] "He's fantastic!" You know, and I realize getting out there, it's like this much how talented you are and this much about how much they like you. They want to like you.

AS: Yeah.

AB: And they want to work with people they like. So I started to kind of get into that idea. And then eventually I just chucked that, I was like, I don't care if they like me.
Coming up, Alec tells me about choosing to be a very public celebrity, while also being addicted to solitude.
AB: You know, Ray Charles is blind but he learned how to play the piano. Sometimes people are the Ray Charles of agoraphobia, or being in public. They find a way to handle it and deal with it, but it doesn't take away the fact that they aren't necessarily that comfortable in front of people and talking about themselves, but they find a way to get around it.
—
Spring is in the air, which means it's that time of year when we get a lot of emails from college students thinking about what comes next, and totally freaking out. We asked our weekly newsletter readers what advice they have for recent college grads. Sarah from North Pole, Alaska, graduated from college three years ago.
"I often felt kind of betrayed when I'd just graduated college because I was like, no one told me how hard it was to adjust to life outside of college. And I called it the awkward freshman year of adulthood. It replicates that same sense of not knowing what's going on, feeling totally clueless. It's kind of embarrassing and awkward."
Sarah also said that a really good quote to remember is, "Comparison is the thief of joy." She says, "It's easy to compare salaries or jobs or success with others, but don't fall into the trap."
Matt, from Interlaken, New York, agrees.
"You're probably going to end up living with your parents again. It doesn't mean you're a failure. Just don't judge yourself too harshly."
Matt graduated with $28,000 in student loans and he says after "a series of demoralizing jobs" he was able to move out of his parents house and into a place of his own.
Matt wasn't the only one who wrote to us about student debt, so we're going to do an episode all about it. We want to hear from you about how your student loan bills have impacted—or continue to impact—your lives. How much did you owe, and how did it affect the choices you made? Or if you're in college now, how do you think about the loans you'll have when you finish? Write us an email, or record a voice memo and send it to us at deathsexmoney@wnyc.org.
Speaking of college students, last week we gave you an update about Rashema Melson, whom we first met as a Georgetown college student. She told me about leaving school, getting married, and moving away, and then deciding to come back to D.C.
After that update went out, Rashema texted me to let me know Georgetown has said she can return, and she'll be going there in the fall.
And we have one more update to tell you about. I recently talked with Emma, the sex worker who was on the show back in 2015. She wanted to go back to school, but didn't know how to support her family if she stopped doing sex work. She's since quit doing sensual massage, and she tells me about how she's making those finances work in an update we're putting out in our weekly newscaster. You can subscribe by going to deathsexmoney.org/newsletter.
—
This Death, Sex & Money from WNYC. I'm Anna Sale.
As a college student, Alec Baldwin took a leap, and transferred from George Washington University, where he was studying politics, to go to NYU's Tisch School of the Arts.
After a year there, Alec got work as an actor and dropped out. But more than a decade later, when he was in his late 30s, he finished his degree.
AB: I read all of the books of Stanislavski, and Strasberg. I watched all of the films with Al Pacino. And I interviewed Al for nine hours.

AS: Really?

AB: Off and on. I mean, Al would be like, literally Al — we'd talk for, we be getting into this great thing and he was doing me this big favor by letting me interview him. And about an hour and half would go by and he'd go, "I'm gonna go to the grocery store Alec." [AS: Laughs] "I'm gonna run down to the grocery store right now. You wait here. I'll be right back." [AS: Laughs] And he'd be gone for like an hour. And I'm sitting there… [whistles] writing, and I had 225 questions. And I interviewed Al about the applicability of method acting to someone with a career in theater and film. And Pacino was the only one who really mattered because he kept going back to the theater throughout his career and still does, he just finished doing a show out in LA. And I interviewed Al and it was just one of the most amazing experiences of my life.

AS: Do you remember one thing you learned from those interviews that sticks with you?

AB: Al does not like to talk about acting, which was very frustrating. [AS: Laughs] We were writing a paper about acting. And we're in his house one time – there's so many anecdotes about that - but one time I say to him, I said to him, I look at the lines of people's work, like what's the kind of course they're on. And I said now in this period, right in this year, you did the movie Author! Author! with Tuesday Weld, this romantic comedy. And in the title song of the movie, the lyrics they sing are, "And in the end, it's just all cookies and milk and a smile." I said, and then after that you do Cruising, the homosexual crime movie, detective movie, with Billy Friedkin, which was this big disaster for everybody involved. And I said, you have this really violent movie, I said, "What's that like for you as an actor when you pivot between these different things?" And he literally sits there and goes, "That does sound good though, doesn't it Alec? 'It's all just cookies, milk and a smile.'" [AS: Laughs] "That doesn't sound too bad, does it?" And I'm like, "Yeah, it sounds great. But then you go from that, you see, to people like, murdering each other, in these gay clubs in Manhattan." I said to him, "You do a scene with Richard Cox and he's going down on you in Riverside Park," and I said, "You're a method actor. What's that like for you, shooting that scene?" He goes, "All I remember was that it was cold, so cold. We're there in the park and it was so damn cold out there." And he would never answer my question. Acting — he revealed to me, he wouldn't answer one question but then he talked to me about the theater and he talked about the theater and he would articulate about that quite a bit.

AS: Oh that's interesting. So I wanna ask you about acting. I wanna –

AB: [As Al Pacino] "It was so damn cold out there, Anna. That's all I remember."

AS: I'm curious because you have been both a professional actor and a professional celebrity for most of your adult life. So you have been acting in roles and being the persona of Alec Baldwin. When you are preparing – like, I was thinking this weekend, so last night you're preparing to go on Saturday Night Live as Bill O'Reilly and as President Donald Trump and then tonight you're preparing to open up your personal life to all of these people who are here tonight.

AB: Ugh, don't get your hopes up.

AS: Is there a similar way that you prepare or are they totally different?

AB: [Off mic] Uh, I think it's uh - that would be good, to answer the questions without the mic. [AS: Laughs] But um, you go along and you have a career and of course you want a career like many people I admire, where the only way you can access them is to buy a ticket. And there's certain things in the business they don't want to do. Daniel Day-Lewis is very elusive. And he's not doing Jimmy Fallon. I mean, you can almost wonder what that conversation is like, where people are like, you know, "So we got this idea, where Daniel's gonna come on the show, ya know? And he and Jimmy are gonna have a pie eating contest, okay. And like spitting the pie out all over… Pie everywhere! And there's like pie and snot, and pie!" And you'll just see Daniel Day-Lewis on the other end with his publicist going, "I don't think so, no." [AS: Laughs] And there's like things those people won't do, and that becomes the difference, which is you become someone who will do those things. Where the promotional aspect of the film, becomes you performing in that capacity, rather than, you know there's a lot of - Nicholson won't do press, Pacino and de Niro, avoided that a lot, Brando, you look at old shows with him on Cavett, and he wasn't going to work very hard at all, you could see Cavett like writhing in his seat, trying to understand if he's making any progress with opening up Brando. And in the modern world, you have this requirement to promote the project. And they'll come to you with a very long list of things for you to do. They'll say, "Well, we'd like you to pick some quotient of this list." And I think, it's like a joke, like a Coen brothers movie. The piece of paper rolls all the way down the hallway [AS: Laughs] It's crazy. And you do some because you want to be viewed as the good partner in the business, you are working with them on a venture. It's in all of our interests for the thing to do well. We're in a very crowded marketplace. So, you agree to spit the pie out with Jimmy on the show. And I love Jimmy and I love doing those things, but that's what happened to me, was I kinda went that way where you're doing Letterman and you're doing this and to some degree it's possible that, from time to time, that stuff can eclipse the actual work you're doing. It's more — they get more hits and clicks on the Internet. I mean more people will watch Saturday Night Live than pretty much any movie I've ever made in my life. You know what I mean? It's weird.

AS: Does it take the same amount of energy to perform Alec Baldwin as it does to perform a role? For you?

AB: I guess — I don't know the answer to that question. When you say perform, me… I, uh… It's strange because like, people always have an expectation that you're going to contribute something, in some way. I mean, I love going to the movies, I love going to the theater. But it's about somebody else, I don't have to do any of the talking. But, the other thing that changes is that your passion for some of the work you do begins to change. And you still love it, but you love it a little less. You love it less often. Like movie making. Movie making is this incredibly time consuming pain… Well, we did 30 Rock for six and a half years and there's a velocity to television in a way, where Tina and I would say, you develop a muscle which you begin to kind of appreciate how we have to make choices quickly and efficiently. And I always tell the same crazy story, about like in the movies, when you do a movie sometimes, and you can't believe the level of indulgence. I always say I did this movie one time and a shot is of a doorknob and the director says, "Alright Alec, in this scene, your hand comes into the shot and you reach for the doorknob and you open the door and inside the bathroom, Nicole is –" Nicole Kidman, they're like, "Nicole is in the shower out of focus in the distance and… Action." Hand comes in, open the door. "And cut. This time, open the door a little less. Maybe three inches." [AS: Laughs] "Three inches, four inches, maybe somewhere in there, add some range in there. Show it to us please! Right about there, you open – yeah, that's right. Take four." Take five, take six. "Okay, have your hand come in, have your hand come out." You're rethinking the whole thing. "And have your hand come out. I want to see the tension in your hand. Your hand is trembling just a bit. There's a tension. Open the door. No, you changed your mind." And I we're doing this, and this is like a half a day before lunch. And the movies can be like – This is a very rare now because movies are independent films, they have very restrictive budgets. But I remember I did movies where we didn't get a lot done every day. We shot the movie for like four months, five months. And that's not all that exciting. Because most of the day is spent in an idle gear in your trailer, waiting for them to come and go, "We're ready for you." After a while I thought "What the fuck am I doing with this?"

AS: So by 2010, you have come back to New York, you're working on 30 Rock, you have gone through a very public divorce and custody battle and Vanity Fair describes you as the "bruised mascot of the male midlife crisis." Which was well put, I thought.

AB: They're very good, that Vanity Fair. They're very good. They're on to something.

AS: At that point in your life, is that how it felt?

AB: I think I felt like I just was not finding things that I wanted to do work-wise. That was 2000. I got separated and divorced in the early 2000s. And I go along and you make independent films. In the book I take some of those independent films and I write a little section about when you go into these films, why do you do them? There's a reason you do them. They might not have the markings to be some great film but you want to go to work, and this is what do you do. And I did have some options, not many then. So, I pick a movie and I say there's a real opportunity here. You meet with the director, a writer-director, in the modern world. You think he's a smart guy and you go do – I list like twelve films that I did, that you know, when you saw the film you wondered what was I thinking, when I did that that film?

AS: But you kept working. You were working steadily.

AB: Well, I talk about how – Nobody sets out to make a mediocre film. I really mean it in a heartfelt way. You start – you go and say, "Let's give this everything we have." And sometimes you're into like the second week of shooting, like "Oh God, what have I gotten myself into?" It's not going - You don't feel that creative – When I did the movie The Cooler with Wayne Kramer, Wayne was this really, really intoxicating guy. He was so smart and so passionate and so clear and he was the captain of the ship, which you want with every director. And not all movies were like that. It'd come to where, I'm gonna do TV, because I thought to myself, the opportunities in film are – You know if I d, one more movie or I – I take that back. If I read one more script, in which, you know, Laura Dern's my sister, and we're gonna put dad in a home. [AS: Laughs] It's an independent comedy. Laura and I are like, ya know… The first scene she picks me up at the airport in Buffalo and we haven't seen each other in nine years. And I'm like, "Ya look good. How ya been?" Next scene, we're like – dad is Phil Basco, we're putting him in a home somewhere. Len Cariou is dad, we're putting him in a home somewhere. And I just kept reading the scripts going, "What the fuck am I gonna do?" So I started to develop TV, and then Lorne flew in, the superhero he is, and asked me to do 30 Rock. Then I did the TV show with Tina.

AS: Which you started in 2006. You've written a whole book about fatherhood and divorce and that time in your life and the custody battle. But I want to just ask you, at this point in your life, if a buddy comes to you and says "I love my kids. I think my marriage is breaking up." What's the advice that you give him?

AB: Well I try to tell people that if they can, I say find a way that you can get into therapy and get into the collaborative divorce. The dignified divorce, because you're going to so regret if you don't. I'm with friends of mine who, and I'll say to them "Are you out of this?" I mean, this is if they're good friends of mine. I don't say that to strangers. [AS: Laughs] I'm at the airport bar, going, "Are you ready for this to be over now? While Gwen's in the ladies' room. Her name is Gwen, am I right? I don't know the two of you. I overheard you yell 'Gwen!'" No, but I think, I try to tell my close friends or people who want to have that conversation, I'm married again, my wife is here, she's somewhere out there in Brooklyn, and everybody has their difference of opinion and everybody has their arguments and everybody has this. But to me, marriage – when you're with the right person, and even that's no guarantee – it's a decision, you decide to stay and you decide to try to make it work and you want to kinda feel out if the other person – this is a can of worms by the way – but you want to find out if the other person has the same sort of attitude of disposability that you have. Like I have a friend of mine who was married, they've been together for nine years, they were married for five years. And she literally woke up one day and said "I've made a mistake and I'm leaving." Like BOOM! It shot him, in like one day. And he's overwhelmed with confusion. And obviously, they didn't have the same attitude about marriage that he thought they did.

AS: Has your attitude… how did you say it… the attitude about "disposability"? Has that changed for you over your adult life and your romantic life when you look back?

AB: Well, um. I got married. I met my wife six years ago, we got married and very quickly we had three children in three years.

AS: Did you all hear that? [Laughs]

AB: You know, 30 Rock was over. I had a lot of time on my hands. [AS: Laughs] I was home a lot. You know my wife – I'm very – it's a lot of luck. And I try to remember in our lives, what's my role? Which I don't always fulfill my end of the bargain as well as I might, but my role is to support her. And I kinda accept that in order to make things easy. I mean, I love my children. I worship my children. But as my dad taught me, parenthood is a contest between two people where the dad always wins the bronze medal. [AS: Laughs] My wife is – You know, the moment my wife walks in the door, my kids are like "Yeah, that's great. See ya later." Boom. But my job is to be there to try and help. We parent our children together, but she is the mom. And I'm lucky. That was my point. I got very lucky. And luck is a big part of it.

AS: Well it's… to read back interviews before you met your wife, you were very open that a dream you had was to just try and have a family again. That you prayed –

AB: Boy did that dream come true.

AS: How did your – I mean, you were living a full, unmarried life in New York City, star on 30 Rock.

AB: I was unhappy. I was unhappy. I didn't like that. How long have you been married? [Whispers] Watch this. You were waiting for the moment when I'd go… I take Anna Sale. My guest is Anna Sale, the host of Death, Sex & Money. How long have you been married?

AS: I've been married a year and a half.

AB: Uh, you met your husband… you knew each other for how long?

AS: We got together in 2011. So we were together four years before we got married.

AB: So you met him in recent years?

AS: Oh yeah, yeah it was my second marriage.

AB: Wow.

AS: Yeah

AB: Huh, huh?

AS: I learned some things in the ensuing years, so that's why I wanted to hear from you about [laughs], about, so you think back on that time when you were having success on television, you've turned around your career after feeling like things hadn't quite worked out with movies and then you're a star on 30 Rock, this critically acclaimed show, you're winning Emmys, you're winning Golden Globes, and you felt lonely, that's how you remember that time.

AB: I went home and I had a pint of ice cream every night and watched Turner Classic movies. I was all by myself. I mean, I met people I dated, I had a run of time with this one or that one. None of it I was willing to commit, by the way, because I didn't want my older daughter to think I was abandoning her. Many people said be careful, that your daughter will view you moving on as an abandonment of your daughter, so I kept pushing away any formalized commitment with people and then finally when my daughter turned… it all kinda came together. My daughter was eighteen. Actually she was fifteen… sixteen. She was sixteen when I met my wife, Hilaria. It all just developed at the same time. Where like, I met somebody who I thought, "Oh my god, this would be a horrible act of self-robbery if I didn't try to pursue this on some level." So we got married. But before I met my wife, I was cutting every ribbon, I was going, like, you want to do this auction for the Sheephead Bay Book of the Month club? [AS: Laughs] They need an auctioneer. I was like, "Do I hear five dollars? Do we have five dollars? For this framed picture of Jerry Lewis. Five dollars." And I'm like, going to every auction, I'm going to every event, hosting and I'm out every night cause I don't have anybody at home waiting for me. And I just kept keeping busy and working and then I met my wife.

AS: And now you have the opposite -

AB: You were doing a lot of auctioning before you met your husband?

AS: I was out more, yeah. And now I have a small child and I'm home a lot, I'm home a lot now. So, now you come home, you have three little kids. What's that like? What was that transition like?

AB: Well, it's wild. We had the first kid, our daughter, Carmen, that was great. We had our son, that was great. And then we had a third kid and it's, you know, everything becomes Cirque du Soleil. We had a nice apartment and I had a dear friend of mine comes over, hadn't seen her in years, she was up from Washington and she comes in and I said – You literally can't imagine, you're there turning to someone. And you can't believe you have a life, where you say this line, you're like, "I'm sorry I don't have a really, really comfortable place for you to sit down." 'Cause the kids toys are everywhere, and my friend looked at me and she goes, "I get it. It's a preschool. Your apartment is a preschool." We have three kids and the great journey is watching them. Our daughter Carmen is - she's a talk show host. She is really so verbal. And you sit there and you're there in that moment where you come around the corner in the kitchen and she's staring up at the refrigerator like it's the monolith of 2001: A Space Odyssey and she sees you look at her and she looks at me and she goes, "I'm not gonna eat the chocolate. I'm just protecting the chocolate." [AS: Laughs] She's three and a half. You just kinda stand there and go "Who are you? Where did you come from?"
That's Alec Baldwin. His new book is called Nevertheless. And his movie Boss Baby is in theaters now.
Death, Sex & Money is a listener-supported production of WNYC Studios in New York. I'm based at the Center for Investigative Reporting in Emeryville, CA. The team includes Katie Bishop, Emily Botein, and Andrew Dunn.
Our intern is Adriana Rush. Special thanks to engineer Ed Haber and the entire crew at BAM for all of their help with this live show.
The Reverend John Delore and Steve Lewis wrote our theme music.
I'm on twitter @annasale, the show is @deathsexmoney. If you want more Death, Sex & Money, find us on Spotify or subscribe to our show on iTunes! While you're there, leave us a review. It helps other people find the show.
Alec Baldwin's father and grandfather were also named Alexander and they both went by Alec, so growing up, the youngest Alexander Baldwin was called Xander. Alec told me there are still a few people who call him that, especially in his hometown of Massapequa, Long Island.
AB: There was one guy I grew up with, his name was Greg Mawn. And his mother was this character out of like a Sidney Kingsley novel, you know? She was this really New York-y kind of woman, with a cigarette in her mouth. They had a clothesline in the backyard, she'd hang the laundry in the yard, this is suburban Long Island. I think went out there about six or seven years ago, so we're driving by and I pull up to the Mawns' house, and there's Mrs. Mawn! With a cigarette in her mouth, hanging out the laundry! It's like, nothing's changed! Me and her sons, we're all like in our 50s. And she has a basket of laundry, and I pull up and I go, "Mrs. Mawn?" And from like 60 yards, 60 feet away, she goes, "Xander Baldwin! What are you doing here?"
I'm Anna Sale, and this is Death, Sex & Money from WNYC.
Copyright © 2019 New York Public Radio. All rights reserved. Visit our website terms of use at www.wnyc.org for further information.