A Trans Parent's Adoption Journey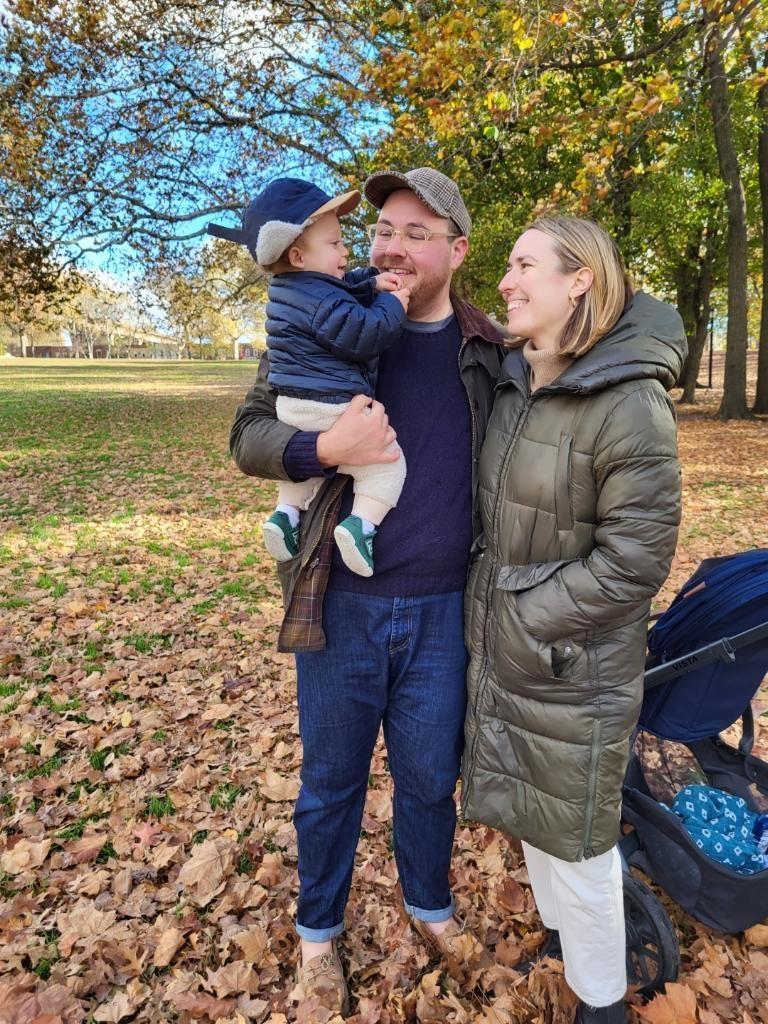 Transcript
Marisa: This has to become a nursery suddenly, and Liam frantically painting and you know, it's like, just do the nine months in a day.
(opening theme for Death, Sex & Money)
This is Death, Sex & Money.
The show from WNYC about the things we think about a lot....
....and need to talk about more.
I'm Anna Sale.
(end of opening theme for Death, Sex & Money)
Liam Lowery and Marisa Carrol got married in 2014, and right after that, we released an episode about their love story. They'd met in college just as Liam was transitioning.
Late last year, we got an email from Liam: an elated update that they are now parents. They worked with an agency to adopt their son Jude when he was an infant.
Anna: Did you feel like your agency was, was well versed and, and fluent in dealing with queer couples?

Marisa: Gay, yes. Trans, not so much.

Anna: And I have never gone through the process of, of trying to adopt a child, but, but it's, it's, what I know of it from watching loved ones go through it, is that there's this process of, um, almost sort of like needing to sum up and present the kind of life that you could provide for a child, um, and sort of package yourselves as a, as an ideal family.

Marisa: Um, yes. It's a dating profile for being a parent.

Anna: Yeah! How did that feel? Like, what, how did you all approach that?

Marisa: I mean, I think it, it, it's different for every family who goes through this process, which at least with our adoption agency, um, you make a book about your life, right? It's like 20 pages, it's lots of photos. You describe, here's who I am, this is, you know, we love the Mets and we love the beach. And those are things that you would see in our book because we love the Mets and the beach.
After putting their family portfolio together, Marisa and Liam prepared for a long wait, not knowing when or if a birth parent would pick them.
Liam: A couple days later, uh, we got another email that was like, "Hey, are you free to, to meet?+ Um, and by the end of like, within a week we were going to meet Jude.

Anna: Um, oh my gosh. Okay. So you all are like, preparing as a family for this long waiting period.

Marisa: Like were given rough estimate, two to three years.

Liam: Rough estimate two to three years. Yeah.

Anna: I mean, I'm sure people who've gone through this process who did have to wait years and years, um, are going to be, um, having a lot of resentment feelings.

Marisa: Hating us? Yes, totally. I totally understand.

Liam: And they, as they should, yeah.
(Greycase – Blue Dot Sessions)
Their son Jude is now almost 1 and a half, and at the end of this episode, I talk more with Liam and Marissa about their quick transition to being parents. But before that, I want to go back again to their incredible love story which they first shared with us way back during Death Sex & Money's first year, in 2014.
It all started with a crush.
Liam: We were both getting on the same subway, and I needed to get off the train and transfer, but I was so wrapped up and excited in seeing her that I just stayed on the train.
(end Greycase – Blue Dot Sessions)
Liam Lowery was a freshman at Fordham. He'd noticed Marisa's cool haircut and worn cowboy boots in the campus cafe a few months before. Marisa was older, a sophomore.
Marisa: We had some mutual friends. I was casually dating other people.
So she didn't think much about it when Liam asked her to coffee.
Marisa: And then he walked me home after, tried to plant a kiss on me as we said goodbye. And I shut it down.

Liam: That you did.

Marisa: That wasn't within the rules of the game. I felt like we had met on friendly ground. But the act of him having come on to me in that way, I just couldn't get him out of my head.
(Hook, Line, and Sinker – BWN Music)
Marisa: I reached out to Liam on Facebook chat.

Anna: So when that Facebook chat popped up on that computer screen, you were stoked.

Liam: Then I was panicking. I was very excited initially, also I felt like she was instigating it. And I was like, oh, this is a very big shift. So then I think I texted you and asked you if I could bring anything, and you said, "Yeah if you want to get, like, a diet Dr. Pepper." And I was like, okay, yes. And then once I had a task to do, I felt a lot more comfortable.

Anna: What happened by the end of that night together?

Liam: Made out. It was awesome.

Marisa: Totally made out, it was great.

Liam: It felt like a transformative experience. I was very, at that point, familiar with transformations.
(end of Hook, Line and Sinker – BWN Music)
Liam is trans, and was assigned female at birth.
Liam: I'd previously come out to my family as trans and I knew I was transgender, and doing the whole name change, deleting the old Facebook, all that kind of stuff.

Anna: You created a new profile?

Liam: Yeah, I just deleted everyone, because when I came out at the end of high school, I didn't receive a lot of good feedback from people who I thought were my friends. So I just thought, let's burn it down, let's start over.

Anna: And Liam at this point, where were you in the process of transitioning?

Liam: It was clear to me that there were some things I was going to want to change physically. What was challenging was at that point, I had been like, someday I'd like to get chest surgery, reconstructive chest surgery, top surgery, and I also would like to start testosterone. So I was starting to reckon with me being trans wasn't going to be like me having an eye color or a hair color. It was going to be a very big part of my life. I had no desire to be in a relationship before I met Marisa because I was like, I have so much work to do. And yet, how could I not, then once I met her?

Anna: Did you not have a moment of like, oh my gosh, I've got so much—I need to focus on myself, this is a lot I'm going through—

Liam: That happened later.

Anna: When did that happen?

Liam: That happened after we'd been dating for about six months. I was like, I just don't know what we're doing, I think we should break up.

Marisa: I got dumped.

Anna: Is that what it felt like?

Marisa: That's what it was. I totally got dumped.
(I am a Flying Squirrel – BWN Music)
Before Marisa met Liam, she'd always thought of herself as straight. This was different. Because, to be clear, even before Marisa knew Liam, she'd heard about this guy on campus who was trans.
Marisa: That was something that people wanted to talk about.

Anna: Oh, so Liam was a transgender celebrity.

Marisa: Oh, totally—big celebrity.
Their relationship had gotten really intense really fast, to a point.
(end of I am a Flying Squirrel – BWN Music)
Anna: Did you introduce Liam to people in your life? Your family?

Marisa: No. I introduced Liam to various friends and people in New York, but I—even if there wasn't identity questions involved, I don't know if I would've introduced someone I was dating to my family at that point, so it just seemed like something that we didn't have to discuss.

Anna: Was Liam—I mean, this is in the era of social media—were you and Liam on Facebook together?

Marisa: We were on Facebook, but we were not 'Facebook official.' Which is important—

Liam: It was a sticking point.

Marisa: It was a sticking point. I didn't want to have that be public on social media.

Liam: You didn't want me to post on your wall, though.

Marisa: I didn't want him to post on my wall.

Anna: What was it about the wall?

Marisa: Because then people would get the idea, if you were only posting all the time, that we were in a relationship or something.

Liam: God forbid.

Marisa: God forbid. I wasn't ready to commit to what our relationship meant, and to commit to what being in a relationship with Liam meant. And I think that really showed me that I had to commit to him one hundred percent. And to all of him.

Anna: Why did you get back together, or how did you get back together?

Liam: I realized immediately it was a horrible mistake. Marisa had written me a letter. I immediately wanted to call her and say, this is a horrible mistake, I'm an idiot. But part of it for me was like, Oh my God, I'm going to include you on this journey of me, starting making all these huge changes that I've waited my whole life to do, essentially. And you won't even be—you won't even have me write on your wall or be in a Facebook relationship with me, which is a very silly yardstick, and to me—

Anna: But it's also a very appropriate one.

Liam: At the time. It was entirely appropriate, because of course, at the time, I was like, I can't have you be in this if you're not gonna fully commit to me and commit to me being out publicly. So I waited, I forget exactly how long, because I was in torment. I don't know, we just saw each other and it really was—that was sort of the second big transformation. I remember you were wearing a white shirt, and I brought you flowers, and we walked to your apartment from the Metro-North station, and it just felt really different. All the same things were there, all the same attraction and intense emotional connection. But you were holding my hand the whole way.
(Greycase D&B – Blue Dot Sessions)
Coming up, what changed when Liam started taking testosterone.
Liam: I started getting really hairy. Everywhere. My voice started to get lower, things like that.
(end of Greycase D&B – Blue Dot Sessions)
This is Death, Sex & Money from WNYC. I'm Anna Sale.
After he started injecting hormones, Liam Lowery watched his body change. And then, he started noticing other things.
Liam: Definitely became harder to cry. Tears didn't well up in my eyes as much, and that was like the biggest one I saw.

Anna: Were you scared of the emotional changes?

Liam: Yeah, because I was scared that I would get turned into a man against my will. And that, you know, those things about myself that I liked, or that I thought made me a good partner, I was so scared they would just get washed away.

Anna: Did you notice any changes in what happened when there was fighting or conflict between you two?

Liam: Do you think so?

Marisa: I think that we had more difficulty talking things out.

Liam: I remember one argument we had was I would do an injection and my leg would be so tingly and it was really this odd sensation. I was like, oh, my leg is so tingly. Marisa was like, what? And I was like, my leg is tingling a lot. And she was like, are you okay, do we need to go to the hospital? And then I was just like, of course we don't need to go to the hospital, you don't understand. That's sort of when I started to become, like—there was this very harmful time pretty soon after that, where my gut reaction when she wouldn't instantly understand from two words what I was talking about—I'd be like, I'm trans, you don't get it. I'm trans, you're not, whatever. Thank god, that got quashed I think pretty soon, because you were like, no, I just don't understand because you're not telling me. So how could I understand this thing I've never done before? But, yeah. That's more what I remember of that time was having this feeling of like–

Marisa: Feeling misunderstood.

Liam: Misunderstood. Constantly.

Anna: Well also, because you are going through a lot of this alone. Even as you're in a relationship.

Liam: Yeah, and being worried about ruining our relationship because of this change that I'm making, that then, of course, I couldn't help but feel like I have this commitment to myself that I was going to do this before I ever met you. This is a non-negotiable. There were moments, there are times where it's like, you know, you cannot understand this. This is something that I know that you'll never know. But I will say, to have that be my baseline. To have that be my, oh if you don't get something it's probably because of this—was not healthy for us. And wasn't healthy for me, because it really made me feel like I was at war with the world, including the person I loved. Especially when I was going through a lot of changes, and for kind of the first time ever feeling like I didn't even know myself.

Anna: Did you ever get really angry when he would tell you that, that you didn't understand, that you weren't doing enough to be supportive?

Marisa: Yeah, absolutely. I mean, I loved him. That's really the answer to why I was able to weather that period was because I loved him, and I wasn't thinking about what we'd do in the future, I was thinking, I can't get through a day if I don't spend time with you or talk to you. But yeah, I think it's very hurtful to feel like, I am just trying to, I'm really putting in the effort to try to be a good partner and try to be supportive, and I'm getting kind of shot down. And then at the same time feeling like I have to put on the appearance of not feeling hurt because you're right, you are the person who's going through this, you are the person who's suffered, you are the person who's finally being able to become the person they want to be. I didn't want to make him feel like I was another person in the world not supporting his journey. You know?
(Drums and Bass and Keys – BWN Music)
Liam's choice to do just top surgery is not uncommon. It has a bigger impact on outward appearance, and at a certain point, costs can get prohibitive. Plus, not everyone wants it.
(end of Drums and Bass and Keys – BWN Music)
Anna: Did your intimate relationship, your sex life change as your body changed?

Liam: Yeah, I'd say that it did, but I'd say that the biggest change was when we started dating, our sex life was great. Not to be too bold, but I think it was fantastic. But, it's worth mentioning I guess, I had never been nude in front of anyone except Marisa, or a doctor, and before that, I had never been nude with myself, except to shower quickly without looking down at my body. So I had some definite disconnect. So to get told by someone that I was so into–not only am I attracted to you, I'm attracted to you without clothes as well, and you're very hot, and I like you–was really special. But then, as I started to have the changes in my body that I wanted, it was sort of different for me because I was starting to communicate likes and dislikes in a way I had never done before, because I had never really known before.

Marisa: And then I took that as, oh, so this has all been a sham? You didn't actually enjoy being with me this whole time? I thought I'm having like, the best relationship, the best sex of my life. And you were not into it. And have misled me. Which I didn't so much say out loud, but it's definitely how I felt. How I felt when I was thinking about it on my own. I felt kind of, not betrayed, I just felt kind of sad. I was like, oh this stinks. What does this mean about our relationship?

Anna: Did this not count before transitioning?

Marisa: Totally, it's like, this counted for me, so did it not count for you?
And as time passed, they kept returning to that conversation through finishing college, as Liam entered law school and Marisa began her career in magazine journalism. As their individual identities evolved, they had to talk through what that meant for their relationship. Including, when Liam had his top surgery in the spring of 2014.
Marisa: I was really scared, because it's a major surgery, in which they put you under. It's expensive. It meant that he couldn't work for months afterwards. Which, even though I wouldn't be paying for his surgery, we live together. We share our bills, all these things. Like, it mattered if Liam wasn't working. But more than that, it was just like, I think you've got a rockin' bod. I like you, I love you, I think that you're sexy and beautiful and all that the way you are. I think I said that once, and the response wasn't like, he didn't shut me down. But he had a very real conversation with me about like, you know I appreciate that but this is how I feel.

Liam: It was sort of like, the conversation I remember it as me needing to learn to tell you what I needed to hear from you. And also needing to give you space to say, I want to talk about your feelings, but right now I need you to say this to me. I need you to communicate to me that you understand that this isn't a choice for me, we have to do it. And then to also say, and I want to talk to you about how you're feeling. Because I know you can't be feeling good. Instead of very black and white, looking at it like, I promised myself I'm doing this. I'm doing this. I don't really care.

Anna: How did you pay for that surgery?

Liam: I received help from my parents. Actually, it was sort of funny because I was sort of saving money ambiguously for top surgery at some point, and I wound up instead purchasing an engagement ring, which I don't regret, which was the right choice, because that was part of it too. When it's natural if I were to pit it in my head as my transition and Marisa are at odds, and I must choose one over the other…

Anna: When they're coming out of the same bank account.

Liam: Right. And that's part of it.

Marisa: All of this I was not privy to, by the way. And that's not the decision I would've made with Liam's finances.

Liam: I know it's not. However, that's what it was. It was my choice, and I made it. The top surgery is gonna happen when it's gonna happen. I'm going to work it out. Something's gotta give, whatever. So I had some savings left, but it was not near enough. And insurance was actually supposed to cover my top surgery. We set it up, and I was so excited. Because I was like, finally we're going to get this done, because at that point that's what it felt like for me. It was the same as when I started testosterone. I was checking things off a list more so than feeling like, I need to be a full human, I need to do this. It was like, ugh, this again, whatever. Then, a little bit before my surgery, the insurance company backed out.

Marisa: Like days before.

Liam: Like days before. Less than a week.
Liam told his parents, who hadn't always understood his trans identity.
Liam: My dad was like, well you still have the date. Right? Why don't we—it's a wedding present. We'll take care of it for you.

Anna: It's a wedding present.

Liam: Yeah. That was really, that meant a lot to me.
(When You're Away – BWN Music)
Anna: Why look ahead to marriage at this point?

Liam: Is that one for me? Okay.

Marisa: That one's for Liam.
(end of When You're Away – BWN Music)
Liam: Well, I guess part of it, or a big part of it, was when I got my name legally changed. I'd been going as Liam for a year, but it didn't change what was on my ID card. It didn't change that when I got carded, someone would be like, Liam, huh?

Anna: Your driver's license was not Liam?

Liam: No. And, I had to live that way for a year, knowing this really true, absolutely, undeniable thing and not being able to have it recognized legally. And that's what marriage, the shift meant for me. It wasn't about, have we made a lifelong commitment to each other, are we sure. At the end of the day it's like, it's about the piece of paper. As silly as that might sound.

Anna: So you volleyed that over to Liam pretty quickly.

Marisa: Totally.

Anna: Did you feel comfortable with the idea of getting married? You're in your mid 20s.

Marisa: Yeah. I feel really psyched. I'm not the mastermind behind this plan, however. And being a mid 20s woman of New York, it's not something that is a default for me. Liam talked about wanting to make a lifelong commitment—I think we've made a lifelong commitment. Like, I think we could, or at least I felt at the time, like we—this thing is locked in. We don't need to have a tax incentive-related reason, but if this is something that means that to you, if marriage is important to you, then I'm totally on board. Because if you're driving this train, I'm sitting in the first class car. I'm all about it.
(I Like Ya – BWN Music)
Anna: The way you describe your decisiveness, Liam, is striking. Like, there are things that you have known, and they've been unquestionable, about things like, going on hormone therapy, doing the surgery, getting married. Are there things that you think back, in previous versions of yourself, that you miss?

Liam: No, I was so unhappy. I mostly remember being really unhappy, as a kid and a teenager. And I'm sure there were a variety of reasons. But for me, a lot of it was about the gender identity piece. Ever since I've been with Marisa, I've never felt that way before. I've never felt that sort of—even when things are a nightmare, and something, and the insurance company just called and said they're not covering my surgery and what are we gonna do—I've never felt that haze of sadness covering everything.
(I Like Ya – BWN Music)
Liam: Can I say one more thing? I think because of maybe the setting, and wanting not to sound mushy, I want the legal recognition of being married to Marisa, but being with her is the greatest joy of my life and it's what I want to do forever, and that's why I want to get married to you. Just to clear it up.

Anna: Look at those testosterone-fueled tears.

Marisa: How do you say no to that, right?
That was Liam Lowery and Marisa Carroll, talking to me in a studio in New York, back in 2014.
Coming up, we reconnect…and I get to hear about their sweet boy.
Marisa: He's a great baby, I have to say. He is like, top, tops.

Liam: He rules. He is the best.

Marisa: Everything he does, it's like the best. Um, it's like watching, uh, the best National Geographic special while also reading the best novel while also like watching a magic show.
(end of I Like Ya – BWN Music)
This is Death, Sex & Money from WNYC. I'm Anna Sale.
After I got the email from Liam Lowery telling me about the update in their family, that he and Marisa were now parents, we scheduled a time to get together for a video chat. Liam and Marisa joined from different rooms in their apartment. Their son Jude was down the block at daycare.
Anna: So, first question, how's marriage?

Marisa: I mean, I would say pretty great. How about you? No pressure Liam.

Liam: For me, I'd say like, better than ever, um, and slash better than I could have expected in 2014, you know?

Anna: Oh, what makes you say that?

Liam: I mean, just love her, you know? Um, I think so many things have happened, uh, that we never could have predicted, I think. Um, but all the good stuff is unchanged and then kind of built upon, if that makes sense.

Anna: Mm-hmm. Yeah.

Marisa: Yeah. I think we're lucky in life for a million reasons, but I would also say we are a couple who worked from home together and we're home together for one to however many years now, uh, we are into Covid and like each other more and not less, so that feels just lucky.

Liam: Oh yes.

Anna: So tell me about the process for you all of choosing to become parents and then figuring out how. I realize it's kind of a long, maybe a long story, but how far back did you know that you wanted to pursue becoming parents?

Liam: That's a good question. I think, um, I think that was a conversation we had very early on in our relationship, um, was just how do you feel about the idea of becoming a parent? Um, which of course, being in a queer relationship is kind of a different conversation, because I think presents so many more questions, but just as a baseline, is that something that you want? And we both from the outset said, yeah, that's something I think I want and let's figure out timing and, and how someday. And so I think we lived in that place for a long time.

Marisa: Coming to that point was very different for the two of us, right? Like, or, or at least it feels like for me, I think.

Liam: Mm-hmm.

Marisa: For me, the thought was, okay, I, that's something that I will be able to do, um, whether I choose to get pregnant at some point in the future, or whether I choose to pursue adoption. Um, I had adoption in my family and it's something that I thought, you know, was also a possibility. Um, but I think really, uh, this is me doing the annoying,

I'm doing an annoying journalist thing where really I just wanna ask Liam a question. I'm really sorry.

Anna: Go for it.

Marisa: It's Liam. What I think Liam, I, um, I would be curious about your, uh, your sort of path to thinking about parenthood itself, because I think it was different than mine.

Liam: That's true. Yeah. It definitely was different. Um, I mean, I was, so, I was grappling with, um, coming out to myself as trans when I was, you know, a teenager. And around that same time, there was a really big, um, on Oprah, you may remember this person Oprah, referred to as the pregnant man, uh, Thomas Beatie.

(Oprah: I thought I'd about seen everything, and then I saw a pregnant man. Thomas and his wife Nancy announced on our show that they were having a girl. They invited our cameras to come along for an ultrasound…)

Liam: That was my introduction to, um, okay, so you're a trans, trans-masculine person. You know, this is a trans-masculine person who's, who's a parent. Um, and this is what their path is like. And I just, the way, just the way that he was presented, and it was very, you know, sensationalized, tabloidy. Um, it was really, uh, disconcerting for me as a young person and feeling like, oh, okay, well that's not, that's not what I want to want to do. Um, but also that's the way that I'll be viewed or talked about, um, if I choose to be a parent and I am transgender.

Anna: So did your teenage self feel like you had to choose between wanting to be a parent and living openly as a trans person?

Liam: Exactly. I felt like if I make this choice, if I, if I live as a trans person in this world, Parenting is probably not gonna be an option for me.

Marisa: Well, and what makes me, what, what makes me emotional and what makes me in this moment, shed a little tear in hearing you say that is that anyone who meets Liam would know that he has what it takes to be a wonderful parent. And that's true in raising our son together. But just knowing him, he's so kind and loving and thoughtful in all the things that you want someone to be. So just the idea that it was so, um, the idea that you felt like you weren't, weren't worthy or that you would be, um, not accepted, is just so, it's horrible.

Liam: I appreciate it. But that's why, I mean, that's why it's important to me now to update and talk about this because I know, because I've looked for them, that there aren't necessarily a lot of happy stories about trans people, period, but let alone involving parenting, you know?
And so, they wanted to reach out to us, because they wanted to share this next chapter in their family's story. When they were telling their story to introduce themselves to birth parents in the hopes of adopting a child, they had to consider whether being totally honest was a risk worth taking.
Marisa: But then it did present it, it obviously presents questions about how you, um, how you share and talk about your family and how we see ourselves. I think if you were to look at us in a picture, I think you could say, um, and knowing nothing about us, it's possible that you would think that we pass as a straight cisgender couple.

Anna: Mm-hmm. So if I were to see the portfolio that you put together about your family, I would see the Mets, I would see the beach. And would I, would I see that we are a queer couple and here's how we each identify? And here was like, how much did you choose to include?

Liam: We, I mean, we did include that I'm trans, and part of that decision for us was because we thought, well, the whole point of this is being honest and trying to make a connection and what's that story like if we don't disclose my gender identity, which is such a big, you know, it's a really big part of who I am at. For another trans person, it might be like, eh, I could take or leave it. But for me it's significant. So to choose not to disclose that and then what, maybe 10 years down the road, if we do have an open relationship to learn that, um, I just didn't feel like that would be setting us all up to be connected, um, which is what we would want, you know, for, for the baby, right? So, um, so we did, we did choose to do that. And, and basically we said, that's our, that's our decision. You know? Do you think that that may have an impact on the amount of time that we will wait? And we were told, yes, I think that you will, we don't know for sure, but we think it's likely that you'll wait longer because you disclose that you're trans in the book. And that you're a queer couple.

 Marisa: And that's something that we had also heard, and really, for me, what it came down to was it was, what was important to me was what was important to Liam. And I think both of us, we are both people who live in our truth as queer people. Um, and for Liam also being trans. Um, and it just was, to me, it was a no-brainer that Liam had to make the decision about, right? And the idea that this thing about himself being trans, that is so much part of why you're wonderful and great, would you would see it as an obstacle or you would be made to feel that it would be, um, harmful to, in our, to our family or desire to become parents. I think that is a, my heart went out to you in that. And it's one of those things as a couple where I, all I want to do is make it not feel heavy or complicated. And, and you just can't, that's life. You know?

Liam: What was amazing, what was astounding, um, was when we did eventually talk to Jude's birth mom, she told us, hey, in your book you said that you're trans, um, and I know that because of who you are, you will support this child no matter what." you know? Oh, if he's, if he's gay, if she's, she, if they're, they, you know, whatever. This child, whoever this child is, you will love them and support them. And that's what I, that's what I want. And it was just, I could not have been more wrong about everything, about people, about the world, about whether or not miracles happen (laughs).
(Silent Flock – Blue Dot Sessions)
Anna: I have a question, just in thinking about, um, you know, the words you wanted to use in your family. Like when you thought about how you wanted to, what, what pronouns you wanted to use for Jude, or the names you wanted to use to sort of, um, prompt Jude to use for each of you. What, what was the conversation like about that?
(end of Silent Flock – Blue Dot Sessions)
Marisa: Jude is a boy for now. That's how we talk about Jude.

Liam: That's how we talk about him.

Marisa: He's our son for now. And it's, you know, maybe Jude will be cisgender and straight and a total bro. And I would delight in that. That would be so fun. Um, and I think that, um, it's also possible that he will eventually come out as non-binary or transgender. He might identify as a man, but be gay. Like, there's a million different ways that, um, that, that identity can be formed. So we talk about Jude as being a boy for now.

Liam: Before, before we had Jude and we, when we shared with, you know, some friends, um, and family that we were planning to move forward with adoption, people pretty quickly assumed, oh, so you'll probably use, um, they/them for your baby, right? Like you'll probably, you know, do uh, non-binary, um, pronouns and maybe name.

Marisa: And also you will only buy gray baby clothes.

Liam: And they, um, you know, anything that's traditionally masculine or feminine will be shunned from your home. And actually we're kind of more like gender maximalist. We just have, we, we find it fun and it's playful, um, and kids, I want whatever kid we have to feel comfortable to play and dabble and try things on. But the thing about that is, being non-binary is a full gender, it's its own thing. So no matter what you're gendering your kid, there's no way around it. Even if you, they, even if they're a they/them, that's a gender. Um, so it was just this interesting moment where I was like, yeah, actually we're not gonna do that. Um, we're gonna go with, you know, male assigned at birth sounds so cold, so we'll go with boy for now. Um, and we'll just keep the door super open.

Marisa: I'm open to the fact that maybe it will eventually keep us up at night, but for now, the fact that this kid loves trucks does not keep us up at night as like, this is a failure of our queer progressive values that he loves this, um, traditionally masculine gendered thing, you know.

Liam: Because we're like, you know, you had the, you had a little, uh, you have a basket of dolls, you have trucks. You're picking the truck. You're picking the truck. That's great.
(end theme for Death, Sex & Money)
That's Liam Lowery and Marissa Carroll, talking to me from their home in New York City.
Death, Sex & Money is a listener-supported production of WNYC Studios in New York. This episode was produced by Katie Bishop and Liliana Maria Percy Ruiz. The rest of our team is Zoe Azulay, Afi Yellow-Duke, Lindsay Foster Thomas, and Andrew Dunn. Our intern is Baiz Hoen.
The Reverend John Delore and Steve Lewis wrote our theme music.
I'm on Instagram @annasalepics, that's P-I-C-S. The show is @deathsexmoney on Twitter, Facebook, and Instagram.
Thank you to Andrea Marke in Napa, California for being a member of Death, Sex & Money and supporting us with a monthly donation. Join Andrea and support what we do here by going to deathsexmoney.org/donate.
Anna: Does Jude call you? Do you use mom and dad?

Marisa: I mean, we really use BAHH. Like he doesn't, he, you know–

Liam: He makes a little effort to like make an MM sound for Marissa and DD sound for me, which I appreciate.

Marisa: So yes, we do, we do at this point, use, um, hand it to Mama, hand it to Dad.

Liam: Hand it to Dad.
I'm Anna Sale and this is Death, Sex & Money from WNYC.
(end of end theme for Death, Sex & Money)
Copyright © 2023 New York Public Radio. All rights reserved. Visit our website terms of use at www.wnyc.org for further information.
Music Credits:
"Greycase" by Blue Dot Sessions
,
"I Am A Flying Squirrel" from BWN Music
,
"Hook, Line and Sinker" from BWN Music
,
"Greycase D&B" by Blue Dot Sessions
,
"Drums and Bass and Keys " from BWN Music
,
"When You're Away" by Kenneth J Brahmstedt, BMI from BWN Music
,
"I Like Ya" from BWN Music
,
"Silent Flock" by Blue Dot Sessions