A Bitcoin Mogul Goes Broke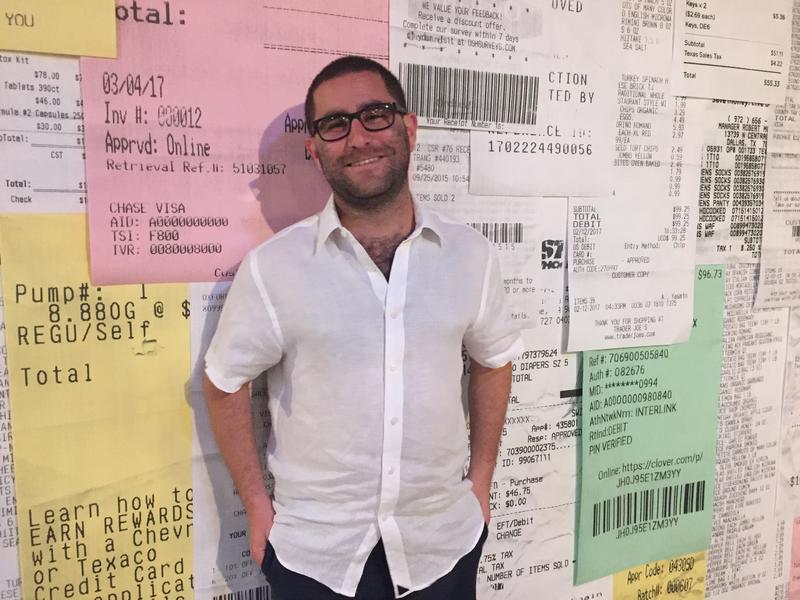 Transcript
Charlie Shrem: In prison, the more of a celebrity you are, the less respect you get. You're judged on who you are as a person, and I like being judged like that because I feel like I'm a I'm a pretty okay person. People liked me and I was judged on that, not on the Bitcoin stuff.
This is Death, Sex & Money.
The show from WNYC about the things we think about a lot and need to talk about more.
I'm Anna Sale.
Charlie Shrem was a millionaire by the time he was 22 years old. Within a few years, he'd lost it all.
I recently talked to him live on stage in Los Angeles. Charlie was an early Bitcoin entrepreneur. He co-founded a company called BitInstant, which helped users convert dollars into Bitcoin.
Then someone started using that Bitcoin to do illegal things on the internet and Charlie knew about it. He was arrested and served a little over a year in prison after a plea deal.
Now Charlie's 27, and he's rebuilding—not just his bank account. He's left the Orthodox Jewish community he grew up in and lives in Florida, with his now-wife Courtney. She met him when he was flying high, then visited him regularly in federal prison.
When we talked, their wedding was just a few weeks away. She sat in the front row while Charlie and I talked.
Anna Sale: Charlie, I want to start with the day you got out of prison. Can you just walk me through that day?

CS: Oh my god. That day...that was a crazy day. So basically what happens is you prepare for this day like, you kind of know about it for a few weeks in advance, you don't know when you're getting out until a few weeks before. You kind of - as you get closer, you kind of know like around the day, and then it changes, and then they don't give you a hard date until a few weeks notice. It's - I don't know. When you're in there more than six months, you have to institutionalize yourself. You have to forget about the world on the outside, you have to forget - you have no internet, no communications, and so you're cut off from the whole world. And when you're about to get out, you're about to like enter back into society. And it was one of the scariest things in the world, because even though I was only in there for a year, I became accustomed to prison life. I was used to it—I had my friends, I had my daily routine, I had my workouts. The world that I knew existed existed in Lewisburg Federal Prison. That's what my life was. Um, but when you get out, um, what happens is you wake up early in the morning, they take all your stuff, you go into processing, we were just - we were in this big room, waiting for our people to pick us up. And like Courtney - I guess they were late, or on the highway or something, and I was like freaking out, like I'm not getting out, or the government's arresting me again, I didn't know what was going on. And then finally they said they're here, they pulled up in the parking lot, and I just had a box of stuff. And I walk out in like my, my prison uniform, cause you get to keep it, like in my sweatpants, and tee shirt and I'm all jacked up, and um I have my box and I walk into the parking lot and I'm like let's get out of here before they change their minds. You know? And - and then we drove off, and I'm like, [exhales].

AS: Okay, so I want to - we'll get to how you came to prison.

CS: Sure.

AS: But I want to go back to when you were first learning about money as a kid. You grew up in an Orthodox community. Your dad was a jeweler. Your mom, a stay at home mom. How would you describe how you were taught about money when you were a kid?

CS: My father went out of his way to make sure that I always understood the value of a dollar. And he, we were we were upper middle class growing up in Brooklyn and we had a nice house and I never like had to struggle for food or anything like that. And I went to a good school and um my parents didn't - they didn't do anything to excess. They never just said, here's a bunch of money do whatever you want. It was always like, I had - I had to be accountable for it. I had an allowance like that gave me like 20 bucks a week or whatever it was for school but I had to be accountable for that money. If I spent it, they wouldn't um give me more. And then what had happened was when I was in high school you know computers started getting big and stuff. I started - people had computer issues at home like printers breaking or routers needed being reset or just things they didn't know how to fix. And I realized that I can provide a good service just being someone that they can call on demand and I charged like 20 bucks an hour or whatever it was and I just fix it and I would be like the SY tech guy. Just being the guy...

AS: SY?

CS: Syrian. Syrian Jewish. That's like the moniker we call ourselves, SYs. Uh I would be SY tech guy.

AS: Uh huh.

CS: We used to go around and fix people's stuff. And one guy paid me to like put a cellphone antenna on top of his roof. And I was like 15-16 years old. And I started making like really good money.

AS: Like how much? Like in high school...

CS: Like a hundred bucks a week. Yeah. It was like - for someone, you know, in high school like that was - I remember I bought my first car when I was a junior in high school. And my parents didn't give me any, like they really - but there was a problem. Are you ready for this? Um I got a credit card in the mail. When I was like 18. The day I turned 18, I got credit, I was still in high school. I had a $6000 credit limit. And I was I was taking people to Vegas. No, not really but I was I was spending -like the first month I spent it.

AS: And how did - where do you go? How did you spend it?

CS: I don't know! Like pizza stores and and uh just stuff. Like I just I don't even know what did I buy? Just whatever. You couldn't drink at the time, right, I didn't start drinking till I was 21. Um but I just. Just food and stuff for my friends and I tried - oh I took like um lessons to learn how to fly a plane that cost a bunch of money.

AS: Uh huh.

CS: Just stupid things. Stupid things.

AS: Was it a secret from your parents, your credit card?

CS: Yes and no. So they knew I had it but they didn't realize like how much in debt I was getting into. So I got into a lot of debt. I got into like a lot of debt and I turned around and I was like graduating high school and I was like at least $10,000 in debt and it was a lot for a kid. And I was freaking out. And my father found out because I was actually traveling on a Birthright trip. So I went on one of those free trips to Israel and he I guess he got a letter in the mail and he opened it and he saw that. And he freaked out and he said I'm not bailing you out. Like you have to figure out a way to pay for this. And I said like, dad I'm like - I'm making the minimum payments. He's like but you're still spending the card like - so what my father did was we sat down when I got back and he was furious. So he, we turned off the card. He took the card from me and I got a loan for the full amount on the card and he secured it against the house. So he helped me out in that respect. So the interest rate was lower than that of the card. And I had set payments. It was like 2-300 dollars a month. And I had to make those payments.

AS: To your parents.

CS: No, to the credit card company.

AS: To the credit card company.

CS: Yeah my parents didn't pay it. Like I had to pay it off. And I did, I paid off after two years. And since I was 18 I swore off credit cards and even now like I have one card but my limit is only at like $3000. I keep it really low.

AS: Really?

CS: I don't like debt. I don't like debt. I have this fear of debt, because I got scarred when I was younger.

AS: You pay with debit cards for everything?

CS: Pretty much. Yeah. Or Bitcoin or cash. Yeah. Yeah I don't I don't like debt.

AS: So is that what caused you when you were a student at Brooklyn College to start, you started a commerce company on the internet...


CS: Yeah.

AS: Was that to try to get out of this debt?

CS: That was part because I was - I was like a closet rebel from my parents very early on. And I realized because they were very religious, like super religious. And they had, they had like. From when I was born, the life was pre-set out for me. I would have, like I would go to school. I would have my father's company. Parents would buy me a house down the block. I'd have like, pick your wife from these 10 girls. Like, but it would be a good life! A lot of, like my cousins. Some of my old friends, they love it. You know. It's sheltered. You have your whole life set for you and it's great.

AS: Stable.

CS: Stable. But I wanted to have my own way. I wanted to make my own mistakes. I wanted to learn. I wanted to see where life would go. I wanted to leave Brooklyn.

AS: So it was a ticket out.

CS: It was a ticket out. So financial independence was a ticket out. And so one day my cousin over dinner was like, "Hey Charlie, you're really good at computers right?" And I said yeah. He said, "Well we have all this extra stuff in our warehouse. What if you build a web site and you just sold it like and you can have it at cost, just get rid of it?" And I said great.

AS: That's a good deal.

CS: Like I'm not doing anything else, right? So I did that. I literally went to the warehouse with my laptop, I built a website called dailycheckout.com and just I would just start like, they have like a thousand of these old digital cameras. And I'd sell them at cost and make like $2 on the shipping, right? So I sold it free with $5 shipping my cost is a dollar and the shipping was $2 I made $2. And it really took off. And so I found myself getting calls from a lot of other warehouses saying hey, we have all this extra stuff. Can you sell it for us? So I didn't have to take on any risk and it was really good. I mean for an early college and I was making like 600 dollars a week, which was which was pretty good money um back then. And so - it still is good money. And so I mean I was making this money. I was saving it, I was paying off this debt. I was traveling. I had financial independence, except for the fact that I was like living at home and I could have moved out, like I had - it wasn't about the money, but I needed my parents' - I always felt that I needed my parents' blessing. Like I couldn't get over that like I couldn't get over that religious hurdle. I couldn't get over it. I couldn't fully leave and not look back. Because I knew once you, once you leave my community, you can't go back. That's it. I was excommunicated, and my parents held like a funeral for me. Legit. I was completely ex-communicated. I didn't go to my sisters' weddings. My parents won't be at my wedding. You - you - but I made that decision. But it took me a long time to make it. Um and I had a lot of resentment. I did. I was super angry. My parents visited me once in prison, they never came back. They never sent me money. They never - and I and I held a lot of anger. But I realize that life is too short to hold resentment.

AS: So it strikes me that you're - you have two things happening in your life at the same time. You're in Brooklyn College. You're trying to figure out your relationship to your family, you're trying to figure out how much distance you can allow from them for yourself. And you're also realizing that there's pathways for you to make more and more money.

CS: Yep.

AS: Did making more money, and seeing that you could make a lot of money through Bitcoin and through BitInstant accelerate your pulling away from your family?

CS: It did. Um, all of a sudden, I went from having this one family, and now I have this new family. The Bitcoin community. I grew up in a very like, I was telling you earlier, in a very sheltered and closed-off community where it's more it's like ethnocentric. They believe that they are the best and everyone else is inferior to them. So that's the way I was raised, and I saw a lot of moral, like issues with that. And I really struggled with that and I was one of the reasons I had to leave. Um, but the Bitcoin community was a - especially back then when it was still so small. It was a real life working example of a community where everyone was equal because we all had our common agenda of revolutionizing the financial system.

AS: Just that. (Laughs)

CS: Just that. Like that was our agenda. Our agenda was that. Didn't matter who you were or what you were, we were all a big family.

AS: What during this period before you went to prison and in Fortune Magazine your fiancée is quoted as saying during that period you were a little arrogant.

CS: I was more than a little arrogant, yeah.

AS: Like, in what way? Was it, were you arrogant because all of a sudden you felt like you had stumbled upon this thing that was increasing in value and you had a lot of money and you had figured this thing out before other people had?

CS: I don't know if it was like that. I just - picture this. I was like 22 years old. I had half a million dollars sitting in the bank.

AS: Like in a savings account?

CS: Like just in a checking account. Just whatever.

AS: Not even in a savings account!

C: No, I had no expenses. Like no overhead. I owned a nightclub. I lived above it. I was dating a beautiful girl. Like, life was great. I would walk around like my shit didn't stink. That's what it was.
Coming up, Charlie finds out that someone is using his company to move money on Silk Road, the underground website where people bought drugs, fake IDs, and child porn. And he reaches out to that person. In writing.
CS: I wrote an email saying like, I know you're on Silk Road I know you're reselling these Bitcoins on Silk Road. Like you better stop, or else, you know, you better calm down. That's what I sent him, and that e-mail was the smoking gun because that email I admitted that I knew what he was doing.
--
After having this conversation with Charlie, and hearing all your reactions to our episodes about Alice the shoplifter, we have been thinking a lot about money, class, and social mobility—and how hard those things are to talk about.
And you have been too. A listener who asked to go by Monica recently emailed us. She said she identifies as upper-middle class now but she grew up in public housing and didn't always have enough to eat. "I have been on both sides," she wrote. She continued, "Our class shapes our morals and views around money greatly…The idea of social class is taboo in the U.S. yet it determines so much about how we deal with and have access to money, sex, and death."
So we want to hear how you think about class—social, economic—however you define it. Send us your stories about a time when you felt particularly aware of your class, whether it's a time when it changed, or when you noticed how different you felt in relation to people around you.
Send us an email or record voice memo and send it to a special inbox: class@deathsexmoney.org. There's also a link on our Facebook page. Again, send your stories to us at class@deathsexmoney.org.
On the next episode, I talk to journalist Lisa Ling about growing up on national television, and what her childhood taught her about sex and relationships.
Lisa Ling: Being raised primarily by a man made me very, you know, man-like in many ways. Like I never really felt inhibited about just going up to a guy and asking him if he wanted to have a drink or whatever. And I think that one of the reasons why I always was able to date the guys I wanted to date was because I didn't wait for them to ask me.
--
This is Death, Sex & Money from WNYC. I'm Anna Sale.
Charlie Shrem was arrested by federal agents at JFK Airport in January 2014, when he was flying home into New York. He was charged with money laundering and operating an unlicensed money transmitting business.
Before he was arrested, Charlie told me, worries about legal trouble had already prompted him to shut down his business, BitInstant.
CS: My lawyers basically said well, like you know, the company is getting to a point where a lot of people are you know—not a lot of people, but this one guy is buying Bitcoins and reselling them on Silk Road. And - because that's what it was, this guy was a customer of ours and he bought Bitcoin and then he would then resell those Bitcoins on Silk Road so then those people would then go buy drugs and stuff like that. And I knew about it. I did. And I didn't really care and I was a young kid. I didn't really care enough to stop it, because I was making money. And um my lawyers eventually sent me a letter and they said, if you don't shut the company down right now we can't represent you anymore. So we shut down the company. That day, it was like July 3, 2013. And we put this thing up on BitInstant and we said sorry, like, we're shut down. No one lost any money, it was it. And so I thought I was good, because we shut down the company. My hand wasn't caught in the cookie jar. And then it wasn't like eight months later is when I got arrested.

AS: I want to know a little bit about your time in prison.

CS: Sure.

AS: Who were your friends?

CS: Oh I had - there's no such thing as friends in prison. It's like people who have aligned agendas to you. That's what it's more like. Because at the end of the day like everyone is in it for themselves. Everyone wants to go home to their families. So you're - you don't really have friends but you're living with a guy for a year next to him in the same bunk. Obviously you're gonna, you know become, like have like a relationship with a guy like you're going to become friends with him and when he has issues with his family or you do, you confide in each other. Um a lot of other people helped me out. Like this is one guy I remember every cell has a light and I like to read. I read 137 books that year. I read a lot. I was reading. I don't have a book light. So I kept my cell light on and he wasn't - I forgot where he was. So I had the cell light on and all of a sudden this like huge guy, just like, he's known as like a leader of some crew walks into my cell and walks up really close to me and I'm laying on my top bunk. Right? And he's a tall guy. He comes up all right to my face. And he says, "Hey Shrem, you know we're trying to sleep right now. And your light's on really bright." And I'm like shaking, right. He goes, "Here borrow my book light. Give it back to me when you get your own." I'm like oh my God! But he was like - there are a lot of really good people in there who made mistakes. And when you're in prison it's not like TV where everyone's like oh I'm innocent. Everyone tells you they're guilty. I'm guilty. Because to say you're innocent minimizes all that hard work you're doing to get out. I, I hate when people come to me now and they say, "Oh well you know you shouldn't have been convicted and it was you know stupid crime and the government..." Don't say that. I was guilty. I did my time. I worked my ass off to do that time. And I moved on now. I'm over it.

AS: Was it hard to walk away from being able to watch the valuation of Bitcoin and to know how much money you had and what your net worth was?

CS: Yeah. (Laughs) Well, so I didn't have much because I got like the best - I got Dominique Strauss-Kahn's lawyers. I got the best lawyers you can possibly get but they cost hundreds of thousands of dollars. I walked into prison with sixteen thousand dollars to my name. I was almost wiped clean. Um so when I was in there I told people, like don't tell me what the price of Bitcoin is. Like don't tell me that stuff, I don't want to know. You can tell me news and things, but don't. Like some people were telling me, "Yeah every day I'll email you or I'll send you a letter what the price of Bitcoin is." I was like don't. Don't do that. Sometimes I would ask but other than that don't, I don't want to know.

AS: Did you still have Bitcoins that you owned when you went into prison?

CS: Very few, like three or four.

AS: So you come out of prison. When did you look at your bank account, like to see how much money -

CS: I didn't actually turn on a computer for two months. For two and a half months. I didn't get a cell phone and I didn't turn on my iPhone. I didn't tell anyone I was out. I told you. I was weird. Like I wasn't ready.

AS: What was it?

CS: What do you mean?

AS: Like what - why the hesitancy to engage?

CS: I just wasn't ready. I wasn't ready to tell the world I was out. I wasn't ready to go on the computer. Check my email. Tens of thousands of emails waiting for me. Like I just I wasn't ready. Um I enjoyed waking up every morning, having the coffee. I worked as a dishwasher at a restaurant. I had to maintain a real job for six months.

AS: And what counted as a real job?

CS: Anything that's not on the internet, like a physical job that they can come and see you in rural Pennsylvania. The only job I can get was a dishwasher at a restaurant. And at the time I was like this sucks. But in hindsight it was one of the best experiences. Like I thought prison was humbling. Being a dishwasher 11 hours a day. Going being from a millionaire just literally washing dishes for 8 dollars an hour. And you couldn't quit. If I quit, I'd go right back to prison. I had to be there and they would come visit me. They'd call the job, is Shrem there?, they would call me in the middle of the night. "Are you home?" You had a curfew 9 o'clock every night they would call you. Where are you, are you home? You need to be accountable. I loved it.

AS: And was - was there behavior when it came to money that you didn't want to resume when you were reentering, that you felt like was destructive or amoral before you went into prison?

CS: In prison, everything is given to you. You have shelter, you have food, you have a shower, you have water. You have your friends. You don't need to spend a dime. Everything you need to spend money on a prison is like extra. So you just kind of go about your day and do your job and hang out with your friends and play cards and eat and work out and you don't have to worry about money. You don't have to worry about paying bills. You don't have that electric bill coming. You're part of a social collective in there, where you're all the same. I guess a part of me didn't want to resume that normal life of like paying the bills, paying rent. Paying a cell phone bill, being a slave to money again. I didn't want to go back to that. I'd be - moreover in prison, than even when I was wealthy before, I became financially independent in prison, because I didn't have any dependencies. I didn't have people that I had to pay for, and I didn't have anything to pay for myself. I just wanted to be in my shell and my bubble for a little while longer in Pennsylvania where no one knew who I was and life was just easy and good and not stressful.

AS: Um, I asked you backstage how many Bitcoins you own. The current value is 4,000 dollars. You wouldn't tell me.


CS: Yep. That'll put a target on my back.

AS: [Laughs] When you think, like when you're like thinking in the back of your mind like, how much money do I have? Like when you're thinking, you know, in one of those moments where you're like do-nuh-nuh like doing the math. What's my net worth? What percentage is in actual dollars and what percentage is like Bitcoin?

CS: Uh, good question. So I'm trying to do where it's - I'm investing, I'm taking a lot of Bitcoin and selling it as the price goes up and putting it into real estate, especially down in Florida where we live. I'm trying to get like rental properties to rent out to renters obviously. And so I would, I'm comfortable where it's, where it's like 33 percent fiat, 33 percent Bitcoin, 33 percent property. Real estate.

AS: That's where you're comfortable.

CS: That's where I'm trying to get to. I'm about, I'm about that. About that because then if Bitcoin goes to zero, which it's an experiment, it could. I won't be on the street. A lot of people have like ninety-five percent of their wealth in Bitcoin. And great for them, I'm happy. But I got to be smart. I'm getting married, we'll have children eventually, I can't, you know I can't do that. I can't take, I can't speculate with my rent.

AS: One final question from me before we part. You're getting married in four weeks. Do you plan on combining your finances as a family or keeping them separate?

CS: Yep. We already have joint accounts. Yeah we already. Uh that's our money. Um we have friends who are like engaged and stuff and money is like a huge taboo. They're afraid to talk about it. They don't know how to deal with it between each other, joint bank account like whose money, is it my money is your money? It's - and it's a reason for a lot of divorces. And so we are completely open with each other about it. She knows how much money we have at any given time. She has access to all of it if she needs it. God forbid, like…she has her own Bitcoin. And we have a good system and it works and so there's no, it's all fair and equal. And we have we don't worry about it. But she's great though. She'll go into a store and spend $100 and get 15 outfits. I don't know how she does it. So I -

AS: (Laughs)

CS: I don't know how you do that.
That's Charlie Shrem. He's an executive with a technology company now. And based on my time with him, he's also regularly monitoring the value of Bitcoin on his phone. Charlie and Courtney got married in September, after relocating their wedding because of Hurricane Irma.
Thanks to the team at the Annenberg Space for Photography for hosting us in LA. We recorded this conversation with Charlie there, in conjunction with an exhibit called Generation Wealth. That's a collection of photographer Lauren Greenfield's work that explores the changing ways that people across the globe are showing off their wealth. It's really great. You can see that exhibit in New York City at the International Center of Photography until January 7.
Death, Sex & Money is a listener-supported production of WNYC Studios in New York. I'm based at the Center for Investigative Reporting in Emeryville, CA. Our team includes Katie Bishop, Anabel Bacon, Emily Botein, and Andrew Dunn.
The Reverend John Delore and Steve Lewis wrote our theme music.
I'm on Twitter @annasale, the show is @deathsexmoney.
And don't forget to send us your stories about class, and the moments when you've been most aware of your class status. Email your story or send us a voice memo to class@deathsexmoney.org
There may not have been actual money in prison, but Charlie says there was a system of currency, based on packets of mackerel.
CS: And things were denominated in mackerel, like a haircut is two macks. If you want a pie of pizza, this guy'll make you a pizza in the microwave that's six macks, you could hire a personal trainer…

AS: Really?

CS: Yeah you can hire a personal trainer for like a mack a week, two macks a week.
I'm Anna Sale, and this is Death, Sex & Money from WNYC.
Copyright © 2019 New York Public Radio. All rights reserved. Visit our website terms of use at www.wnyc.org for further information.
Music Credits:
"If" by Broke For Free